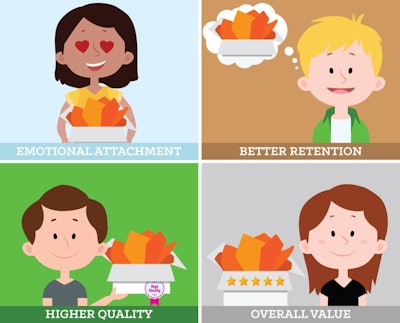 Decorative and branded tissue paper results in dramatically more positive experiences by e-commerce consumers than packaging without. That's according to the results of an independent, 90-day study conducted by Package InSight at Clemson University and Seaman Paper Co.
Key findings indicating tissue paper's advantages over other materials included:
Positive emotions: Eighty-four percent of tissue paper participants said the tissue paper packaging enhanced the overall unboxing experience. Those who received tissue paper packaging felt positive emotions (joy and surprise) at the highest level—66% of the interaction time. In addition, the study found that branded, customized tissue wrap elicited 47% more positive emotion than any other tissue sample, and 45% of participants who received items with other packaging materials, such as void-fill paper or air pillows, said packaging had no impact or made the experience slightly worse
Increases the likelihood to recommend, remember, and reorder: Study participants who received packages with tissue paper felt the experience was more memorable, resulting in consumers being more likely to make repeat purchases and share positive recommendations. Most participants (64%) said they would be more likely to share a package with branded tissue paper on social media.It was also found that after 90 days, respondents had 40% greater recall of the brand and product when it was packaged with tissue paper. Among the other findings, 76% of respondents are more likely to recommend a brand that wraps package contents in tissue paper, as it gives the impression that the brand cares.
Improves overall quality: Participants who received items packaged with tissue paper rated the quality of the brand and package higher. Tissue-clad products received an average quality score that was 12% higher than that of packages with void-fill. Branded tissue paper elevated the quality of the unboxing experience and the brand itself. In fact, 86% of participants had a better impression when receiving products with branded tissue, and 87% rated their experience as greatly or somewhat improved when items were packaged with branded tissue paper.
Creates perceptions of higher value: Members of the tissue paper groups valued their items 24% higher than those who received the same items packaged with air pillows and void-fill. Branded tissue was emphasized as a positive factor two to four times more than the amount other groups' packaging materials—including void-fill and air pillows—were mentioned. Participants who received branded tissue paper packaging valued items 18% higher than those who received void fill.