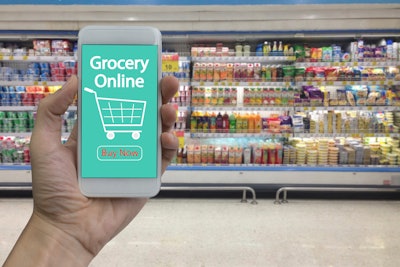 A new report from Hexa Rearch indicates the U.S. online grocery retail market size is expected to reach $26.87 billion by 2025. The growth of the market is attributed to increasing adoption of advanced technology, access to high-speed Internet, and easy online availability of various products. The rising number of online grocery shoppers is expected to further drive market expansion. For instance, the number of American households buying online grocery products has increased by about 14% from 2014.
Notes the report, millennials constitute the largest consumer group in U.S. population, and they form the largest working population group in the country. Hence, they prefer convenient shopping options when it comes to grocery. This factor is driving the growth of the online grocery retailing market in U.S. Moreover, most millennials are tech-savvy and prefer online grocery shopping as it provides them with hassle-free checkout and payment services. Weekly discounts and offers are luring millennials into spending online. Thus, the digitally advanced generation is anticipated to augment the market in future.
Furthermore, the report explains that innovative packaging and marketing strategies are attracting millennials to spend more on online grocery products in U.S. Durable packaging is a necessity for robust supply chain. However, retailers are coupling durability with design to attract a large customer base. For instance, meat packaging is made available in various innovative containers. As a result, availability of advanced packaging solutions are likely to drive growth.
Because organic and natural foods are gaining popularity among consumers, the report says that online retailers are focusing on product lines to fulfill the changing needs of health-conscious consumers. For instance, Amazon includes organic products such as Marconda's Meats and Genetically Modified Organism (GMO)-free New York steak in its grocery product portfolio.
Promotion of local produce has gained momentum in the past few years and is expected to drive the food products segment. Online retailers are offering locally-made products like dairy, meat, poultry and fish products, organic vegetables, fruits, and pickles. For instance, Peapod has collaborated with Farmlogix, an Evanston-based company, to source produce from 12 Midwest farms for its customers.
Non-food items like basic home products and pet care products are also popular among online consumers. Demand for non-food products is expected to contribute significantly to the growth of online grocery retailing market.
Various well-established players in the U.S. online grocery retail industry include Peapod, Amazon, and Walmart, notes the report. Amazon is a leading player with its popular subsidiary AmazonFresh, followed by Peapod. Most retailers in this market are opting for mergers and acquisitions (M&A) as a key growth strategy. For instance, Amazon acquired Whole Foods to expand its product portfolio and presence in the U.S. market. Moreover, innovative concepts such as personal shoppers and Amazon Go stores are being introduced in the market for hassle-free payments and checkouts. Revolutionary online shopping experiences with minimum cost are expected to result in industry growth.