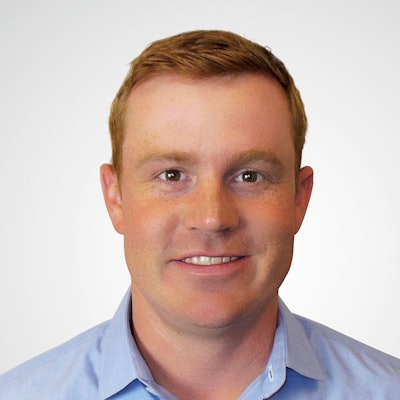 In its simplest form, Dash gives customers a virtual button, found at the top of their Amazon.com interface, for one-click reordering of consumable products, like dishwasher detergent. It's supremely convenient, and unlike a monthly subscription model, it's need-based reordering, not time-based.
What does that have to do with packaging? Not much, when it's the consumer doing the ordering. But what if the consumer were taken out of the loop? The DRS program now enables third-party systems integrators to create DRS-enabled devices that can automatically reorder physical goods from Amazon. In May, electronic device manufacturer Jabil joined DRS as a third party aiming to do just that.
"The button itself is the tip of the iceberg on the full system," says Dr. Amanda Williams, senior business unit manager, Jabil Packaging Solutions. "Behind the scenes, there's software developed both on that little button and in the Cloud to channel and process any order. Amazon is opening up all of that backend software to device manufacturers like us. We can switch out that button for a device that can talk to consumables' containers, monitor the contents, and reorder when running low."
The possible methods of executing on this system are as varied as the consumable products themselves, but Jabil has a few reference designs in place that illustrate what a typical application might look like. In many cases, a durable dispenser would contain most of the costlier sensing and connectivity equipment because durables can amortize the cost over time. But the comparatively inexpensive consumable pack that, perhaps, clicks into the dispenser, plays a key role.
"To work at its best, the dispenser would interact with a smart label fitted to the primary packaging that contains the consumable," Williams says. "This could be as simple as a label that uses a few strips of conductive ink to traverse one side of the container. On the consumable, that's the price difference between a low-end label versus a high-end label, so it's pretty inexpensive. But it definitely means that the system, with the durable dispenser, works together as a whole. If you put someone else's package in that device without the special label, it's not going to work."
Such durable/consumable systems are one methodology, but Williams also cites implementation of systems with NFC tags. In such scenarios, an independent device might not be necessary because it would work directly with consumers' smart phones. But each NSC tag would add at least 15 cents to each package. That might make sense with an expensive beauty product, but not for hand soap. The idea is there are a lot of different ways to skin the cat, and each application will have a different balance of price and potential added value. Williams, who recently had a baby, illustrates a durable/consumable system with something she interacts with a lot these days: baby wipes.
"I have a dispensing device on the changing table that keeps the wipes warm. There are already people, like me, who will use devices with a little bit of electronics in them, as they add some value to the product. I just put a normal package of baby wipes inside that dispensing device," she says. "What if we were able to add just a small, inexpensive feature to the package, and use it with a dispensing device that could monitor the number of wipes I had left, and communicate with my Amazon account? That would make a lot of sense for me; that would be worth it to never have to think about, or worry about, running out of wipes. Because that would be a disaster."
Jabil refers to this dynamic as reduced "cognitive overhead" for consumers. "It's the low-friction way to replenish a product," says Joe Stodola, VP, Jabil Packaging Solutions. "We're simply moving an existing capability from the interaction between consumers and the market, where consumers have to think about whether or not they're running low on something, to an interaction between the consumable and the device."
What's in it for the brand owners? Data, data, and more data. "The brand gets information about consumer usage that they've never been able to see before, so everybody is winning in this case," Stodola says.