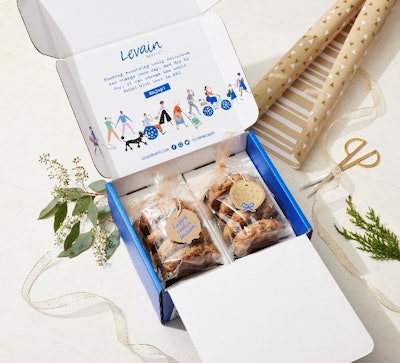 A neighborhood institution turned national brand, New York City-based Levain Bakery is famous for its decadent, freshly-baked cookies. The bakery's mostly chocolate chip-based cookie assortment has become so popular, in fact, that when COVID-19 shutdowns hit, Levain's online business rose by 200%. The boost in e-commerce orders prompted the brand to redesign its packaging, resulting in a more operationally efficient and more vibrant package that also more clearly reflects the brand's home-grown roots.
Levain Bakery was founded in 1995 as a small bread shop on the Upper West Side of Manhattan by two friends, Pam Weekes and Connie McDonald, both of whom were passionate about baking—and about competitive sports. One day, they created a generously portioned chocolate-chip walnut cookie to give them energy while training for a triathlon. They decided to sell a batch in their bakery, and the palm-sized, 6-oz cookies flew off the shelves. After that, the cozy shop on West 74th Street became a neighborhood favorite and a destination for epicurious travelers from around the world.
---
---
Since then, the company has expanded its brick-and-mortar reach, growing to 10 stores and launching a frozen-cookie retail product, and now offers its decadent cookies online. Prior to the pandemic, Levain packaged its e-commerce orders, available in four-, eight-, or 12-cookie sizes, in cartons that were then placed in corrugated shippers filled with protective packing materials. But the increased demand in online orders required a packaging refresh.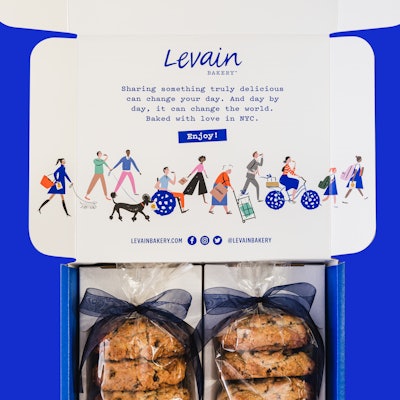 "We were already a growing brand, opening new bakeries, scaling our e-commerce business, and expanding into grocery retailers," says Levain Bakery CEO Andy Taylor. "The challenge was creating a packaging solution that not only ensured our customers would receive our product in pristine condition, but also improved our efficiency to better meet demand. When COVID-19 caused New York—and the rest of the world—to shut down, we saw online orders multiply, and we needed a supplier that had the flexibility to meet accelerating demand on a greater scale."
Universal insert protects product, reduces packaging
R.R. Donnelley & Sons Co. (RRD) was chosen for the project by Levain due to its ability to meet the bakery's package design, printing, and warehousing needs. RRD's first task was to design an e-commerce shipper capable of delivering product protection, while reducing excess packaging materials and complexity.
Shares Lisa Pruett, President of RRD Packaging Solutions, "We supplied different iterations of packaging and inserts for the Levain team to evaluate. They then thoroughly transit-tested the prototypes to ensure there would be no tearing or crushing of the packaging, so customers would receive their cookies perfectly protected for the best possible experience."
The structure selected by Levain is a recyclable, die-cut, roll-end lock-front (RELF) shipper made from 200# B-flute corrugated, fitted with a universal corrugated insert that is also 200# B-flute. "The inserts are the same for each pack size," explains Bill Rizzo, Director of Business Development for RRD. "Having one universal insert for its three different order box sizes—one insert for the four-cookie box, two for the eight-cookie box, and so on—dramatically lowers the complexity of the production process as well as the quantity of SKUs used."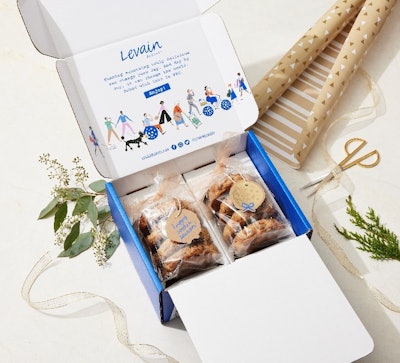 When the corrugated insert is formed, the structure becomes rigid and builds a lip of material along the bottom that guides the cookies to "float" when they are placed inside. In this way, the cookies are not flat on the bottom of the package, so when the packaging is moved in transit, the cookies bounce instead of getting smashed. Says Rizzo, this "give" offers left-to-right and front-to-back security. "The inserts also fit snugly into the shipper, which limits any movement inside the actual box," he adds. "Coupled with the insert design, these cookies have excellent protection from breaking."
The shipper style was chosen, says Rizzo, because it's extremely easy to assemble: It takes approximately 10 seconds to fold the flaps of the shipper and put it together "making this choice a cost-effective option that's also structurally sound," he notes. On the logistical side, the shippers can be easily stacked without undermining the strength of the box, which is a significant advantage when handling large order levels. And, it's lightweight, which gives Levain a cost advantage when it comes to paying for shipping.
Lightweight packaging is good, but not if it's too light, resulting in damage. Says Pruett, "We found that B-flute corrugated was our 'Goldilocks' shipper in that it was both lightweight, and the structure held up and performed to our expectations."
"On behalf of our clients, sustainability and efficiency is a key focus of our team at RRD," she adds. "For Levain, we were able to reduce the use of unnecessary materials per order while significantly cutting down the time it takes to package and ship the product, improving efficiency by 50%."
With the new design, an eight-step process for assembling the box and packing product has been reduced to four steps: The box is formed, inserts are added, cookies—in a cellophane bag hand-tied with a blue ribbon—are placed in the box, and the box is closed. Says Rizzo, "This has much to do with the simplicity of the die-cut mailer shipper style."
New box delivers 'surprise and delight'
Both the box style and its branding were designed to provide consumers with the "surprise and delight" factor that a successful unboxing experience imparts, Rizzo shares. Graphics for the shipper were designed by Levain in partnership with The Creative Pack and include decoration on both the inside and outside of the box.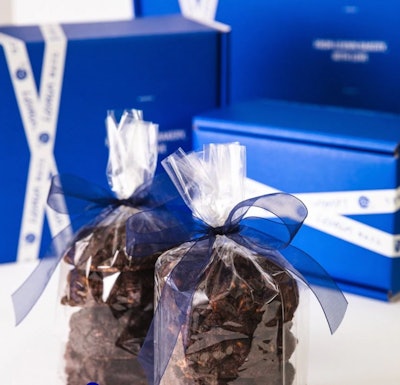 On the outside, the shipper is flexo-printed by RRD in one color, Levain's signature blue, and looks as if it's wrapped with a white ribbon (the white being the unprinted portion of the box) bearing the bakery's logo. The inside is litho-laminated in four colors plus one PMS color and features an illustration of "the cookie lover's parade," with a variety of characters of different ages, abilities, ethnicities, and genders making their way across the inside flap. Said Pentawards, which honored the design with a Gold Award for E-Commerce, Branding & Consumer in its 2021 competition, "It [the design] presents a more wholesome and inclusive view of NYC, where the bakery is based."
Regarding the structure's contribution to the unboxing experience, the shipper is designed with thumb notches that allow the consumer to stick their thumb under the crease and easily open the box. "This is another functional area that contributes to the 'wow' factor of the opening experience," says Rizzo.
Replenishment model saves space
The last part of the project was to address Levain's limited warehouse capacity. Explains Pruett, a new system put in place by RRD allowed Levain to manage its own inventory and determine a reorder point based on its forecasts, while RRD met the bakery's warehousing challenge with a replenishment model. "Because of the fluctuations in demand during the pandemic, RRD acted as a resource to make sure Levain was always stocked with the packaging they needed, as they needed it," she says.
---
---
This included providing Levain with partial orders as necessary for its rolling shipments of 15 pallets per week. RRD kept the balance of the order in close proximity at an RRD warehousing facility [in Pennsylvania] so Levain could tap into this inventory when needed while not overpacking its warehouses. As demand for shipments increased, so did the frequency of shipments.
Levain's cookies, baked fresh daily, are available in five flavors: Chocolate Chip Walnut, Dark Chocolate Chocolate Chip, Dark Chocolate Peanut Butter Chip, Two Chip Chocolate Chip, and Oatmeal Raisin. They can be purchased online for shipment anywhere in the U.S. and are priced at $27 for a four-pack, $49 for an eight-pack, and $68 for a 12-pack.
Companies in this article