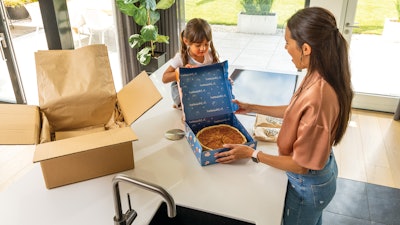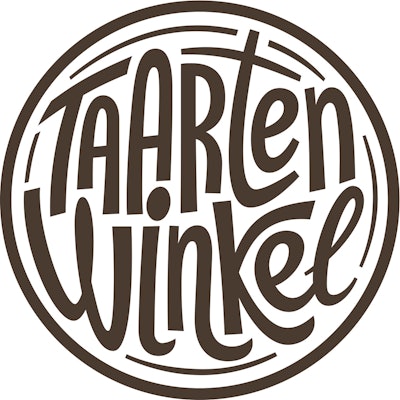 Taartenwinkel.nl is a popular Dutch bakery and e-tailer with a single location in Utrecht, Netherlands. Since its entire line of cakes, pastries, and petit fours are produced in-house in a single commissary bakery, the company controls its product completely, and enjoys a lot of freedom to innovate when it comes to pivoting to the latest trends and developments in baking and sweets. While consumers can certainly order a single cake for a family occasion, a large portion of its business is B2B. Businesses can upload logos, photos, or corporate messages that can then be printed onto the cakes, transforming them into marketing tools for clients, rewards for a successful product launch, treats for a company retirement party, or just about any corporate special event you can imagine.
The Netherlands is about twice the size of the state of New Jersey, a manageable enough size that most any e-tailer ought to be able to easily serve the entire nation without air freight. And Taartenwinkel's Utrecht bakery is mercifully located in the center of the country. Still, freshly baked products aren't shelf-stable, durable, robust products that other e-comm outlets might be selling and delivering. These are delicate items that need to be delivered promptly and gently, all the while maintaining a certain temperature.
For years, the company had relied on refrigerated trucks to maintain a cold chain temperature not to exceed 7°C (45°F) upon delivery. This system served its purpose well, but in recent years, customers began getting all-too used to the Amazon experience, and its attendant level of order management.
"The refrigerated trucks worked great, but the only thing was they were not able to give us the service that consumers are used to at the moment," explains Eric van Noort, Taartenwinkel's owner. "If you order a cake from Amazon or another e-commerce channel, you want to know where the cake is at any moment, and if it is on time. All of that is very important to our customers. And refrigerated trucks couldn't give us that." That's why two years ago, van Noort selected courier service PostNL, a central European mail, parcel, and e-commerce delivery corporation, to transport new secondary packaging systems by Ranpak, Recycold, and Akarton Innovative Packaging.
"This system makes it possible to deliver the cakes, on time, with the e-commerce standards people expect," he says.
---
---
First tries
It took a bit of trial and error to arrive at Taartenwinkel's current, entirely recyclable and waste-free packaging format. The company began with a secondary packaging format more familiar to catering businesses: expended polypropylene (EPP) thermal regulation boxes. These large, black boxes are intended to be returned for repeated use.
"They use EPP a lot in the Netherlands to deliver food," van Noort says. "The only the thing is you need a whole big warehouse to store all of them. And for the system to work, the boxes have to return to us."
The returns piece of the equation was a big drawback for Taartenwinkel's courier partner, as that added layer of return logistics was fraught with extra work, requisite storage, and potential error. And EPP boxes that weren't returned were simply lost inventory of a durable asset. Finally, when the EPP boxes were thankfully returned, they required extensive cleaning, equating to expensive (and wasteful, van Noort argues) water usage.
Return logistics headaches aside, where van Noort really drew the line was in EPP boxes' impact on product quality. It quickly became evident using the same boxes repeatedly (even washed) to deliver fresh baked, one-off products wasn't good for the cakes' flavor and aroma. Fresh baked products—especially those with whipped cream—can both emit and pick up strong smells. The EPP boxes began to carry odors of their own; not of the fresh butter, cream, or shortening used in the fresh-baked product they presently contained, but of all smells the materials picked up over the lifetime of the EPP. And then there was potential for the many-use boxes to impart their own odors to the fresh product they contained, especially whipped cream cakes. Van Noort even cited smoking as a worst-case scenario—if someone was smoking next to a whipped cream cake, that cake will smell like smoke, and then that's introduced into the boxes that carry the cakes that also can pick up odor. To van Noort, the EPP solution wasn't feasible for freshly baked cakes and pastries.
"Our [delivery] partner said, 'I want to deliver for you, but I don't want to do it with these boxes,'" van Noort recalls. "I said, 'Me neither.'"
A better solution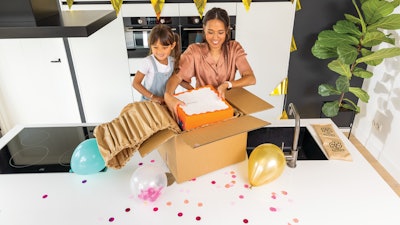 Going back to the drawing board, van Noort got in touch local Dutch company Recycold Cool Solutions, a thermal refrigerant company that uniquely produces entirely recyclable cold packs for thermal transport of food, ingredients, and pharmaceuticals. Recycold introduced him to Ranpak and its WrapPak Protector system, designed to insulate a package's contents and maintain a prescribed temperature in concert with cold packs like Recycold's. In fact, in December 2021, Recycold was acquired by Ranpak, though the two were still separate entities during this project.
The Ranpak system includes a physical installation of semi-automatic WrapPak Protector equipment. This rollstock-fed kraft paper converting system creates waved paper pads, good at trapping insulating empty space, at programmable sizes and increments. For fulfillment centers interested in box lining, the wide paper pads produced on the system can cover an entire box surface with just one insert. Wrapping, blocking-and-bracing, and interleaving are also possible with the pads.
According to Ranpak, the features listed above mean the WrapPak Protector unit can replace a wide range of existing packaging materials that a company like Taartenwinkel might've chosen instead, including dunnage, aluminum-coated plastic films, tapes, and inserts. The WrapPak Protector converter is also highly programmable to match evolving needs, and it's small enough to use at a pack table, either in-line or as a standalone unit, according to the company.
Functional and sustainable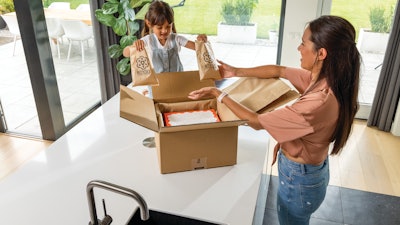 Taartenwinkel ended up adopting the format it still uses today, which includes Recycold cool packs, the Ranpak WrapPak thermal insulation, and a custom printed corrugated shipper box from local converter Akarton. This secondary packaging system accommodates the two-side printed paperboard carton cake boxes, one element of packaging that the bakery didn't have to change.
"It works well, we're really happy with it," van Noort says. "It functions as simply as paper that is printed out of a machine. There's a lot of air in [the resulting waved paper pads], but we needed it [to maintain] the right temperature, so we did some tests. We tested the product first in temperature chambers to check if it works, that was step one. And we also did it in real life. For example, on one the hottest days in the summer, it also works. So, that's really good."
At the time of pack-out in the Taartenwinkel facility, the cakes are kept at an ambient temperature of 2°C, so that's the starting point. These cakes exit the facility at 9 p.m. every evening, and most are delivered to their destination by 1 p.m. the following day, if not earlier. The Ranpak and Recycold system successfully maintains the temperature without breaking 7°C, until after 6 p.m.
Knock on effects of the packaging system are that it provides a dramatic unboxing experience. Cakes are usually ordered for festive occasions, so printed secondary packaging with visually appealing branding—Taartenwinkel uses white on kraft corrugated—gives consumers a sense of opening a present.
---
---
And for the sustainability-minded consumer, which describes a lot of Dutch folks, the entire system—from printed paperboard cake box to cold packs, from waved paper insulation to printed corrugated shipper box—is entirely recyclable in the Netherlands. No cleaning of reusable shippers means far less water used in the operation, so, van Noort says, "there's no waste at all."
Based on the success of this format, Taartenwinkel bought a second Ranpak WrapPak Protector system—not for increased capacity, rather for redundancy in the case of breakdown.
"My whole business would shut down without it, so, we have one extra," van Noort says. "But the first one works so great and we've never had to use it before." PW
Companies in this article