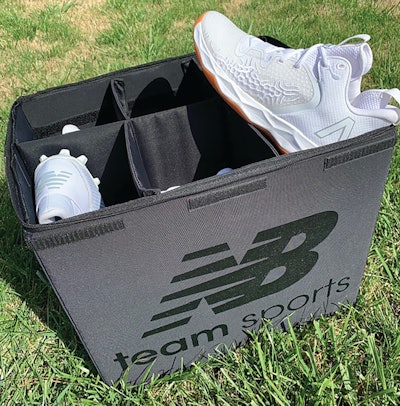 Global shoe and sports apparel brand New Balance outfits some of the world's leading athletes, from Olympic stars like nine-time U.S. National Track and Field Champion Emma Coburn, to Major League Baseball luminaries like former all-star outfielder Curtis Granderson.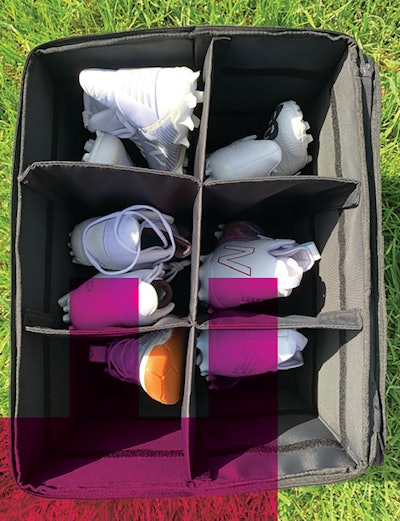 Meanwhile, any old weekend warrior in a softball league or running club at home can benefit from New Balance shoes or gear, even this PW editor. Now, Granderson and Coburn doubtlessly receive the latest, top-of-the-line gear first and directly from the source at New Balance. I, on the other hand, purchase much more pedestrian New Balance shoes from a third-party neighborhood running shoe store.
But between these two opposite ends of the athletic gear-buying spectrum, there is a wide swath of commerce that's hidden to average consumers like me. This exists in sampling, sizing, and outfitting the multitude of intermediate levels of athletics that exist in the wide chasm between an MLB outfielder and the average Joe.
New Balance breaks out its business categories by sport, with each sporting category being assigned a manager or team of regional managers. Since this athletic club team space is so far afield from of what Packaging World usually covers, maybe it's better to let David Chaney, New Balance Team Sports Sales Manager, explain.
"We outfit athletes at all levels with premium performance products," he says. "And when I say all levels, we truly service professional athletes, all the way down to grassroots youth teams. Our primary market is in the team sport space, given the demographics and the sheer number of participants at the youth grassroots level between ages 8 and 18. It's primarily in club sports, but that also includes recreational and institutional sports as well. Within that institutional bucket, we service high school and collegiate programs all the way up through semi-pro and professional sports here in North America."
---
---
The 30-plus member category management team is decentralized, meaning they're located all over the country, and don't have regular access to a central office or shipping department. These folks do the sample shipping themselves, so they are closely attuned to the mountain of packaging materials and the shipping and return logistics headaches involved.
Packaging's place in sports sampling
Sampling for club teams entails a category manager like Chaney, who specializes in lacrosse and hockey, working closely with his customers, who can be dealers, retailers, or end consumers, to arrive on an aesthetic, look, and feel, that will be used by, and sold to, the entire club. That means color swatches, logos, patches, and fabric types, all at different price points and sophistication levels, need to be shipped, sampled, tried on, tested, and ultimately returned via D2C shipping with a return tag.
Many of the larger club teams—say, soccer or lacrosse—may have on the order of several thousand members, ranging in age (and size) between third graders and high school seniors. Not to mention there are coaches, parents, referees, and line judges of all ages and sizes. Outfitting an entire club team requires a lot of back-and-forth to eventually arrive at a purchased line of gear. Chaney says this can involve several shipments, with much or most of the sampled product coming back to him and his fellow category managers.
And uniform selection isn't the end of the packaging saga. Once the aesthetic is decided upon, then teams often have what are called "sizing nights" or "sizing parties" where some or all of a club team try on the entirety of what New Balance would call a size run, or the full range of available shoe and apparel sizes. These sizing nights allow a club team to find its perfect size and fit, and then return the tested gear. Armed with that sizing info, the customer can then confidently make a tailored jersey or shoe order. New Balance category managers send sizing kits to teams specifically for these purposes, and the kits are shipped back to them for re-use. From an e-commerce and logistics perspective, it's a manual, packaging-heavy operation.
Sustainability and brand perception
One obvious outgrowth of the sampling and sizing process was, at least historically, it used a lot of corrugated shippers that may or may not have been recycled. That's a sustainability concern that has been brought into sharp relief among consumers during the pandemic, with people being more aware than ever of waste tied to shipping, returns, breaking down of boxes, removing tape and dunnage, and ability to recycle.
The positive side of the sustainability story with regards to club sports outfitting is that RSC-style corrugated shippers can withstand more than one use in this back-and-forth of sampling and sizing, and in most cases are at least recyclable (though not infinitely so). But the practice of using (or re-using) plain kraft corrugated brings up another problem: brand perception.
"We're at the forefront of the brand and the consumer's engagement," Cheney says. "We are the physical representation of the brand to the athlete on the team side. Our athletes' direct, first-hand experience with the New Balance brand is with us, what we send them as samples, and the packaging those samples arrive in."
With a premium brand's consumer reputation in mind, consider that New Balance category managers once relied on several-cycles-old corrugated shippers, replete with old shipping labels, barcoodes, nicks, dings, and perhaps tape from previous orders and journeys. That's hardly the elite brand experience that New Balance category managers want to provide for their club team customers. Joseph Ziegengeist, New Balance Baseball/Fastpitch Sales, recalls what the legacy process looked like.
"It was pretty archaic," he says. "Typically, when I'm sending samples out, it's either a sample jersey or shoe that only I have access to, that a dealer or customer wants to see. Otherwise, I'm sending samples or sizing kits. And that's probably the bulk of what I would do on a day-to-day basis, since I cover so many states.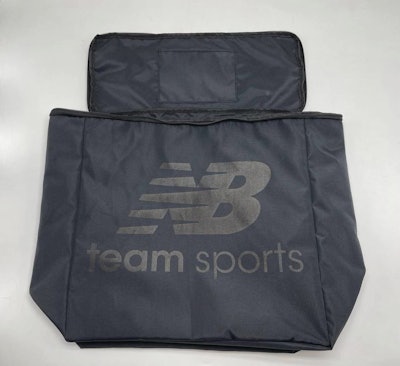 "In the past, I would have to collect [corrugated] boxes. And whether that was an old box that I used when I started at New Balance three years ago—usually one that looked worse for wear but was still usable—or if it was an Amazon box from something that my wife had ordered, anything was fair game," he continues. "I just kept box inventory in my garage, and it was filled with boxes. When I'd get a request for a sample or sizing kit, I'd have to go out to my garage, find a box with a size that would work, and was something I was reasonably confident wouldn't fall apart on the way."
And even if Ziegengeist and Chaney took pains to make sure their re-used boxes would make the journey to a customer with product unharmed, that wasn't always the case with their customers, who were tasked with sending the product back to the New Balance category managers.
Even when New Balance category managers would provide shipping labels and otherwise make returns as easy as possible, "We'd often end up often having a taped-up, jumbled-up mess on our front door, and it wasn't even the box we had sent it in," Ziegengeist says of the return logistics nightmare.
Durable, Reusable D2C Packaging Solution
That's where Brooklyn, N.Y.-based Returnity, a durable, reusable packaging supplier, comes in. Launched in 2017, Returnity replaces single-use shipping and delivery packaging by designing, manufacturing, and implementing reusable packaging and circular logistics systems.
New Balance selected Retrunity's durable packaging because it could simultaneously deliver a high-end branded product sampling experience for the customer, and also reduce the environmental impact of less-than-durable corrugated packaging.
Today, this reusable packaging system replaces 10,000 shipments of single-use corrugated boxes, reduces emissions up to 63%, and further promotes New Balance's initiative to make a convenient and more consistent experience for coaches and teams while reducing waste.
Ensuring a Good Fit Isn't just for Shoes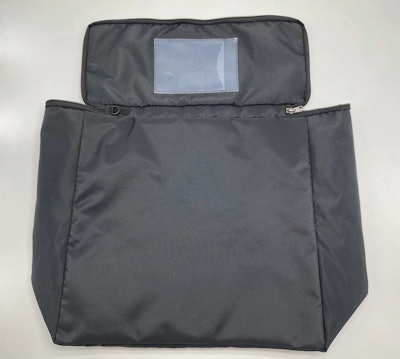 "Our project with New Balance aligned really perfectly with our philosophy on how to integrate reuse. First, we need to make sure it was a system where a reusable package actually is the right operational and economic fit," says Mike Newman, Returnity CEO. "Since New Balance sampling had a circular shipping model already, that was a sign of a good fit, since that's where we think re-use really shines. That part can often be a challenging component of a conversation with a potential customer, but this was a ready-made example of an application that stood to benefit from a reuse model."
Customization of packaging to fit New Balance's needs was next, and Newman knew Returnity had to be specific around key elements like package sizing and content protection. Returnity says it, as a supplier, understands how to design packaging that's flexible to customer needs, getting the right level of content protection, and making sure they get the economics, branding, and related components lined up correctly.
"Customizing the right size and protection level was where most of the work was centered, since New Balance had a circular model to begin with and that wasn't any kind of departure," Newman says. "But in the shipping world, last-mile logistics are very expensive. And content protection is absolutely critical. So, for this type of operation, a brand owner needs to have precisely the packaging that it needs, not some standard, off-the-shelf version. We have what we call our 'Toolkit' of design and technical capabilities that we bring to each client."
Chaney agrees on the need for customization, and points to the wide gamut of shoes and apparel products New Balance needs to ship. Every sports category is different. A first round of CADs (computer animated designs) of the proposed durable shoe pack, for instance, looked pretty good for most of the sports categories. But the New Balance basketball team raised their hands to point out that they would need to ship in shoe sizes up to 15 or 16, and that early design wouldn't easily accommodate such big shoes. The team had to go back and tweak the height of the footwear pack.
"It's not the same widget that we're sending out and getting back over and over again," Chaney says. "The ability to create a reusable package that exclusively fit our needs, and to work with their team to do it, was really boutique experience. We had a vision of what we thought would answer some of the challenges that we had, and they executed it for us. Their ability to custom-build the packaging for our unique needs was a huge factor. Their history and success stories with other garment suppliers aligned the stars for us."
Final Two Pack Designs
New Balance and Returnity had to strike a balance between the wide variety of products they were sampling and the logistical need for a limited, standardized number of custom Returnity packages that could meet all necessary shipping needs. Through testing, they arrived at just two customized durable pack styles. One is a rigid, collapsible box, with dividers, that is used primarily to ship New Balance's athletic shoe samples. The dividers can be easily removed to let the box double as a garment bag for stacked shorts or jerseys. The other pack design is a bag that is designed like a box, but with no rigid walls—just fabric. It also easily folds/collapses for simpler storage and shipment. The bag is designed to ship their soft apparel.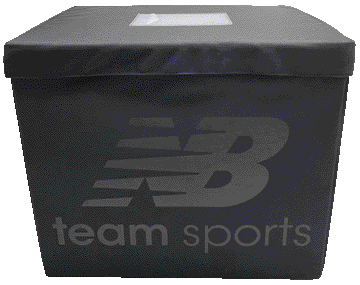 "Returnity manufactures them in such a way that New Balance can continue to use them without third-party services, so intermediaries are required," Newman says. "Primary materials are PET fabrics, and plastic corrugated that give the packages rigidity. We're able to add padding, etc., to eliminate the need for additional dunnage. The packs are closed with zippers and a locking mechanism for security. On this product the packaging has an external pouch for labels. Fabrics can be dyed to any color, and they utilize full color and branding. Full color printing is easily integrated. The packs are sometimes screen printed, sometimes digitally printed—we use a number of printing techniques to add colors and logos. Full-color printing is standard."
Adherence to Returns a Knock-on Benefit
Since Returnity packs are fully branded with New Balance screen print, they are noticeably different from the sea of kraft corrugated RSC shippers that tend to pileup in any dealer or retailer environment. Those traditional kraft corrugated boxes tend to disappear, indistinguishable from a wall of other corrugated.
"And really, why I was so excited when we came on board with this program is because [the reusable packages] are so distinct and stand out," Ziegengeist says. "The previous brown [corrugated] boxes were like any other, so after they would arrive to a customer, or to a team direct, or to a dealer, that box would immediately just blend in with the rest of their other brown cardboard boxes they'd have sitting in their back room.
"Oftentimes it's hard for us, and our customers, to keep track of samples," he adds. "An extra layer of what we have to do on a day-to-day basis is to track these samples. Frequently that box, with valuable sample product that we wanted back, would just kind of get lost in the shuffle. They'd use it and then they wouldn't send it back immediately. And it would just get lost in a sea of other brown [corrugated] boxes in the back room. It could be maddening since we'd always provide a return label to make it as easy as possible for them, but they'd still fail to get the returns to us. That's what the picture looked like prior to us partnering with Returnity, at least. Now these returns are much more automatic."
After having implemented the project, Chaney, Ziegengeist, and the 30 or more other sports category managers in New Balance club team sampling enjoy a much simpler process. Gone are the days of eyeballing beat up kraft corrugated to judge whether it would survive a shipping and return cycle, removing old barcodes or shipping labels that could cause a shipping error, and having to stay stocked up on shipping tape.
Club teams report a better experience as well. First, they're receiving nice, branded PET fabric packaging that has a premium feel to provide a better brand experience. Secondarily, they aren't as likely to receive damaged sample product or sizing kits, misplace product in their own facilities, or lose a return slip.
"And now, I realize I was creating an inconvenience for my customer, who often had to find or purchase new packaging to get samples back to me," Chaney adds. "I think the relief in knowing that I'm providing our customer a best-in-class experience when it comes to sampling, that's really been the highlight. Especially for dealers that have been with us for a long time, I've gotten the most response from them because they've been seeing the decrepit packages arriving over the years. Their immediate response was, 'Whoa, this is really nice.'" -PW
Companies in this article