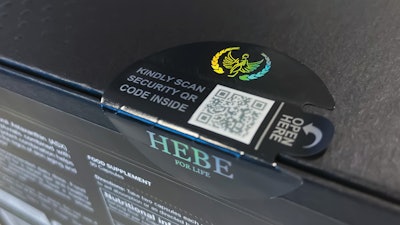 Packaging's primary function has always been to protect a product and keep it intact as it travels through the supply chain to reach its end consumer. This foundational duty has been put to the test as packaging originally designed for retail evolves to accommodate the many-touch, multiple-handler world of e-commerce and direct-to-consumer (D2C).
And for high-end, high-margin products that are using these emerging D2C channels, the functional expectations placed on packaging go even further. A product in the luxury space often requires a pack to match in style, aesthetic, and expanded ability to engage with the consumers using smart technology. Plus, if that luxury product is intended to be consumed or applied to the body—as is the case with high-priced alcoholic beverages, cosmetics, personal care products, nutraceuticals, or supplements—packaging is often tasked with additional security and anti-counterfeiting measures.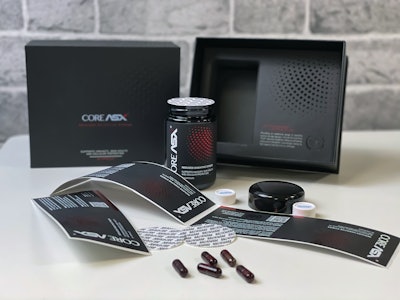 HEBE LIFE®, a UK-based supplements and nutricosmetics company, launched in 2019 its SE85® and Core ASX® supplements—rejuvenating products that check all the boxes listed above. These are D2C, luxury-minded, all-natural supplements with a discerning customer base that will expect to receive their purchase in packaging that exhibits a lot more care and consideration than can be imparted by a standard kraft corrugated shipper containing HDPE pill bottles.
"We offer premium supplements with high-end ingredients, and we are targeting A++, VIP customers who are lifestyle and health oriented," says Heba Elshourbagy, director of HEBE LIFE. "We designed our products inside-out to be high-end with regard to the ingredients, using all-natural, premium raw materials and ingredients that are highly efficient and deliver very good results."
To get an idea of a HEBE LIFE target consumer, a kit of SE85 HEBE LIFE supplements, which contains six labeled bottles, each with 60 soft-gel capsules (a six-month supply), is sold D2C for £3,185 (US$4,388). A separate, single-bottle Core ASX product is sold for US$371. Further, due to scarcity of the ingredients HEBE LIFE sources, would-be buyers are asked to inquire about product availability before they are even able to make a purchase. Clearly, these can be considered premium, expensive products. And those in the industry know that when nutraceuticals carry such a heavy price tag, counterfeiters may smell opportunity. This is doubly true when there's a distribution, shipping, and handling gap between original producer and the end consumer.
---
| | |
| --- | --- |
| | Watch this 5-minute video on track, trace, and the Drug Supply Chain Security Act. Pharmaceutical brands have long been working to meet deadlines to be DSCSA compliant, but the finish line has been pushed back repeatedly. What these pharma manufacturers have learned will have impacts on all industries, including food, beverage, personal care products, and nutraceuticals like those in this article. |
---
"In thinking about providing these products to customers, we thought about how or what possible ways that these products could be copied [counterfeited], which is something that happens all the time," Elshourbagy says. "We started to search how to authenticate our products, how to give credibility to our products, and how to provide a very special customer experience and trust within our products."
The HEBE LIFE product line was launched in December 2020, and from the very beginning, Elshourbagy sought to bake authentication into the whole system, starting with the product design and ingredients and extending to both the primary and secondary packaging.
Primary and secondary package considerations
The primary package is a reusable tinted glass bottle that uses counterfeit-resistant labels by Royston Labels. Elshourbagy says these labels are printed in such a quality of text and decoration that it would be prohibitively difficult even to approach reproducing the existing quality and specification, much less duplicate with equivalent reprints.
While the closure is standard and no child-resistant features are necessary, a metallized film seal is applied after filling the bottles and before adding the closure, accomplishing both enhanced shelf life and improved tamper evidence. The product doesn't require an oxygen barrier, but a Clariant desiccant is added prior to sealing and closing the bottle to combat moisture. Batch number and expiry date are coded onto each bottle to further enhance traceability and protect against counterfeiting.
The sturdy glass bottles used in the application are durable and intended to be kept in the consumer's home long after fulfilling their initial purpose. Still, there's no getting around the fact that glass of any kind can be tricky to ship through e-comm and D2C channels.
Ahmad Attar, marketing director at HEBE LIFE, says that the secondary package the company uses simultaneously fulfills the pack's top-line protective job while also delighting discriminating customers expecting a luxury experience. Made of a lightweight natural wood with a piano-style finishing, plus a leather sleeve, the secondary pack is as much a presentation case as it is a protective vessel.
"Secondary packaging ensures safe transport, but it is not only for transport," Attar says. "For the SE85 product, each case contains a six-month course of supplements, so the purpose of the package is to keep the bottles and everything else in it for six months, perhaps even on display. It's for high-end customers who wouldn't appreciate low-quality packaging. We made it rigid, so it can keep and protect the glass during storage and transportation. At the same time, it will be good looking and presentable when someone puts it in the bedroom or office."
Attar notes that among many of HEBE LIFE's affluent customer base largely in the U.S. and the Persian Gulf region, health products like these are often given as gifts. The secondary package not only scores high from a presentation perspective when the high-end gift is given to a recipient, it also continues to beautifully display the product through the six-month life of the kit. The wood presentation cases are enclosed in more traditional recyclable shippers, but even these packs smack of luxury. Supplied by Wrapology, the heavy-gauge paperboard cartons are debossed and entirely covered with a slick, black stock paper topsheet that's printed black on black in UV ink, and also uses silver foil for the SE85 product logo.
Meanwhile, the lower price point (per-unit) Core ASX product, sold as a single glass bottle with no presentation case, uses only the Wrapology heavy paperboard carton shipper as secondary packaging. This product's shipper is also topsheet-covered and debossed, allowing it to stand out on a doorstep just like the pricier SE85 kit.
Despite being decidedly high-end—to the point of shipping product in piano-finished wood—packaging to this point has been reasonably standard for both HEBE LIFE's offerings. But at the shipper level, HEBE LIFE employs a unique printed seal, imbued with smart packaging characteristics via encrypted QR code and attendant software, that allows for all sorts of nifty features befitting expensive D2C nutricosmetic products.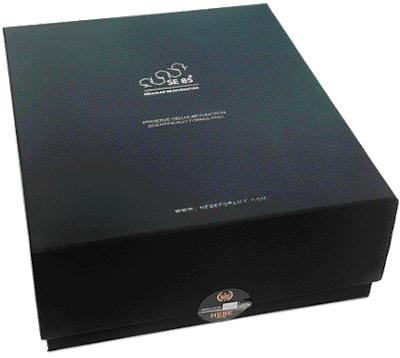 Tamper evidence for nutricosmetics
To scratch the authentication itch, Elshourbagy approached European specialty and secure label maker Eltronis with a problem in need of a solution. Initially, she was simply looking for a secure tamper evident seal that would reliably adhere to the shipper—she had had some trouble with earlier tamper evident seals and strips that hadn't been able to adhere to the sleek printed carton. Eltronis solved that problem with a proprietary adhesive that cures on the carton in such a way that it allows for complete adherence prior to distribution, so the partnership was off to a good start.
The basic goal of the seal, of course, was to provide customers the peace of mind that the supplements received were the real, authentic product from HEBE LIFE, and no tampering had occurred along the supply chain. But after some discussion about this underlying goal, Eltronis and Elshourbagy saw even more opportunity via Eltronis' new engage™ cloud-based software intended to provide brands with a tool to link products to the internet through consumers' smartphones.
"Engage is the result of quite a lot of market-led innovation that we've done, and it's evolved over time to where it is now," says Pete Smallwood, Business Development Manager, Eltronis. "It came from some work that we did to help some of our pharmaceutical companies with the implementation of the Falsified Medicines Directive and our work with several governments looking at authentication labels. Alongside this we have worked with a number of global brand owners to develop the brand protection side of engage. And more recently, we've launched the marketing side as well.
"Our focus has always been on having products which are accessible to customers and consumers and this is particularly so with engage. There are no barriers to entry and no CapEx involved for the brand owner. Consumers do not need to download any apps or software to use engage, they simply use their camera on a standard smartphone."
In the HEBE LIFE application, Eltronis' engage seal is a circular label with adhesive only applied to its upper and lower quarters. A central band portion of the round seal remains adhesive free, intended to straddle the open gap between the side walls and top or cover panel of the paperboard carton shipper. The belly portion of the seal is die cut to create a tear strip that is printed underneath with additional information that remains hidden until the strip can be removed.
The seal adheres to the side wall and top panel of the printed paperboard shipper to act, at its most basic functional level, as a physical tamper evident indicator. When the tear-off strip is removed, the remaining top and bottom portions of the label remain adhered to the packaging. If the seal has already been broken, that tells consumers that the package has been compromised. Like the labels used on the glass jars, printing is done with such quality—including the HEBE LIFE logo using holography via rainbow cold foil—that counterfeit reproduction should be prohibitively difficult. But the authentication process goes much further than top notch label design.
Software underpinnings smarten up seal
The engage software underpinning the seal's advanced features works with two QR codes. The outward-facing side of the seal is printed with a QR code that's smartphone readable, transforming the seal into a consumer-facing marketing tool. It may also simultaneously serve as a back-end data collection tool, allowing HEBE LIFE to track, trace, and glean market insights from the pack as it travels through the supply chain.
But to the consumer, this external code is the starting line of an interactive path, and it acts as an initial a call to action asking him or her to scan the QR code with a smartphone as a first step down the road toward product authentication. That first QR code will take the customer to a bespoke landing page that tells the customer what to do next, what to expect, how to open the product via the tear strip label, how to authenticate it, and any other pertinent information.
"In this instance, for all intents and purposes, the landing page is HEBE LIFE's landing page," Smallwood says. "It's there to get the end user to authenticate the product once they open it, but it also can be used to provide additional information. These bespoke landing pages are always a reflection of our customers' branding. We use their logos and we use their marketing rules."
For example, since HEBE LIFE has two products that can be consumed in a complementary fashion—Core ASX and SE85—the first landing page encourages buyers of one product to seek out the other.
But the really neat stuff starts with the second QR code. By following the first QR code's directions, a second, authenticating QR code hidden within is revealed on the inside of the label's tear strip. Having broken the seal and scanned the second QR code, a consumer confirms that this is the genuine, authentic product. In an ideal world, this would always happen.
But in the rare but possible event that the second QR code has already been scanned when the customer first scans it, or if the code doesn't exist in HEBE LIFE's database at all, a brand protection protocol will go into action. The software will recognize the incongruity and instruct the consumer on next steps. This isn't ideal, of course, but it's information that the brand owner is going to want to know, and information exchanged between brand and consumer on these scan errors can help the brand investigate the cause of the problem and prevent a consumer from using counterfeit product.
Depending on the application, brands employing this system might also use the secondary QR authentication step to reveal a hidden bonus for customers. It could lead to discount offers or get customers to sign up for gift giveaways, newsletters, refill subscriptions, or loyalty programs.
"There is also a geolocation element to the software within the second QR code, so a brand can see if the product is being authenticated, where its market strategies have been implemented, and it can align its marketing according," Smallwood. "That can also be used to identify gray [illegal] import and make sure that your distribution channel has not being compromised."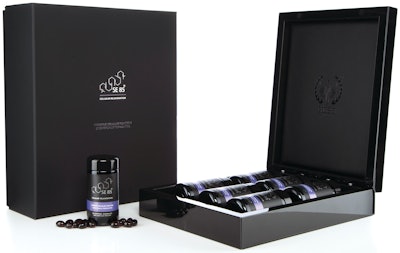 "The seal isn't just all about security; an equally important role for the seal is in tracking," HEBE LIFE's Attar agrees. "The outer or external QR code in the system is unique, so in every logistical step in our supply chain, we can track it. We will know that a given box has been tracked to a given location and know where it has been. Since we're dealing with an open market, and dealing with a lot of distributors, it's always good to know statistics on where a given box has been opened."
They noticed, for example, that often boxes are purchased in the U.S., but opened in Canada. Or boxes purchased in the U.K. are opened in the Persian Gulf. This gives Attar and Elshourbagy good, real-time tracking information and informs future marketing.
Finding the right fit
Elshourbagy and Attar landed on Eltronis and its engage platform after a lot of shopping around, even among some other suppliers purporting to offer the same technology. What tipped the scales in favor of Eltronis' engage for HEBE LIFE?
"Engage was very flexible and we found that their system is very reliable," says Attar. "It's especially easy to manage, and again it's not only for security. For us, if we compare how we use the functionality, the security piece is maybe 30%, but the tracking is 70%."
Also, customization of the bespoke web pages was an easy process. Elshourbagy says she and Attar worked closely together with Eltronis to form and design the landing page templates to improve the user experience with the landing pages served up by the engage platform.
"We work together still now, we have an open communication with Eltronis too for feedback and enhancements and to provide better options and solutions for future products," Elshourbagy says. "We always liked, as we said, that we had the opportunity to work with Eltronis, testing the products and facing all the issues that would come out. We have then been able to enhance and find a better solution, ultimately providing better options for continuous improvement."
Adds Attar, "Eltronis' engage has been a very good value-to-money product and this is the key to any recommendation. When you compare the same technology with other technologies, you will find that many ask for a retainer, or minimum orders, even if they don't provide all the tracking services like Eltronis. But if you compare the value of money in a product—even less expensive or lower value items, as this can serve even a £1 product—you will find that engage has real value for these products, combining use of the tracking system, authentication, and all their other IP services. We are already recommending them for everyone." -PW

Companies in this article