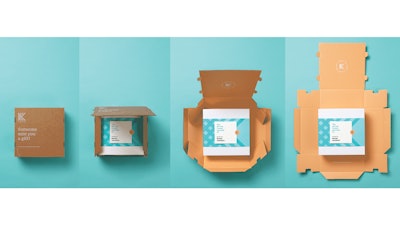 Founded in 2015, Knack is a Seattle-based online, direct-to-consumer (D2C) gifting company that provides 100% made-to-order and personalized gifts from a sizable stable of trendy gift vendors. With business split roughly 60/40 between corporate gift business and individual, one-off personal gifts respectively, categories include spa, quarantine & work-from-home, coffee & tea, gourmet food, bar & wine, chocolate & confections, home entertaining, stationery & office, family games, and even ethos (see sidebar below). Customers are asked to mix and match gift items and every order is different, so every package is custom.
"Packaging is, of course, very important to this business. We use a gift box that is lovely and has a lot of customization associated with it," says Laura Jennings, Founder and CEO. "People who are giving Knack gifts can upload logos, upload photos, they can leave a video message for their gift recipient."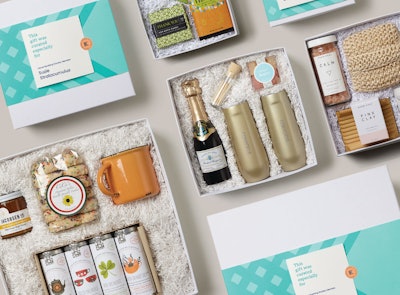 A QR code, digitally printed on either the packaging itself or the gift card portion of Knack's gift package—again, everything is customizable—is the delivery mechanism for those video messages. All the recipient requires is a smart phone to hover over the QR code, and the personalized message plays.
"And also, we automatically produce a [bespoke] webpage for every custom gift," Jennings says. "The gift recipient can come to the site via that QR code and learn about all the merchants who are featured in the gift. They can see other information from the gift-giver and they can even send a thank you from that site. The unboxing experience is very much a part of why our customers turn to Knack. It's intensely personal."
Extending the experience to the shipper
Clearly, there's a lot of custom flair and targeted thoughtfulness going on inside the internal gift box. Knack then puts that gift box in a shipper to get it to the recipient and to keep it protected in transit. In many D2C plays, this is where the custom feel ends—the standard kraft corrugated shipper with requisite dunnage. Sometimes clever printing on the shipper or bright colors can enliven the secondary protective packaging, but the real "unboxing" experience happens with the internal contents, rarely the shipper.
Knack turns that on its head by using a cleverly designed shipper, thereby extending the unboxing experience outward to the shipper itself. Called the Easy Pop shipper by Knack, the box—marketed as the Ta-Da Box™ by Salazar Packaging—delivers a "wow" moment as it pops open to reveal its contents.
"The unboxing experience, it's really important. That's why we gift wrap," Jennings says. "The packaging of a gift says a lot about the gift and the care that the giver put into it. When we started working with Salazar, we started off thinking, 'Well, we'll just do a custom RSC,' which lots of people do. We'll just customize the kind of net standard H-box. But we talked to Dennis [Salazar] about what our customer cares about. Even inside the box, we have this notion that there's a gradual unveiling of the gift. You've got the shipper, then you've got the gift card and the belly band.
And then when you take the lid off, there's actually a sheet of vellum. So it's really an experience. When you see a video of it in action, it's almost like the pearl in the oyster. Then, all you have to do is open one side of that box— it's sealed by a single piece of tape—and the box pops open and presents the gift to the recipient."
Adds Salazar, from a blog post from January 2021, "We were happy to quote on [Knack's] box usage but also offered several other design options. We know that tall (over 4-in) die-cut mailers are expensive, so one of the samples we showed them was a basic one-panel folder that could substantially reduce the amount of board used, and thereby their cost per unit. However, we also noticed that our design could "pop" open for a great presentation. With some tweaks by one of our favorite designer friends, we were able to enhance that unveiling. You can almost hear the "Ta-Da" as the flaps fly open and the gift inside is exposed."
Sustainability considerations
Knack customers care a lot about sustainability, as well. It's a huge issue for the brand, particularly as an e-commerce business, because although corrugated is recyclable, brands are just producing so much of it. The Easy Pop (Ta-Da Box) shipper is a one-panel fold (OPF) format that Jennings says, "uses about 45% less corrugated than a traditional RSC and a lot less than a tuck mailer, which a lot of e-commerce companies use."
---
---
The Salazar shipper boxes are custom made to precisely fit Knack's standard-sized internal gift boxes, so there's no necessity for extra dunnage, no shipping of air, and no waste in the package system. This application of the Ta-Da Box uses a 200#, B-flute, kraft out/white in corrugated board, with approximately 65% recycled content that is 100% recyclable and re-pulpable.
The single piece of tape that holds the OPF shipper in its 3D format from Knack to a gift recipient's doorstep is water soluble adhesive tape that can enter the recycle stream without having to be removed from the corrugated by the consumer. Printed tapes that aren't water soluble, often those that use cross thread reinforcements, really should be completely removed from the corrugated to make them fully ready for the recycle stream. Plus, Jennings just preferred the more natural, streamlined look of the tape, and its unbranded nature adds to the mystery and anticipation of the outside of the box.
"And then another thing, and this is kind of a minor thing compared to the right-sizing and material reduction, but it's also super easy to recycle," Jennings adds. "The corrugated box is already broken down once it's opened since only the thin piece of tape needs to be broken for the OPF design to flatten itself into a recycle-ready 2D sheet of corrugated."
Decorating the shipper
Knack's Easy Pop shippers are flexographically printed on two sides using a standard decorative format—the customization of the gift contents it carries usually doesn't extend to the shipper itself. Even so, if a corporate customer had enough volume to make it cost effective, the brand could print custom on a certain shipper order.
---
| | |
| --- | --- |
| | Listen to this 30-minute podcast that covers how the pandemic and social upheaval of 2020 shaped consumer mindsets, and how they expect brands to address sustainability and social issues. |
---
According to Salazar, for order quantities from 1,000 to 3,000, "custom flexographic printing is available inside and out, as well as other techniques and finishes such as offset printing, litho label, or even digital printing. Keep in mind the MOQ [minimum order quantity] for some of those other printing methods could be higher."
In the case of the Knack shippers, Salazar produces six different sizes to accommodate the three different footprints and three different depths of internal gift box. For all of these six sizes, the external face of the shipper is printed in one color, white on the untreated kraft background. It serves to start the consumer experience and build anticipation, stating simply, "Someone has sent you a gift," along with the Knack logo.
"This was important to us to place on the outside because people are suspicious when they get boxes and they didn't order anything," Jennings says. "We wanted to make it clear on the outside that this was a gift. This is not a mistake. We know you didn't order anything from us. Somebody sent you this. But with all the color on the inside, we wanted the outside to be plain so that when a recipient opens the box, that's where they get this pop of color."
That pop of color comes in the form of a pale orange, which covers the entire interior of the shipper. Salazar reverse prints the orange color direct-to-board with water-based inks onto white board. The same white printing on top of the orange background reinforces Knack's branding, web address, and logo, so a recipient can begin to get ideas on where to purchase their next gift.
Digital printing and track and trace
The gifts that the shipper carries arrive in a two-piece paperboard gift box from
Vivabox
. Jennings says that while the lid is rigid paperboard, the bottom portion is collapsible, and are shipped as lay-flat containers to save space and avoid "shipping air" from the paperboard converter to Knack. These packs are erected and packed by hand at pack out stations.
"We have a really sophisticated print shop," Jennings says. "We have two Konica Minolta c3080 digital print systems, plus a Duplo 618 cutter/slitter. Each one of these cards is different since customers are uploading their photos and logos, not only writing and recording their unique gift messages. Also, we have a set of what we call message stamps, maybe 14 or 16 of them, that gift givers can choose or they can upload your own."
To manage the true "batch size of one" nature of so many completely unique packs, the tri-folded gift cards are printed with a perforated back edge with a 1-in overhang. This portion of paper is printed with a UPC code, plus other critical information (high-priority, air vs. ground shipping, etc.) that the operator scans then removes during pack out. That overhang tag with UPC code and additional information is then affixed by the operator to the secondary package, the Easy Pop corrugated shipper, marrying the original printed card to the external shipper it is delivered in. This allows Knack to track these many disparate gift cards, and also the gifts they are paired with by the operator, throughout the supply chain.
"We know where it is at every handshake, from when it's been printed, when it's been packed, when it's been made, and when it's been shipped, all the way to the recipient's door," Jennings says. "We don't really get returns in this business, but let's say a gift giver gave us the wrong address and a gift came back to us because the address was wrong.
We can just scan that UPC code on the outside and deal with that without ever having to open the box, which would create scrap. We contact the customer and reroute it."
Die-cut belly band optimized for efficiency
The final piece of the packaging system includes a paper belly band using two die-cut slits. Into one slit that is the width of the card itself, the
right-most third of the tri-fold gift card
is inserted so as not to be visible on the finished pack. The other slit is a small C-shaped flap, emblazoned with the circular Knack logo in gold, that holds the gift card in place atop the paperboard gift box.
"It's quite securely held. It's easy to get the card out, but it stays in place during shipping," Jennings says. This belly band is available for custom messaging via the digital print shops, but there's enough volume that Knack uses a range of standard sized offerings. The brand uses a local Seattle partner, Girlie Press, to print, die-cut, and score the flap slit. These belly bands are affixed to the rigid paperboard lid of the box, adhering to the inside bottom of the lid, rather than wrapping the entire box.
"There's an efficiency to this approach that's related to logistics," Jennings says. "We have six box sizes, but we only have three sizes of lid because some of the boxes only differ in depth. So we had to have three footprints, but then the boxes get deeper for six total formats. Affixing the belly bands only to the lid instead of the entire box means we don't have to account for the multiple box depths. We only have to stock three sizes of bellyband, even though we have six box sizes, so it's very efficient."
This efficient, flexible belly band strategy aligns with Knack's wider attitude toward packaging. As a premium, bespoke D2C gift service, the packaging issues for Knack have revolved around how to create something that's appealing, but flexible enough that it can be easily customized in terms of what the gift giver sends to the recipient.
"So every bit of this, including the vellum, can be printed by a specific customer," Jennings says. "And then, that shipper was the last piece that we really needed to think through and make what arrives at people's doorsteps something special." -PW
---
---
Companies in this article