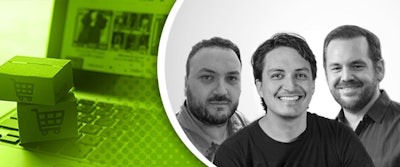 The unprecedented growth of digital media uses in the last few months to acquire packaged goods was the framework of the Webinar Opportunities to Innovate in Packaging in the Online Shopping Boom in Latin America, organized by EXPO PACK México and Mundo PMMI, with the virtual participation of 620 professionals in the region.
The arrival of COVID-19 "significantly changed purchasing behavior in Latin America, driving the highest volume growth of a decade in just the first quarter of 2020, which ended with a total volume increase of 4.8 % in the region," says Lenita Vargas Mattar, Latam Retail Director at Kantar.
Other facts confirm the enormous penetration of online shopping in Latin America, such as Mercado Libre, the e-commerce company with the highest market share in the region (19% share; almost double that of its closest competitor), which moved forward the launch of its supermarket platform, Supermercado Libre, in Argentina and Brazil to the first quarter of this year. Supermercado Libre has been present in Mexico since 2019, and offers an assortment of more than 20,000 products that can be delivered in less than 24 hours.
According to a recent Euromonitor International report, "The Coronavirus Era: Where and How Consumers Shop" June 2020, the consumer shift to online shopping is the most significant long-term implication brought by COVID-19 to the food industry. In a sector with very low penetration, the pandemic allowed millions to have their first online grocery shopping experience.
As explained at the beginning of the webinar, based on an Adobe report, in just the first 3 months of the pandemic online shopping grew worldwide by the amount estimated for growth for the next 4 to 6 years.
The Pandemic Offered an Opportunity to Revalue Packaging
The changes in consumer habits generated by the pandemic in various Latin America countries was one of the topics addressed by the EXPO PACK webinar. Silvio Colombo, Director of the renowned Argentine design agency Teckdes and Coordinator of the Specialists in Packaging Technologies Post-Graduate Program at the Instituto Argentino del Envase [Argentine Packaging Institute], pointed out how these transformations open a great opportunity to revalue the concept of packaging in its essential aspects of prevention, protection, preservation, and awareness. "The pandemic brought a challenge within a context of risk, isolation, and rationing, and that has led to packaging now offering reliability and safety," he said.
The director of Teckdes stated that the deceleration resulting from the pandemic offers brands the opportunity to rethink the creation of packaging and strategic design to solve crucial issues such as plastic pollution, food waste, and protecting the environment and health, among other fundamental issues.
For companies that had in place strategies and packaging designed for e-sales, new consumer priorities and the boom in online shopping represented excellent business opportunities. This was especially true for those that already had an iconic design and that integrated the use of "hero images," as these digital visual assets are called -- generally modifications of the original design, showing products and informing consumers about brand, product, presentation, and performance.
Reaching consumers quickly and communicating the value proposition is essential for online channels, particularly for new or as yet unknown small businesses, and at this point differentiation becomes their best tool. "Small companies are those that have the best capacity to make major changes to their products and their packaging, to quickly reach consumers online," said panelist Guillermo Dufranc, Project Manager for Tridimage, an Argentine design company with ample presence in Latin America. Mr. Dufranc is an expert in three-dimensional brand management whose agency has earned international recognition through 6 Pentawards and 4 VertexAwards for packaging.
David Freyre, founder and Director of Design of Grupo ImasD, the award-winning Colombian agency for strategic brand design focusing on researching, observing and discovering user preferences and motivation, underlined the challenges that consumers impose today on brands, especially in light of the growing use of Online platforms to meet their needs." Online shopping is an increasingly easy option for consumers, but they are also more demanding on issues such as the amount of packaging material used, or the way the products are received," said Freyre, highlighting the drive this brings to packaging development.
Strategy is Key to Innovation
The suddenness of the pandemic and the momentum that online shopping has had on this uncertain scenario led many CPGs to develop strategies to respond to this new type of sales. "It has been an abysmal leap, or a great push, for which many companies had already been preparing," said Silvio Colombo, explaining the need of companies to consider an extended consumer experience and highlighting the new role of packaging in adjusting to new environmental, health, protection, and waste reduction conditions that consumers insistently demand.
Innovative responses were emphasized as the best strategy for brands to proactively meet the needs of online commerce and to face situations that require new solutions. "Innovation must be inspired by users, and we must not wait for them to request it, or for change to come upon us. Satisfying is not the same as surprising," said Guillermo Dufranc, adding that these innovation processes must be sustained by constant research and development to spot opportunities and perform tests that ensure viability of packaging designs and projects. The Tridimage Project Manager also highlighted the importance of proactively addressing aspects for which many companies are criticized today, such as ethical practices, social equality, and the environment, to gain a competitive advantage in the market.
The integration of all players in the packaging chain is a fundamental factor for success in these innovation processes, according to David Freyre. He explained how important it is to understand all the system's points, with the user as the center of the packaging experience, adding that participatory processes enhance the value and impacts of an innovative project. Online shopping commerce demands an extended user experience, covering from design concept to final disposal of packaging. This was one of the central ideas expressed by Freyre, and summarizes the opinion of the panelists on strategies to effectively meet the needs of online consumers.
Shopping Without Shelves
Perhaps the main challenge that online shopping brings to packaged goods producers is lack of contact at the point of sale "Online shopping uses no shelves, no context, no comparative perception of the category we are in, or sense of size to estimate content, and the greatest loss is the multisensory stimuli of materials, textures, three-dimensional shapes, and interactions," explained Guillermo Dufranc regarding the differences between packaging designed for online shopping vs. for conventional channels.
But this apparent disadvantage can also be a great opportunity to create a unique experience for the consumer, using technology available today. Two valuable resources, personalization and emotional connection, are increasingly effective tools for online shopping packaging.
On the one hand, personalization can be a good way to create a better consumer experience in homes. "At home we have more time than in the store and, in addition, receiving a package is the closest thing to receiving a gift, as it generates expectations, anxiety and can touch the heart," said Dufranc. "We can send personalized messages on the packaging. Print-on-demand can help in this regard, as well as the generation of brand-specific content aimed at consumer interests," he emphasized.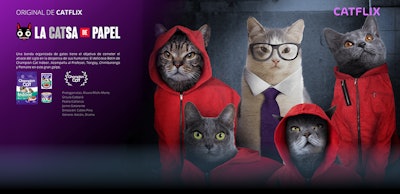 Dufranc emphasized personalized messages, citing the brilliant and entertaining campaign of Chilean cat food Champion Cat. The company created a parody of the best known Netflix series, but starring cats: Catflix. As on Netflix, this cat food brand created two-minute videos that parody the favorite series, with subtle name changes: Cat of Thrones, Catwars, La Catsa de Papel. (https://catflix.cl/)
Dufranc also showed, as examples of emotional connection, an effective campaign developed by Tridimage and the packaging of children's dessert, Conamigos, from the Uruguayan dairy company Conaprole. To support the launch of its new image, this South American firm decided to "offer consumers the possibility of interacting with its brand characters through augmented reality, AR. Tridimage, together with its partner CamOnApp and its expert team in immersive technologies, made the packaging come to life."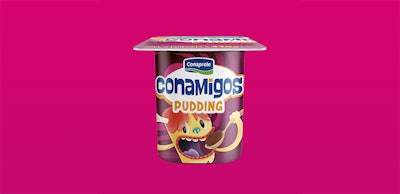 "Children have interactive experiences by downloading the free app from the Apple Store or Google Play, and scanning the Conaprole packaging. 3D models of Conamigos characters were designed Using ARkit/ARcore technologies. They can be positioned by users on any flat surface to record videos, or take pictures and share on social media," explains Tridimage.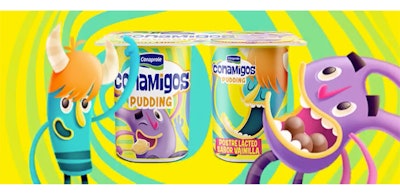 Packaging for E-commerce vs. Packaging for the Traditional Channel
For Silvio Colombo, there is a clear difference between packaging designed for online shopping and for traditional channels, and additional risk factors such as product safety during processes other than logistics and transit must be considered in research and development processes. This statement was confirmed by Colombo with practical examples, such as the packaging of Clorox Disinfecting Wipes for the U.S. market.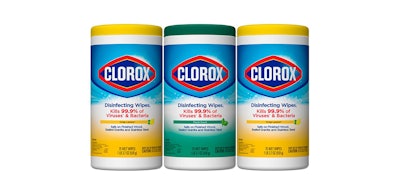 Clorox Disinfecting Wipes packaging "originally had a lid detachment and loss of product problem during transport. At Teckdes we looked for alternative solutions and materials that would ensure an effective reduction of this effect. We sought ideas in other industries in the field of containers and packaging, and had the opportunity to think about a material that allows the entry of O2 but that at the same time does not allow the loss of disinfectant. We immediately recalled Silobags, which use this effect, but in an inverted way -- that is, they do not allow rainwater to enter, but they do allow breathing. After several virtual simulation tests, we applied a micro-perforated material that prevented the lid from detaching and minimized product loss," Colombo said at the webinar.
Another case, for the Clorox Poett floor-cleaning product produced for the Mexican market, illustrated the idea that it is also possible to adapt containers created for direct sale to online channels. "The case of Poett for floor was emblematic, since that design was born in Teckdes for the traditional channel, and after several years we had to adapt the presentations to be marketed online," the director of Teckdes said. "In this case, the bottling plant was located 2,700 meters above sea level, and when transported to the ports for export, all the bottles collapsed, deformed, and become mechanically unstable. The solution was to reform the air chamber and add some reinforcement to the labeling panel, to avoid large deformations," he explained.
Innovative packaging system for home deliveries
For Cocorollo, a prepared foods producer in Medellin, Colombia, ImasD created an innovative packaging system for home deliveries that has managed to consolidate its presence in the market during the isolation months. The central objective in designing the packaging for Cocorollo was to guarantee quality and experience similar to what customers have received in the brand's restaurants, David Freyre said. Based on this, and with an emphasis on protection, hygiene, and food care, the members of the ImasD team created a practical packaging system that offers both the brand and the users reduction of packaging material, reduction of assembly and packaging times, higher quality in the presentation of products, a highly recognized and differentiated graphic identity system, and the use of more environmentally friendly materials.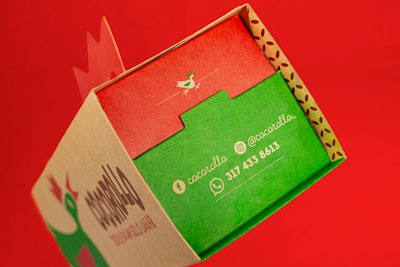 "The Cocorolló packaging combines functionality, materiality and brand impact; the latter assured with a graphic identity system that is highly recognized and differentiated," says Freyre. "It is manufactured from CMPC's Natural Kraft, a recyclable, biodegradable and compostable material, with grease-barrier properties and certified for direct contact with food. All Cocorollo take out dishes can be packed in it, and it has an additional format for its iconic products, beef-tip and chicken pies," he added.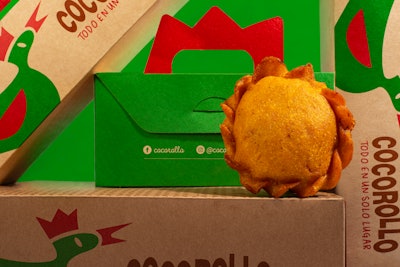 Circular Economy and Online Shopping
On the question asked in the EXPO PACK webinar on how to harmonize the concepts of Online Shopping and Circular Economy, Colombo explained "The reconciliation of these aspects is simple if we think about design in a circular way, and we use a more holistic and technology-focused view of transformation and the distribution chain. Faced with this pandemic, we must look to improve the aspects of packaging design not only associated with performance, but also with reuse, recycling, reduction of materials and process optimization."
This idea was endorsed by Dufranc, in concluding: "The key is finding the right balance between protection, user convenience, and using materials that can be recovered, reused or recycled; creating a closed delivery and collection circuit. This is as important as improving the current offer, developing innovative proposals, and creating emotional bridges with consumers to consolidate good habits and improve in every way, both in business and in the environment."