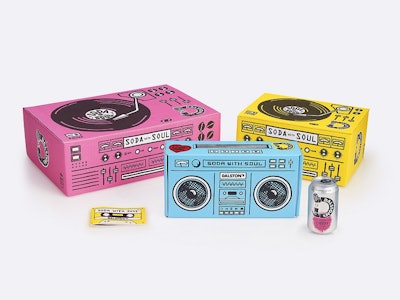 Dalston's, a London-based company that first launched its craft soda products in a culturally-rich music venue called Passing Clouds near Kingsland Road, Dalston in East London, has positioned itself as "Soda with Soul." While the tagline reinforces the brand's musical roots, it also taps into Dalston's community-focused ethos and its products' real ingredients, which it says are at the heart of its soft drinks.
Says Dalston's, "…they're refreshingly responsible—out to do the right thing for our planet and people. Because ours is soda with soul. And it does more than just sparkle."
In March 2020, in response to the coronavirus lockdown, Dalston's developed new e-commerce shippers that incorporate all the various interpretations of soul: community, health and sustainability, and music. The unique design facilitates the social distancing demanded by the virus through online shopping while at the same time bringing consumers together with Instagram-friendly graphics that celebrate its heritage. The sharable designs include two plastic-free, recyclable shippers illustrated to look like turntables and one that looks like a boombox, in Dalston's bright brand colors.
Focus on community ethos
Dalston's was founded in mid-2012, but the current graphic design for its canned craft sodas was done in 2017 by brand design firm B&B studio. Since then, B&B studio has extended the brand look beyond Dalston's six soda varieties to three seltzers and two alcohol-free G&T products, as well as to the new e-commerce shippers.
As Shaun Bowen, Creative Partner for B&B studio relates, the agency approaches every project with a clear understanding of the consumer, category, competitors, and cultural context. "Through our ongoing partnership with Dalston's, we are aware that theirs is a switched-on consumer who demands authentic personality, provenance, and a clear point of difference from the brands they buy into," he says. "Creating an emotional connection with this fickle consumer group has been key to the brand's success."
---
Read these related stories on e-commerce package design from Packaging World:
Mattel knows how to create a memorable unboxing experience
P&G's Tide Eco-Box Does More Than Deliver a Leak-Free Package
Functional Pack Design Makes Concentrated Cleaners Make Sense
Unboxing Snacks: 'It's Like Christmas All Over Again'
---
According to Bowen, the rise of crafted adult soft drinks is having a marked effect on traditional category conventions and the brands within them, where once-distinct sectors like soft drinks, mixers, or alcohol are now starting to merge. "It is a market full of opportunity, but brands need to have clearly defined values in order to take advantage of these opportunities in a way that is true to them," Bowen says.
With this in mind, B&B studio designed Dalston's brand identity with the soda maker's community-focused ethos at the forefront. The brand logo is a "big D," with the stem of the letter illustrated at the top with a hand squeezing the main ingredient of the variety into a cup or other vessel, which is held by a hand at the bottom of the stem. "The 'big D' identity provides an iconic mark while highlighting the handmade craft and ingredients that make up each variant," Bowen explains.
Bold background colors, matched to each flavor variety—e.g., pink for Fizzy Rhubarb, orange for Orangeade, etc.—evoke flavor and taste and stand out on shelf. Crucial to the visual identity, Bowen adds, is "the development of the broader graphic and illustrative style, brand personality, and tone of voice that touches every aspect of the brand, from packaging to social media and digital campaigns."
Vintage nostalgia combines with modern utility
With the advent of the coronavirus lockdown in the U.K., Dalston's became began selling more of its product online, so it turned to B&B studio to develop a shipper that would not only be utilitarian, but that would also encourage consumer engagement. "Dalston's wanted to use the shipper as a way to playfully build the brand story while also creating something people might want to keep and reuse," Bowen shares.
All three boxes are made from corrugated board, which was important to Dalston's, as it aligns with the brand's sustainable values and its commitment to A Plastic Planet, a charity that's working toward a plastic-free supermarket aisle. Dalston's has also set a goal of going carbon neutral by 2021.
There are three flavor-generic sizes: a 24-ct, a 12-ct, and a four-count. The 24- and 12-ct sizes, colored bright pink and yellow, respectively, are illustrated with line art to look like vintage turntable systems. On the top (when the box is positioned flat) is a drawing of a spinning record with tonearm, along with various dials. On the side of the case are more switches, dials, and meters, and the "Soda with Soul" tagline. The Dalston's logo appears on the top and sides.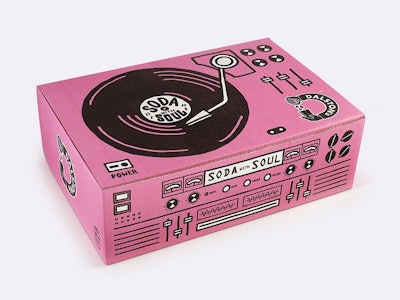 The four-count shipper, in bright powder blue, uses line art to replicate a boombox, complete with speakers and a cassette deck on the front (when the box is positioned on its side). On the top is an illustration of a foldable carry handle, along with the Dalston's logo and a heart bearing the words, "Devoted Drinks."
Extending the vintage boombox theme, B&B studio also developed a booklet designed to look like a cassette tape. Included in the four-count shipper, the booklet acts as a sales brochure, introducing the brand and the rest of the craft cola portfolio.
"As we [consumers] are currently much more reliant on online sales and delivery, Dalston's wanted to create some delivery packaging that would help facilitate our social isolation, while also being able to bring people together," says Bowen. "The delivery boxes are clearly Insta-friendly, especially stacked into your own at-home DJ booth, and they've also helped reinforce Dalston's collaboration with Deviate Music—a weekly live-streamed lockdown session every Saturday at noon on Twitch and Facebook."
The shipper is being used primarily for online sales, but as Bowen explains, it has been designed with a versatility that encourages other forms of use, for example, for storage or for use in tradeshow marketing.
Engagement facilitates brand marketing
As Dalston's works to grow from a niche startup to an international scale-up, its new shippers are helping create and foster a community of brand advocates that are assisting the handcrafted-soda maker market its brand and reinforce its values of community, authenticity, and provenance.
Says Dan Broughton, co-founder and Managing Director of Dalston's, "Being able to add fun and joy to our consumers' lives is very important to us, especially as people are at home and needing tasty, healthier, and refreshing treats from time to time.
"The record player and boombox packaging brilliantly reflects Dalston's 'Soda with Soul' positioning and musical roots. It is also a shipper that people want to reuse, as storage or even stacked into an at-home DJ booth."
As Bowen reports, in early May, as Dalston's foodservice sales declined, its online sales tripled, with the shippers receiving "fantastic feedback—all commenting on the packaging design."
Companies in this article