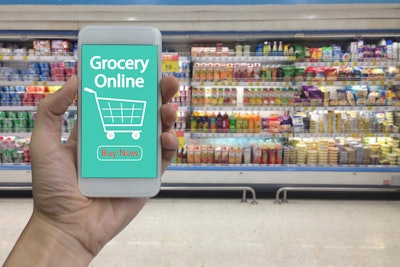 A 2018 consumer survey by LEK Consulting forecasts that e-commerce will account for 15%-20% of the food and beverage sector's overall sales by 2025 — a potential tenfold increase over 2016's 2% share.
Millennials currently comprise 49% of all people who purchase groceries online, followed closely by Gen X at 39%, and Boomers at 25%.
And, according to "2019 Trends and Advances in Food Packaging and Processing," a report by PMMI Business Intelligence, this trend is creating change not only in food packaging, but in processing and delivery as well.
Areas in operations where food companies are actively rethinking their approach:
• Individual units
• Variety packs
• Durable materials
• Protective packaging
• Specific labeling
• Machine re-tooling
• Upscaling operations
• Graphic online imaging
• Order fulfillment
• Delivery challenges and costs
• Third party handling
One packaging systems development engineer at a leading bakery and snacks company said, "E-commerce is driving growth in multiple packaging formats to appeal to consumer preferences while still surviving the rigors of the supply chain."
What strategies can manufacturers take while implementing these changes? The report says to "Think clean labeling, design for clear visibility of the product, and package for convenience in use and disposal."
The LEK Consulting survey also said that "Food companies are forming teams and committees to instigate change and are working on cost effective and consumer centric solutions to better serve both online and instore customers."
Specific trends to emerge include grocery chain meal kit delivery. According to the PMMI report, "While meal kit delivery companies have struggled, grocery chains have started to offer meal kits directly. It is likely this trend will continue as companies seek to diversify their online offerings and expand retail location options."
What are food manufacturers saying about e-commerce in their operations?
INDIVIDUAL UNITS AND VARIETY PACKS
In order to participate in e-commerce sales, we have added variety packs and individual units with added calcium and electrolytes. - Director of Engineering Services, Perishables
DURABLE AND PROTECTIVE PACKAGING
Overnight e-commerce shipments demand durability of the primary package and greater protection for the secondary package. - Packaging Engineer, Beverage
FRESH, SAFE, ACCURATE
The challenge is to get the freshest product to consumers and maintain security and accuracy; it takes fast decision making. - Corporate Engineering Manager, Leader in Food
UPSCALING OPERATIONS
We have a new e-commerce initiative selling a small amount of products now, with plans to increase in the future. - Principle Packaging Engineer, Canned
FROZEN FOODS CHALLENGE E-COMMERCE
We have a team working on finding a cost-effective solution to distribute frozen foods via e-commerce. - Packaging and Processing Expert, Frozen Foods Leader
Source: PMMI Business Intelligence "2019 Trends and Advances in Food Packaging and Processing"
Download the FREE Executive Summary below, or PMMI Members can download the entire report here.
Make plans to visit PACK EXPO East in Philadelphia, March 3-5, to see on-trend e-commerce food processing and packaging machinery and materials.