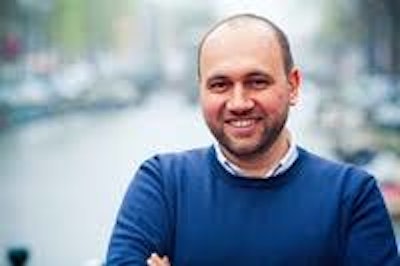 Led by the largest retailers like Amazon, Alibaba and eBay, the worldwide e-commerce market reached $3.5 trillion in sales in 2019. By 2021 this number is expected to grow to $4.9 trillion, with 2.1 billion digital buyers.
The top three countries for retail e-commerce sales in 2018 & 2019, according to Prioriello's presentation, were China, the United States and United Kingdom. China has increased 27% over the last year, while the US and UK were up 14% and 11%, respectively.
What effect does e-commerce have on the packaging market? According to Smithers, the e-commerce packaging market is worth $35 billion, up 20% from 2018.
Prioriello said that while the role of packaging in physical retail locations is to protect during shipping and handling, make an impact on the shelf, and sell the product, packaging in online businesses must not only protect during shipping and handling, but "connect with the consumer to build relations through user experience and unboxing (and to sell more)." He said an "Unboxing" search on YouTube resulted in 117 million videos, a phenomenon with a 50% growth rate in the last year.
Prioriello also points out that 78% of online consumers are more likely to shop with brands offering personalized experiences - and digital printing can fill that demand. He said, "To be competitive, brands and retailers need to differentiate their offerings – personalization is no longer a 'nice-to-have'."
Prioriello created Packly, a web application, to make custom-sized packaging that could be printed in 48 hours. With customization driving consumption, Prioriello said "brands are seeking out ways to create packaging that speaks to consumers as individuals and using digital printing to customize and tailor content to individual consumption creates that connection."
"It is all about building a trusted relationship between brands and consumers," said Prioriello, "the strategy is not focused on products anymore, but on the consumer." He also said that brands are looking for short runs, on-demand supplies, and customization.
What are e-commerce packaging challenges? Prioriello listed three top items:
· Protection against damage – must be robust enough to protect the content.
· Return-ability – returns are the new normal and central to customer experience.
· Environmentally friendly – lightweight to save energy, right-sized to save space, and recyclable.
What's the next stage of e-commerce? V-commerce, or, purchasing using voice commands and virtual reality. Prioriello said 5% of consumers are already using digital assistants to make a purchase but that number could reach 50% by 2022. Smart speaker users in the US surpassed 50 million adults for the first time in May of 2018, and voice shopping is expected to jump to $40 billion in 2022, up from $2 billion today.
To learn more about Digital Print for Packaging Europe, click here.

"PMMI Media Group editors have purchased carbon credits through cooleffect.org to ensure any flights we take to cover events in 2020 are carbon neutral."
Companies in this article