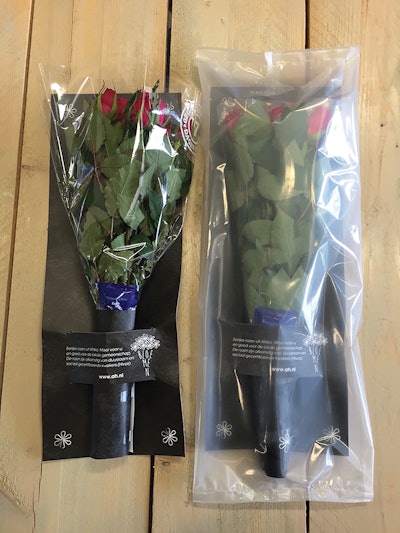 In the booming e-commerce business, it's one thing to pack a book or a consumer product into a box along with some dunnage and ship it to an eager customer. It's quite another to meet the challenge of sending out live flowers and have them arrive fresh and beautiful.
Yet that's exactly what Waterless Internet Flower Packaging achieves for Dutch supermarket chain Albert Heijn in The Netherlands via its partnership with the Dutch Flower Group (DFG) and their e-commerce company, e-Flora.
The successful application of Flexfresh™ film with Active Modified Atmospheric Packaging Technology (AMAP) earned a 2018 Diamond Award Finalist finish for Uflex Ltd., a multinational provider of flexible film based in India. Uflex, along with its technology provider Perfotec B.V., partnered with DFG on this project, engineering the proprietary patented polymeric film designed not only for flowers, but also for living, respiring products such as fresh fruits and vegetables.
The Dow award isn't the first recognition earned by Waterless Internet Flower Packaging. In 2017, Uflex and its Flex Films (USA) Inc. division won two Flexible Packaging Assn. Gold awards at its 61st awards competition: one for Technical Innovation, another for Extending the Use of Flexible Packaging.
N. Siva Shankaran, VP-Business Development, Uflex Ltd., says that while structural details are confidential, the film formulation includes biodegradable polymers and is adapted to the living conditions of the flowers or produce. She says oxygen transmission rate (OTR) ranges between 1,000 to 4,000 cc/m2/24hrs. Water Vapor Transmission Rate (WVTR) ranges between 50 to 300g/m2/24hrs, with barrier range dependent upon the application temperature for different products.
The respiration rate of a product is measured using a patented fast respiration meter. Shankaran notes, "Equilibrium of oxygen and carbon dioxide is achieved by naturally consuming the available oxygen by the [flowers or] produce. Oxygen level is brought down to slow down the oxidation rate. All this is possible in refrigerated conditions where the respiration rate is within normal tolerances and aids in designing the solution. Micro perforations enable the gas levels to maintain it in equilibrium based on the number of holes and the size of the holes, which are calculated through patented software."
That software calculates a transmission value for the specific product, based on targeted oxygen or carbon dioxide, product weight, surface area of the bag, and film permeability. Once the transmission value is determined, the software calculates the number of and size of holes, based depending on the bag size. The perforations are created through CO2 lasers.
Uflex says each hole is measured and the total hole area is maintained consistently according to the target set. This process helps to dilute the atmosphere inside the bag on a real-time basis to ensure that the gas levels always stay in equilibrium. The hole size and the number of holes determine the speed of dilution.
Shankaran says that in addition to Internet sales, the film is in use in Europe, typically in bags, for a variety of produce items, where Uflex is working with leading supermarkets and producers on its adaptation. "Flexfresh is also available across different continents and major produce areas, with varieties now developed for several tropical products as well," she says.
The material is offered in three options:
• Preformed liner bags with different transmission values
• Bags on reels where the perforation could be done on-site depending on the produce requirements
• In reel form where the pack is formed with inline perforation
Materials are flexo-process-printed in a single color at this point, although printing in up to 10 colors is possible.
Says Shankaran, "When we acquired the AMAP technology from Perfotec, we could not achieve success with the present conventional films, as the rate of respiration of tropical produce is high. They also need to be stored between 10 to 14 degrees Celsius. We looked at various possibilities and focused on how we could develop a sustainable solution, and we started working with biodegradable polymers.
"When we saw that some of the materials did not have enough strength and some material degraded fast in high-moisture environments, we decided to carefully formulate a new composition that could give us clarity, strength, and economics to offer globally. Also, we had to delay the biodegradation to ensure that during usage there were no challenges faced by our customers. From the first production of Flexfresh, we have worked on feedback from our partners and now have a robust product offering the best shelf-life extension."
Customers have expressed their appreciation for the award-winning packaging. One of them is Inl Farms, an exporter of pomegranates, bananas, and cut fruits from India that exports to more than 27 countries, working with 2,000-plus farmers to improve the quality of production and manage the supply chain.
"Flexfresh has helped us significantly in reducing transit/storage weight loss and keeping the product fresh for 90 days compared to 60 days that we used to get without using MAP bags," says Pankaj Khandelwal, Inl Farms' Chairman and Managing Director. "This is especially useful for long-distance locations. We have been using Flexfresh for three years now and are extremely satisfied with its performance."
Kay Bee Exports, an India-based exporter of air-freight fruits and vegetables, serves U.K. and European retailers. Company CEO Kaushal Khakhar notes, "We have been using Flexfresh products, especially for pomegranates, for a few years. We had done several trials across a range of products as we had found their shelf-life extending methodology very intuitive and effective. Flexfresh bags have added value by allowing us to offer extended shelf life and superior arrival quality to our customers."
Meanwhile, e-Flora,the e-commerce experts of Dutch Flower Group, manages the online flower category from design to fulfillment for companies such as Waitrose, I-florist, Greetz, and Albert Heijn. Its Managing Director, Dave van Stijn says, "The Flexfresh film is a great way in keeping our flowers fresh during their travel via post or overnight courier services, without the use of water. Combining the unique film qualities with AMAP technology gives us the innovative edge we are looking for in order to guarantee the freshest possible flowers for our clients."
Shankaran says Flexfresh is unique in that it works across produce and temperature conditions. "It is the world's first 100-percent biodegradable solution by composting. Uflex has taken the lead as more supermarkets come under pressure to eliminate plastics from their counters."
Companies in this article