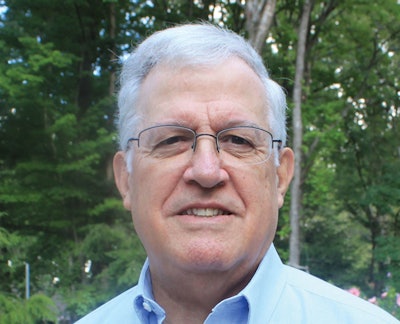 Four hours later I was on a flight home to Bay Village, Ohio. Doctors' initial thoughts about her condition were vague, cautious, and to me, not very reassuring: "Some kind of upper respiratory infection…pneumonia, flu, or something…" I remember one doctor describing my wife's URI as "severe."
We were just becoming aware of a disease called COVID-19, a type of coronavirus for which there was not yet a cure. Seven men and women between the ages of 30 and 80-something were already infected in Ohio with this new respiratory virus. By February, the outbreak was branded a pandemic. Cause: unknown. Disinfectant sprays, wipes, paper towels, and toilet paper disappeared from store shelves. Shelf tags told us where the products had been. Virus cases in the U.S. were developing in specific hot spots around the country. Nursing home residents, cruise and airline passengers, people who'd clustered together for shows, concerts, and church services—and the elderly—were said to be at highest risk. Was that what my wife had? Probably not. Best guess? A bad cold/sinus infection with a touch of pneumonia.
As weeks stretched out to a year, COVID-19 infections and deaths rose. Medications developed for other diseases were tried as treatments for COVID-19. Most didn't work. More than 22 million Americans and 90 million people around the world tested positive for the virus in the first year. The number of infections continued to climb. The consumer media reported that the coronavirus pandemic was overwhelming the pharmaceutical industry. The media hailed doctors, nurses, firemen, teachers, and first responders as heroes in what appeared to be a futile struggle to fight the virus.
But the efforts were not all futile. Vaccinologists raced to create effective treatments. And around the world, packaging engineers worked to develop innovative solutions for the safe and effective distribution and administration of COVID-19 vaccines, not all of which had yet been cleared for use on patients. Two packaging projects of note:
A transdermal patch. Researchers at Swansea University in Wales are designing a microneedle "smart patch" to let patients self-administer vaccine less invasively than with traditional hypodermic needles. The adhesive patch incorporates a phalanx of microneedles to dispense the medication. The patch is also designed to measure the patient's inflammatory response to the vaccination by monitoring biomarkers incorporated in it.
"The primary goal," says Project Lead, Dr. Sanjiv Sharma of Swansea University, "is to create a prototype of smart vaccine delivery device that can not only deliver the COVID-19 vaccine transdermally but also monitor biomarkers in the skin compartment in a minimally invasive way, offering real-time information on the efficacy of the vaccination. The new method would change the way in which vaccine efficacy trials are performed from a statistical assessment to a scientific measurement of patient inflammatory response to vaccination."
A nasal spray vaccine. Another delivery system is under investigation at Imperial College in London. "We have evidence that delivering influenza vaccines via a nasal spray can protect people against flu as well as help to reduce the transmission of the disease," says Dr. Chris Chiu of the Department of Infectious Disease at Imperial College, who is leading the investigation. "We are keen to explore if this may also be the case for SARS-CoV-2 and whether delivering COVID-19 vaccines to the respiratory tract is safe and produces an effective immune response."
When borosilicate glass vials proved to be unsuitable for the vaccine created by Pfizer, Inc. and its German collaborator, BioNTech SE, a new pharmaceutical-grade glass formulation from Corning, Inc. containing no boron, proved effective. Corning's boron-free glass, called Valor®, was able to endure both 500ºF salt baths and submersion in -94ºF dry ice during the processing of the Pfizer/BioNTech vaccine. Corning boasts that its Valor glass is "the first and only fundamentally new glass composition to be approved by the FDA since the advent of borosilicate glass more than 100 years ago."
Vaccines typically require years of research and testing. But in the case of Pfizer/BioNTech, the concept-to-delivery time was just 332 days. "It's important to remember the robust foundation that enabled that pace," says Jeanne M. Marrazzo, director of the division of infectious diseases at the University of Alabama at Birmingham School of Medicine. She was speaking of advances in medical science, but without doubt, healthcare packaging technologies such as these have also been a significant, though largely unsung, accelerator of the timeline for corona virus vaccine development.
Before 2020 was over, 64 COVID-19 vaccines were in clinical trials and 20 had reached the final stages of testing. Vaccines from Pfizer/BioNTech and Moderna were the first two to be approved for COVID-19 in the U.S. by the Centers for Disease Control and Prevention. Others are on the way.
And packaging can take some credit for the progress being made.
---