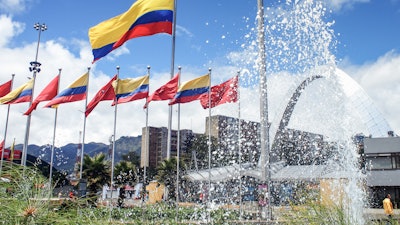 In these events, which bring together professionals from the packaging and processing industries, the inseparable link between productivity and sustainability becomes increasingly evident. Actors of the packaging supply focus more and more on eco-design, clean manufacturing and the offer of solutions that combine brand value and environmental sustainability. And Andina Pack 2019, held last November 19 to 22 in the Colombian capital, has not been the exception.
These two axes were present throughout the academic program of the fair "Packaging & Food Processing Summit" and its panels, which addressed issues as relevant to our industry today as the circular economy and the regulation of single use plastics in Colombia and Latin America, with analysis of national and international experts from academia, industry, brands and consumers.
According to Ismael Enrique Povea, one of the main panelists participating in the Andina Pack 2019 forums, a professor of packaging technology at the University of La Salle and specialized in packaging technologies with 15-years of experience in the industry: "Colombia, after Brazil and Argentina, is the country in Latin America that has advanced the most towards circular economy."
Precisely, in a panel organized during the second day of the fair by the Association for Packaging and Processing Technologies, PMMI for its member companies participating in the fair, four expert panelists representing large multinational brand owners spoke about the great advances that Colombian CPGs are making today in the field of circular economy, in a market that stands out in the Latin American context for its strength and growth.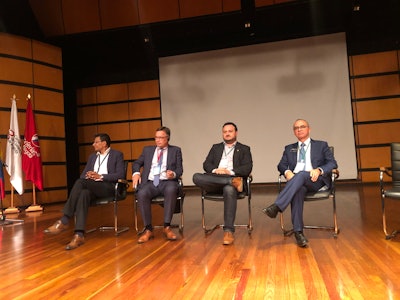 According to the PMMI Guide to Global Markets 2019 report, packaging machinery imports to Colombia showed a significant increase of 24% between 2017 and 2018, and reached a value of 101.9 million dollars in 2018 (See graph 1). Colombia imports 85 percent of its packaging machinery.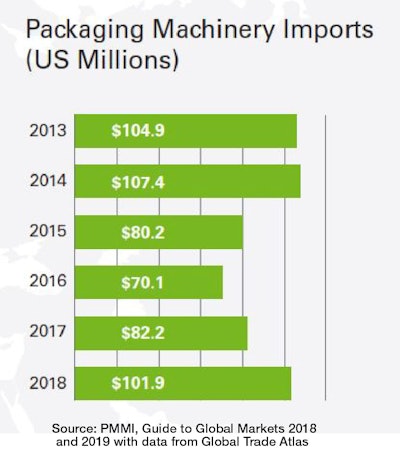 Visiting the Stands
The realization of green initiatives could be seen throughout the 526 exhibitors stands, 60% of them from abroad, who, with their solutions, attracted the interest of about 20,000 visitors. Materials, equipment, machinery and services for various processes and markets confirmed in Bogotá that productivity and technological innovation are an essential part of the formula to create a more sustainable model and move towards the concept of the circular economy.
The display and live demos of machinery and equipment by 585 participating companies at Andina Pack 2019 evidenced a complete coverage of solutions offered for industries such as food, beverages, pharmaceuticals and cosmetics, articles of personal care and hygiene, among others, as well as the inclusion of processing, printing and conversion areas, and other processes that respond to the needs of visiting entrepreneurs.
Universal Bagmakers
In the PMMI Pavilion at Andina Pack 2019, the firm Bosch exhibited its model Woodman "Universal Bagmaker", that can be P3 and P3c models, which provides ease of use, high speed, and package size flexibility to applications including: potato chips, tortilla chips, corn chips, pretzels, snack crackers, popcorn and all other salted snacks. They produce a wide range of safe and reliable bags for the packaging of delicate and hard-to-handle products.
Bosch highlights the two models of this series, the P3 and P3c, its ease of operation, which is done from an intuitive touch screen interface that allows you to use previously defined configurations, reducing human errors in this way. Mario Pino, director of sales for Latin America at Bosch, also highlighted the production speeds of this model, which reaches 120 bags per minute, the speed with which changes can be made between runs, and their convenient size which takes little space due to their design and construction.
Complementing the Bosch offer was also the Pack 403 horizontal flow wrapper, in a new version also characterized by its simple and intuitive operation and the possibility of making reproducible changes between runs. Leandro Scaramuzzi, Bosch Packaging Technology account manager, noted that the mechanical components and controls of this model can be configured for each specific application, and adjusted to a medium or high-speed wrapping process, for total or partial automatic operation. The horizontal model works with high efficiency for wrapping bars, bakery products, chocolates and cookies, in easy-to-open pillow and gusset pouches.
In the Pack 403 model, products are transported by the Pack Feeder 4 feeding unit, a low-pressure system that gently manipulates any type of bakery or confectionery item, such as granola bars, cookies and chocolates. The system integrates handling modules, which include the steps of pre-turning, alignment, grouping, elevation, temporary storage, stacking and feeding to the boxes. Leandro Scaramuzzi explained how this online feeding solution can be configured to perfectly fit the product you want to pack by modifying designs and lengths with different conveyors.
High technology in filling, capping and labeling
In its first exhibition in Colombia, the manufacturer BellaTRX gave Andina Pack a presentation of its portfolio of machines to pack, seal and label rigid containers used in products of different configuration and densities. In the filling area, visitors were able to learn about the operation of the Rx-12 and Rx-Fill tablets counter models. The first one offers high speed and the ability to dose products between 2 and 40 millimeters, and the second one is available in a desktop version or the option of integrating into a fully automated production line. For liquid filling, the company exhibited its range of equipment for applications with any type of viscosity, including one as low as water. For powders and granules, the BellaTRX filler model is available with one or two filling hoppers and a vibration system that settles the product to be packaged.
The capping process is backed by BellaTRX with models such as the Magna Capper for large packages between 22 and 120 millimeters; with the Secure Chuck Capper that automatically places and applies torque to the caps and can be integrated into any conveyor; and with the Secure Chuck Torquer which adjusts the caps already placed on the package and can be used in its version with torque control with servo motor or with conventional mechanical clutch. "With our capping equipment, the cap is always transferred in a positive way, held from the moment it leaves the sorter until it is put in the bottle," said Pablo Terez, BellaTRX Sales Manager for the region. By the end of the line, the manufacturer promoted its Notaris labeler, a model that integrates a Premium servo head and has the ability to apply labels in round, square and rectangular containers, with speeds of up to 120 units per minute.
Intelligent labels for food and beverages
At the Bogotá fair, Avery Dennison showed its latest innovations offer in radio frequency identification (RFID) technologies and intelligent labels to connect products with consumers. Pedro Garza, leader in emerging technologies at Avery Dennison, told Mundo PMMI that RFID technologies have shifted from fields such as the apparel and haute couture industry to applications in the food and beverage industry and their integration with advanced systems of traceability, validation and trust building such as Blockchain, an incorruptible verification technology which, every day, gains more space in the digital world.
The use of antennas and labels with radio frequency devices is transforming the food and beverages markets and adapting to the world of purchases and the distribution of products that promote digital technologies, said Pedro Garza, informed of the advances that the company is making in this field and presented them in Andina Pack 2019. The RFID 456u8 antenna, for example, a recent technological development, opens today a new field of use in applications that were previously incompatible with RFID technologies such as liquids and metals. The use of this traceability and identification element can now be used in water bottles and soft drinks and will allow these products and many other foods and beverages to verify their integrity, origin, monitor cold chains and, in general, ensure for producers and consumers the improvement of their experiences, as well as the achievement of a substantial reduction in food waste levels. "With RFID technologies consumers will know everything about their food, and food producers that do not evolve with this technology will no longer be competitive," said Pedro Garza.
Winds of change
In the hectic atmosphere of the city during the days of the fair, HP Inc. announced a "Revolution in the packaging and label industry in Colombia and Latin America", driven by the weight that digital printing systems are charging in production. With the presentation of its press platform for printing labels, folding boxes, flexible packaging and shrink sleeves, the firm seeks to lead that revolution, which offers opportunities for variable information, product regionalization, personalization, production on demand, among other advantages that are transforming communication between brands and consumers. José Gutiérrez, MCA Territory Manager of HP Inc. made a special emphasis during the visit to the stand at the launch of the HP Indigo WS6900 label press model, which supports the production of a wide range of sizes and styles, with materials resistant to mechanical exposure to water and chemicals. The owners of an HP WS6800 press can update it to the WS6900 version, with all its features and benefits. "HP Inc. protects its customers' investment in this way," Gutierrez said.
Likewise, the company highlighted, during the fair, the release of Silver ink which allows the production of metallic-looking packaging. "Before, printers had to buy substrates or metallic structures because inks are translucent. Now, they can combine the color they have installed in the press with Silver ink and give metallic tones on any material." This recent development is just beginning to be implemented in the region, with some cases in Colombia, Ecuador, Guatemala, Chile and Mexico, and with effects that result in less time to market and its use in seasonal products with high properties quality and presence in point of sale.
The combination of the digital printing versatility of HP Inc. presses with the possibilities of the designing programs, was another aspect that stood out, as a way to increase effectiveness and impact of packaging. The HP Mosaic software, shown at Andina Pack, allows to make changes to a customer's design template through elongation and rotation effects, among other options, to create multiple versions of the same pattern and "to change the conversation between printers and brands, which has traditionally been focused on costs and not so much on adding value, "said José Gutiérrez.
Sustainable materials
In line with the spirit of sustainability that was breathed in Andina Pack 2019, UPM Raflatac showed its Forest Film material, a 100% wood-based solution. With this solution, the company is offering CPGs the alternative of replacing fossil-based label materials with renewable ones from wood-based biomass. This material is used in collaboration with UPM Biofuels using UPM BioVerno nafta made from a pulp production process waste that, according to the manufacturer, comes from responsibly managed forests.