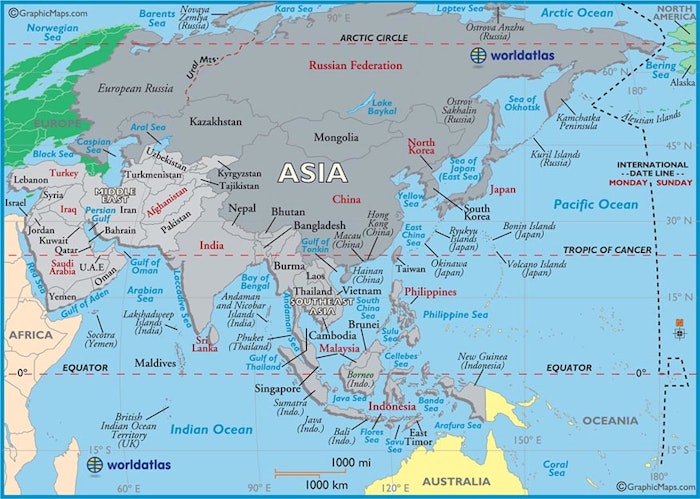 Gaphicmaps.com
Smithers offers the following exclusive insights ahead of publication of the report, The Future of Packaging in Asia to 2024 in November 2019:
·      Overall value of packaging in Asia will hit $377.5 billion in 2019. It will be the fastest growing major world region to 2024 reaching $458.2 billion in that year
·       Evolving consumer tastes will significantly raise demand for cosmetics and healthcare packaging
·       Industrial and transit packaging are the biggest end-use applications representing 48% of demand in 2019
·       Paperboard packaging is consistently the most widely used material in Asia with a 36.7% share (by value)
·       Flexible plastics will see the biggest boost in demand in the medium term
·       Asia's rapid urbanization and a decline in the nuclear family will underpin more demand for smaller, single-serve, resealable, and on-the-go packaging types
·       China will remain the largest national market – Chinese consumers' disposable incomes continue to rise, and sustainability will play a larger role in pack selection
·       The biggest relative rise in consumption will be seen in less developed Asian economies – The Philippines, and Vietnam
·       Japan's packaging market will return to positive growth across 2019-2024
The Future of Packaging in Asia to 2024 provides an authoritative analysis of the current and future evolution of packaging in this region. This is quantified in an exclusive data set to give an unparalleled level of granularity and insight. It is available to purchase now at https://www.smithers.com/services/market-reports/packaging/packaging-in-asia-2024 on the Smithers' website.