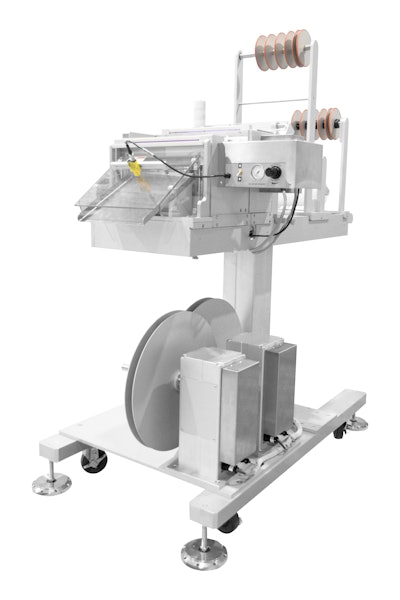 Innovative Blister Cutter
The free-standing module unit integrates easily with new and old blister machines to provide different blister cards without the need of expensive tooling or long costly change overs.
The unit provides toolless changeover and precision cutting with shear cut knife assemblies and tracks the blister with an optic sensor to ensure cross cuts are in the proper location.
Enhanced safety is ensured through clear safety covers and an integrated light tower keeps operators informed about the systems' status through visual and audible alerts.
AZCO Corp. www.azcocorp.com
Temperature-sensitive Label Applicator
The compact, HMI-integrated applicator applies thermochromic vaccine vial monitor (VVM) labels that change color when exposed to an out-of-tolerance temperature for a set amount of time to help ensure product efficacy.
The VVM applicator handles vials, bottles, and other container formats at speeds of up to 600 ppm with accurate label placement, easy operation, and fast changeover.
Each container is positively transported via a servo-driven mechanism encoded to the label applicator drive for accurate application of pressure-sensitive VVM labels with camera verification.
Weiler Labeling Systems https://www.weilerls.com/
Compact Pump for Food & Bev
The Certa Compact Pump is designed with a more flexible and simplified design to save on assembly time and cost for an integrator during installation.
High suction capability and the Certa's sinusoidal rotor allows the pump to reduce shear and power consumption for the handling of viscous products such as chocolate, cheese, curd, soft fruit, sauces and pie fillings.
Watson-Marlow Fluid Technology Solutions www.wmfts.com
Drop-in, Fit-in and Built-in Desiccants
These desiccants are designed to protect the functionality of medical devices, including clinical and home-use in-vitro diagnostic platforms.
Drop-in desiccant packets offer durability, moisture protection and breathability while taking up little space inside the primary packaging.
Integrated desiccants ensure moisture protection as well as child resistance, keeping them from accidentally ingesting medication with an innovative press-and-flip opening mechanism.
Desiccant canisters are designed for optimal absorption of moisture and odors immediately after filling the oral solid dose drug into bottle packaging.
Sanner GmbH https://www.sanner-group.com/
Companies in this article