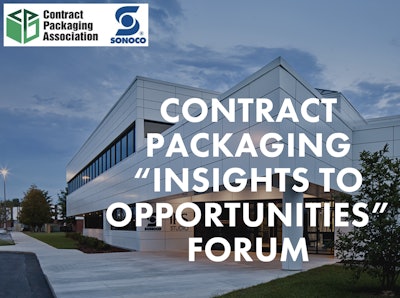 The Contract Packaging Assocation (CPA) invites you to its first annual Contract Packaging "Insights to Opportunities" Forum. The event, being held in Hartsville, SC, will kick-off with an evening reception Prestwood Country Club on May 11, followed by the main "deep dive" event on May 12 at Sonoco's new innovation center, the iPS Studio, also in Hartsville.
Presentations will include coverage of 2016 consumer trends with Lynn Dornblaser of Mintel; case histories of consumer products and producers; a panel with brand and supplier experts and best practices for forming alliances.
According to the CPA...
Side by side with a select group of market leaders, brand designers, packaging experts and your peers, expand your knowledge on the drivers of today's consumer, explore packaging trends and build your network all while enjoying a bit of southern hospitality. Drive better business results using insights to:
Rethink your go-to-market strategy by integrating behavioral understanding with the traditional and non-traditional methodologies you've been using.
Develop a deep understanding of consumer drivers to immediately help solve pressing business challenges.
Interact with your peers and market experts to develop resource networks.
To get more information and registration details, visit www.sonoco-insights.com.
Companies in this article