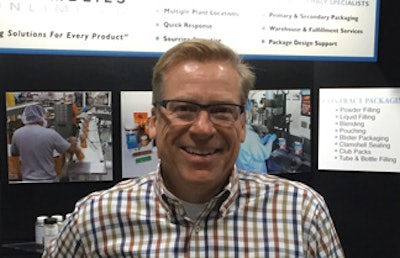 Since 1993 when he started a company to help manufacturers find home-based piecework contractors, Randy Shaw has been riding the outsourcing growth curve. At 58, the president of Bloomingdale, IL-based Assemblies Unlimited (www.assemblies.com) runs a national network of more than 50 U.S. co-packers providing turnkey filling, packaging, assembly and fulfillment services with a sweet spot in foods and dietary supplements. He took time out to share his perspectives with Editor Bob Sperber.
What was your greatest early accomplishment?
Making it past the first two years of trying to start my own business. For months I sat at my desk at home going through industry books and making phone calls every day to start this company. The next-biggest accomplishment was scaling-up, and making the transition from working "in" the business to working strategically "on" the business.
How did you make the move from secondary packaging to filling and primary packaging?
It's simple; we followed industry trends. We started out in secondary packaging because that's what everyone was asking for —things like POP displays, clamshells, club packs —but when the calls started to come in for stand-up pouches, sachets, rigid containers and aseptic packages, we cast our net wider, and got into primary packaging.
How do you find the right contract packager for a job?
Solving a contract packaging problem isn't a "one size fits all" proposition; it's "one size fits one." No two companies are alike, and every job is different. We choose our suppliers based on factors like geography, equipment, plant flexibility, pricing and turnaround —all these things vary from one co-packer to the next.
How do you address the chicken-or-egg issue of expanding to meet anticipated demand vs. reacting to present needs?
If a customer needs 100,000 square feet and we don't have it in their area, we'll go out and find it. But "chicken-or-egg" doesn't really apply, because if a customer needs a cup-filling line with capacity to run 12 million packages a month, it's already out there; we'll find it.
Of course, there are risks to waiting too long in reacting to trends. When stick packs became popular, there was a mad scramble among co-packers to serve that market, and it became oversaturated. Now there are 50 companies with stick machines sitting underutilized.
When should a company opt for turnkey project management?
Supply chain management —finding the right supplier in the right location with the right turnaround time at the right price —
is very time consuming. People who come to us for turnkey services want to offload the resources…the effort, the space, the labor, and the admin…to do that. We are to consumer packaged goods companies what Amazon is to on-line shoppers; instead of shopping 10 individual contract packagers, they can go to just one source. That kind of convenience, turnaround and efficiency will win every time.
On a lighter note: If you had a theme song, what would it be?
I've always been a fan of Motown, soul and R&B. So if I had to pick a song it'd be "Ain't No Stopping Us Now" [by McFadden and Whitehead]. "We're on the move / we've got the groove" …pure 70's disco, but I love it.