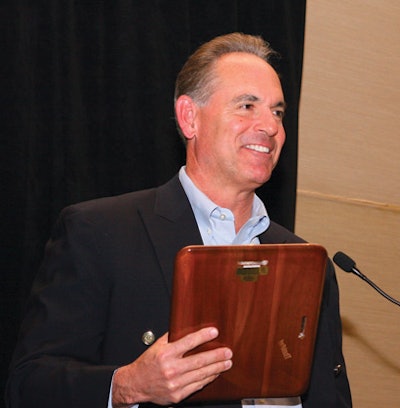 Outstanding Contributor
The Contract Packaging Association awarded Rob Reinders, President of Performance Packaging of Nevada, the Outstanding Contribution Award at the 2016 CPA Annual Meeting in Las Vegas on Feb. 26. Mr. Reinders has consistently supported the CPA through Annual Meeting sponsorship and participation, and he currently chairs the CPA Industry Events Committee. Vicky Smitley, CPA Board President, said this about Mr. Rob Reinders, "The dedication and drive that this person displays, we believe are the exact characteristics necessary to advance this association and deliver year over year value to the membership." Congratulations, Rob!
Call for Scholarship Applications
Last year, the Contract Packaging Associate (CPA), with the support of the Institute of Packaging Professionals (IoPP), announced the creation of an academic scholarship available to students headed for careers in the packaging field.
CPA Past-President Chris Nutley and CPA Executive Director John Mazelin awarded the first scholarship to Kate Cox, a junior enrolled in Indiana State University's Packaging Engineering program.
The $2,500 scholarship focuses on packaging machinery and has the following criteria: Applicants must be a student as of fall 2016, enrolled in an accredited college/university or vocational/training school with a technical or mechanical degree focus in packaging machinery or systems.
IoPP offers six annual scholarship funds to students headed for careers in the packaging field. Through CPA, PepsiCo R&D, and IoPP Benefactor, Chapter and Technical Committee support, these scholarships were created to elevate packaging education by raising awareness of packaging as a career choice.
Students interested in applying for the scholarship can visit www.iopp.org/scholarshipfund to download the application,
then send it to:
2016 IoPP Packaging
Scholarship Fund, c/o IoPP
17W110 22nd St., Suite 800
Oakbrook Terrace, IL 60181
Scholarship applications are due by April 11.
Annual Meeting Overview
CPA hosted another successful Annual Meeting at Red Rock Resort in Las Vegas in late February, drawing a crowd of nearly 100 people.
The gathering was full of past attendees and several newbies. Eagle Flexible Packaging Marketing Manager Ashley Cothron noted that she was very impressed with both the event and the organization, mentioning that she "looks forward to upcoming opportunities and events."
Daisy Jiang, Marketing and Communications Manager for Nulogy, was also a first-time attendee for the event. Jiang said there were many high-value features to the Annual Meeting, including the agenda and presentations, but noted that the CPA environment is what will keep her coming back.
"I really got a sense of how intimate the co-pack community is and how welcoming everyone is. It's a great chance to meet and reconnect with people!"
Magician, entertainer and sales extraordinaire Charlie Del Rosso kicked off the Annual Meeting in a memorable way with his session "The Amazing Powers of the Mind: Using Memory and Intuition to Build Your Business." Charlie's humorous, thought-provoking and empowering presentation helped put conference goers in the "right frame of mind" to participate in the Networking Session, which was held immediately following the kick-off event.
The conference agenda was filled with meetings, presentations and sessions from topics such as building businessskills, to legal, labor and technology issues.Some of the highlights included presentations from Allegiance Staffing President Tom Landry, a Rapid Fire discussion on the risks and rewards of Big Data and panel presentations on market drivers and the supply chain.
Four-time conference attendee Jorge Revelo, National Accounts Manager for Combined Technologies, Inc. said Saturday's supply chain panel discussion was especially enlightening.
"It really gave [attendees] a foresight into where the contract packaging world is heading. Every year, I am always able to hear new and relevant information [like this] that helps enhance by business," Revelo said.
The hosted networking dinners were once again a big hit and a great way to connect with contract packaging peers. This popular event was a perfect precursor to a great last day that started with CPA Business and ended with Breakfast of Champions, an open CPA panel discussion. This session is always one of the most anticipated events of the CPA Annual Meeting, featuring an informal discussion about the industry with various CPA representatives.
The association has announced the next Annual Meeting will be Feb. 23 through 25 at the JW Marriott in San Antonio, Texas. More information about the event is forthcoming. To stay up to date, visit www.contractpack
aging.org or be sure to read the November/December issue of Contract Packaging Magazine.
Make the Grade with CPA
The CPA Education committee, having just returned re-energized from the Annual Meeting, is putting finishing touches on the education activities for 2016 and beyond.The committee, which supports one of the Pillars of Value of the CPA itself, is responsible for the sourcing, development, curation and syndication of educational content that is relevant, informational, and of interest not only to the CPA membership but to the industry as a whole.
"We are very excited about the membership interest and suggestions around our renewed efforts supporting a need and desire of the CPA membership," Tim Koers, CPA Board Director and Education Committee Co-chairman said. "And 'education' can mean many things. It can mean industry news, know-how on a particular subject matter or insights to a particular topic. Since we have such an open definition, it makes both the leadership and participation aspects of the committee all the more engaging."
The current committee is co-chaired by Jason Tham, CEO of Nulogy, who is also a director on the CPA Board. Additional committee members include experienced and diverse industry players including Daisy Jiang of Nulogy, Ron Puvak of Plastic Technologies, Inc., Chuck Redfearn of Sonoco, and Mike Richmond of HAVI Global. Additional Board support for this committee comes from Directors Vicky Smitley and Eric Wilhelm. The CPA would like to add even more horsepower to this committee. If you are interested in serving, please contact CPA Managing Director Nikki Johnson at [email protected].
Become a CPA Member
The Contract Packaging Association (CPA), founded in 1992, has proudly served as the national, not-for-profit trade organization for the Contract Packaging industry. Our membership includes both primary and secondary contract packagers and the suppliers that serve them. Our members support an incredibly diverse array of consumer goods companies, from Automotive Parts to Electronics, from Candy, Food and Beverage to Health & Beauty Aid.
The mission of CPA is to "serve the growth of member companies by assisting in the establishment of productive links between buyers and member companies and by providing educational opportunities for member companies' executives to improve the efficiency and productivity of their operations."
Joining CPA allows us to put our mission of growing and uniting the industry into action. We pride ourselves on providing our members with up-to-date information about events and news related to their businesses, continuing education, networking opportunities, informational resources and promotional support.
A Contract Packager membership is for companies that perform all packaging functions, including manual and semi-automatic to full-speed, high performance packaging lines. Other member services include design, warehousing, distribution and other business services. An Associate membership provides machinery, containers, components, materials or other services to the contract packager.
Multi-unit membership is also available. The corporation or governing entity must join CPA first at the regular rate and renew each year at this rate. Brands and/or subsidiaries of the governing entity may join at half of the current dues.
Join us today and experience the impact the CPA will make on your business!
For more information, contact CPA Managing Director Nikki Johnson, with question at [email protected].