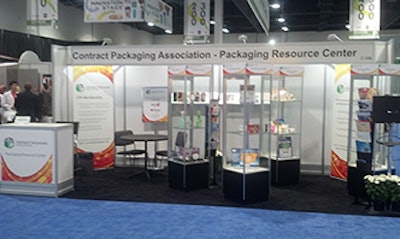 The Contract Packaging Association (CPA) is pleased to announce that it will be hosting the Contract Packaging Sourcing Center at PACK EXPO Las Vegas 2015 from September 28-30 at the Las Vegas Convention Center. The Sourcing Center will be located at Booth #C-1257 and will provide a showcase of contract packager members and their services, as well as offer insight on finding and utilizing a contract packager.
"The Contract Packaging Sourcing Center is one example of how PACK EXPO connects brands with top-tier solutions providers for their manufacturing operations," said PMMI President & CEO Charles D. Yuska. "The CPA Sourcing Center is a clear starting point for attendees investigating contract packaging as an option, whether they are launching a new product, planning a seasonal packaging campaign or looking for new efficiencies."
John Mazelin, Executive Director, Contract Packaging Association underscored the importance of connections at PACK EXPO for contract packagers.
"CPA members know that at PACK EXPO, they will connect with brands hungry to innovate and technology providers who can help them bring their contract packaging business to the next level," Mazelin said. "That's why we launched the Contract Packaging Sourcing Center last year and why we're bringing it back for PACK EXPO Las Vegas 2015."
During PACK EXPO, the Contract Packaging Association will provide additional guidance at the event's Innovation Stage with a learning session on Tuesday, September 29 from 3:00-3:00 p.m. The session, "What You Don't Know Can HELP You – The Benefits of Contract Packaging," will be presented by a CPA representative who will explain the variety of capabilities contract packagers can bring to a partnership with a brand owner. The Innovation Stage is located in the Central Hall at the Las Vegas Convention Center, adjacent to the Association Pavilion.
For questions about CPA's involvement in PACK EXPO, contact Jill Gabbert, CPA Account Executive, at jgabbert@contractpackaging.org.
Companies in this article