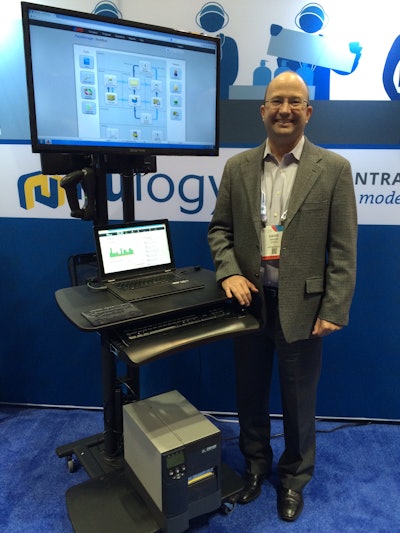 Leading co-pack software provider Nulogy, developer of cloud or Saas (Software as a Service) solutions, and leading third-party logistics provider GENCO, have announced the release of a hardware-and-software workstation that will integrate execution and management functions into a Production Command Center for the contract packaging plant floor. This is among the behind-the-scenes projects that have likely helped the company secure a new pipeline of capital funding in recent weeks.
Jointly developed by the two companies, GENCO has proved the system's efficacy for contract packaging operations. Nulogy's first showings, at its booth (S-2385) the 2014 Pack Expo convention in Chicago, November 2 to 5, represents the first offering of an undisclosed solution pipeline from the two parties.
Dave Mabon, president of contract packaging for the 3PL says his company "recognized the opportunity to maximize the benefits of Nulogy's software solutions by developing optimized hardware to leverage it." The system includes computer, monitor, scanning and printing hardware, Nulogy and additionalsoftware and provisions for additional equipment on a rolling workstation.
The R&D collaboration grew from the two companies' joint "Project Nutron" initiative to develop an optimal hardware-and-software system for the co-pack plant floor.
The system has led to productivity improvement in GENCO's packaging operations, according to Jason Tham, CEO of Nulogy, who says it can now "elevate the execution of contract packaging industry-wide."
The 3PL currently operates 140 value-added warehouse locations comprising 38 million square feet and manages $1.5 billion in freight annually throughout North America. Nulogy pioneered and leads in contract packaging software systems globally, with cloud-based solutions used in the supply chains of major brands worldwide.
UPDATE: "We did it for ourselves" replied the GENCO CEO at Pack Expo when asked why he forged the alliance with Nulogy. He says his operations have 400 people per shift, three shifts a day, seven days a week, and he expects to run higher-performing plants with at least 10% increase in productivity using the workstation, resulting in what he says provides "tremendous savings."
Companies in this article