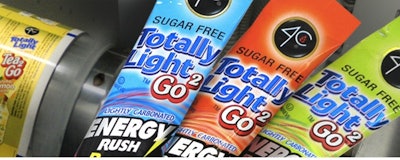 The new vice president of business development is Tom Martin. Steve Strom will head machine sales, and Eric Hawley is the company's senior technical services manager. All three represent a considerable expansion to the knowledge base and expertise of T.H.E.M.
Tom Martin brings more than 35 years of experience in contract packaging, automated equipment, labeling and decorating to T.H.E.M., holding various positions at the senior management level. As VP of business development, Martin will introduce both new and future customers to T.H.E.M.'s expanding contract packaging capabilities, which now include production of single-serve packaging in stick packs, pouches and packettes from small volume to national rollout scale.
T.H.E.M.'s FDA-registered facility includes multiple production suites that accommodate single-serve liquids, pastes and powders for a variety of food, beverage, health, and personal care products. Martin will assist customers with brand extensions, new product introductions, or those requiring expanded capacity beyond their own in-house capabilities.
As senior executive of machinery sales, Steve Strom brings more than 32 years of packaging machinery and design experience to T.H.E.M. His automated equipment expertise covers a broad range of filling, packaging, labeling and decorating systems. During his career, Strom has provided packaging machinery solutions to numerous global consumer brands in the personal care, food, and beverage markets. Prior to joining T.H.E.M., he owned and operated an industrial machinery and equipment company, and served as general manager to a major packaging services firm. A certified electronics technician, Strom's deep technical background represents a decisive advantage for T.H.E.M. customers at every touch point in the machinery evaluation, specification and implementation process.
Senior technical services manager Eric Hawley's ascension through the ranks represents the third major enhancement to the T.H.E.M. team. Hawley has an impressive 20 years of technical service experience, and is well known in the industry through his active participation in many industry associations. His role will be to further enhance and expand the technical capabilities and services of the company.
Combined, these three individuals further establish T.H.E.M.'s position as the single-serve packaging authority in North America. "We are delighted to have these distinguished executives on our team," commented Neil Kozarsky, CEO and President of T.H.E.M. "Their individual accomplishments in the packaging business speak for themselves. Collectively, they will considerably add to our ability to better anticipate and respond to current and future customer needs. We look forward to the many positive contributions they will make to our rapidly growing organization."
Companies in this article