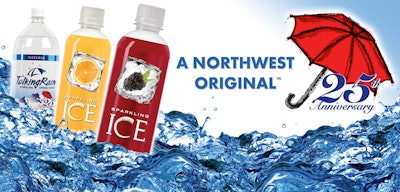 Saddle Creek Logistics Services
, a third-party logistics provider (3PL) based in Lakeland, FL, won a contract to nationwide supply chain management for Seattle-based
TalkingRain Beverage Co.
, a producer of spring waters, sparkling essence waters and flavored sparkling spring waters.
TalkingRain, founded in 1987, markets drinks including mountain spring water and flavored sparkling spring water under the names Sparkling ICE , Sparkling Essence Water and Mountain Spring Water. Saddle Creek will provide value-added services such as product reconfiguration, product customization and rainbow-pallet building. In addition, Saddle Creek will manage more than one million square feet of food-grade warehouse space at eight campuses across the country.
Saddle Creek reports playing a key role in configuring a national distribution network for TalkingRain, which has a well-established presence in the Northwest U.S. The national network includes existing Saddle Creek facilities in Lakeland, Fla.; Macon, Ga.; Charlotte, N.C.; Florence, N.J., and Chicago; and three new locations in Seattle; Ontario, Calif.; and Fort Worth, Texas.
Kevin Klock, CEO of TalkingRain, cited Saddle Creek's "creative ideas and scalable resources" as well as "experience in our industry, quality service record, and nationwide network" as factors behind the national contract.
Saddle Creek will support the beverage company's growth "From improving inventory visibility to optimizing their network in support of postponement strategies," according to Duane Sizemore, senior vice president, marketing and business development for Saddle Creek, adding that TalkingRain "will be one of our top accounts."
Companies in this article