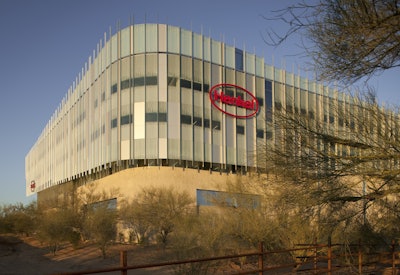 In March, Dial soaps, Purex laundry detergents, Loctite adhesives and more of Henkel Consumer Goods' North American brands are under new management with regard to logistics. Because, as of March, Henkel Consumer Goods, parent of these and other consumer and industrial brands, outsourced its North American logistics division to Saddle Creek Logistics Services, Lakeland, FL.
Saddle Creek has set-up shop at Henkel's consumer products headquarters in Scottsdale, Ariz. (pictured), is now a liaison between Henkel's brands and all third-party logistics providers. Services include day-to-day support for order management; shipping; KPI reporting; warehouse and transportation development; systems enhancements and supply chain network improvements.
Saddle Creek's new "Lead Logistics Provider" status represents an expansion of a relationship dating back more than 20 years. The arrangement will help "reduce costs throughout our logistics operations while allowing us to focus on core competencies," said Torsten Pilz, Henkel's senior vice president, supply chain.
"This new role is a natural progression for us," said Rob Pericht, Saddle Creek's senior vice president of warehouse operations, added.
Companies in this article