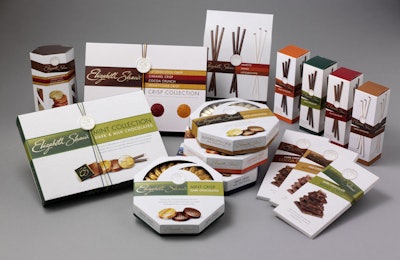 Following a successful three-year relationship, U.K. luxury chocolate and confectionery brand Elizabeth Shaw has appointed New New Vision Packaging as its sole packaging services supplier starting with an exclusive, 18 month contract.
The single-source packaging agreement has New Vision supplying folding cartons, vacuum formed inserts and adhesive labels, but this is the first time that the two companies will enter a sole-supply agreement. Having a single packaging supplier "is key to the brand's future development" and "has been crucial in delivering our required speed to market," according to Malachy McReynolds, managing director of Elizabeth Shaw.
"Everyone at New Vision is extremely proud of achieving sole-supply status and we look forward to taking the brand forward, keeping it a firm favourite with its existing customer-base and helping to introduce it to a whole new generation," said Stephen Shortland, managing director of New Vision Packaging.
New Vision Packaging designs, sources and packages various product categories. Within confectionery, the company serves several brands including Thorntons, Cadbury and Burnt Sugar, and is an approved supplier for many many major U.K. retailers.