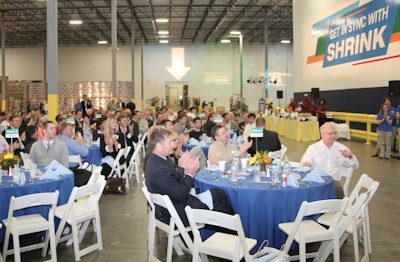 Verst's exclusive facility tour, titled Get in Sync with Shrink, was hosted 180 tour attendees from seven countries. The tour featured 12 key stops and showed eight production lines in action--including those operated by industry-leading label, container and equipment suppliers. Before being given a behind-the-scenes look at the collaboration involved in the shrink sleeve process, attendees were treated to a lunch from Cincinnati's Zagat-rated Montgomery Inn.
"I always knew Verst was the industry expert at shrink sleeve decorating," said attendee Stanley Stewart, Sr. Quality Materials Engineer at MillerCoors. "But the firsthand tour of their facility really brought that to light. They demonstrated that they really do have the flexibility to handle all types of products. Even more important, they proved that their quality standards are the highest in the industry."
Verst, a family-owned company founded in 1966, performs one-source shrink sleeve contract decorating for some of the most recognized brands in America. The company recently finished an expansion of its packaging facility, resulting in 402,000 square feet of LEED-certified manufacturing and storage space.
"We're proud of our state-of-the-art equipment and automation capabilities at Verst – capabilities that result in lower costs and faster speed to market for our customers," said Will Schretzman, Vice President of Packaging. "It truly was a pleasure hosting all the industry leaders at our Hebron, KY packaging facility, providing them with a unique opportunity to see the synergy of shrink sleeve collaboration at its best."
Companies in this article