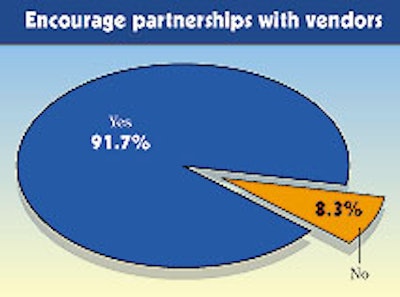 Partnerships can be expected to play a major role in purchasing arrangements this year and into the future, say respondents to an exclusive Packaging World reader survey on vendor consolidation. Many of these participants offered sophisticated answers when they were asked about advantages they expected to receive from a partnership arrangement with materials, machinery or service suppliers.
This report covers the responses to about 10 questions posed on the questionnaire. The first half of the survey focuses on the goals of manufacturers in dealing with the number of suppliers they buy from (see PW, Sept., '00 p. 40).
The information comes from a detailed survey mailed to more than 1ꯠ selected PW readers and tabulated earlier this year. The questionnaire and the results from 111 responses were analyzed with the assistance of Market Research Support Services (Roselle, IL). All surveys were mailed to individuals at medium- to large-size companies (companies with more than 250 employees). However, the responses used in this analysis closely match the geographical breakdown of all PW readers.
All participants were asked whether their companies encouraged the use of supply partnerships. The response was dramatic, with 91.7% responding that their companies did encourage the creation of supply partnering (Chart 1).
On a regional basis, companies in the East (96%) and the West (93.8%) were somewhat more likely to seek supply partnerships than those in the Midwest or South. There was little variance when participants were asked about partnerships for materials, machinery or services.
Benefits packagers expect
For the companies that encourage partnerships, readers were asked a qualifying question, "Does your company expect better service and/or price from a partner?" Every respondent answered affirmatively.
Next, the survey offered several choices of other benefits expected (Chart 2) to prompt responses, followed by an opportunity for respondents to write in other factors not included in the list.
With price and service already covered, survey respondents were somewhat more discriminating. Nearly all respondents (96%) said their companies expected reduced order lead times from supplier partners. Fewer than two-thirds thought partners would provide shorter production runs (63%). Slightly more than half of respondents from the Midwest and West anticipated short runs, while respondents from the South (68.4%) and the East (79.2%) were far more likely to expect shorter runs from packaging partners.
The remainder of benefits from partnerships showed fairly even response levels from each section of the country. However, only half the participants in the South expected customized deliveries, while Midwest respondents most often expected its partners to inventory materials or parts for them (88.1%).
On the issue of custom deliveries, only half of companies having partnerships with machine builders expected it.
Other benefits named
Survey participants were not shy about specifying other benefits their companies expected from a partnership with a packaging supplier. Price concessions, rebates or a similar term was most often mentioned. Other expectations were also included.
Of participants from the South, 44.4% of those answering this question sought "technical design assistance," "engineering support" or "product development assistance." Only 12.5% of respondents from the East wrote in one of those answers. Instead, they were far more likely to name "vendor-owned or vendor-managed inventory" or "preferential treatment during shortages."
It's obvious that companies in the West are somewhat concerned about being isolated from some vendors. Nearly a third of Western respondents cited "parts availability," "West coast warehouse" or "eliminating back orders." And participants in the West also most frequently wanted "more consistent quality" or "fewer rejects" as goals from their partnerships with suppliers.
Some of these written responses were more specific. A buyer with a major snack food company said his company "expected schedule changes to accommodate emergency situations" and "a continuous supply of materials in times of materials shortages."
Hedging prices
A senior buyer with a national garden product maker was very supply-chain focused. He said his company wanted "assistance in advancing [materials supply] from international sources," and even more, "the ability to leverage buying with its partners' suppliers." If this suggests the ability to hedge material prices, the business development manager at a chemical company hinted at the same when he responded that his company sought to "decrease [price] cyclability" and a buyer with a poultry processor expected prices "based on certain published figures."
The vice president for purchasing at a national frozen foods manufacturer indicated his company wanted its packaging partners to have "direct involvement in design and development of packaging." And although price has already been mentioned, the director of procurement for a fast-food chain says it a little differently. His company wants its partners to "provide cost-saving options in materials and services."
The purchasing manager of a fruit processor must have just left an information technology meeting at this company. He said his company expected its partnering suppliers to participate in "electronic data interchange, MRP II systems and information sharing."
More personal service
A purchasing manager for contract packaging at a major household products maker expects to receive "more personalized service based on the partnership because the supplier will be gaining higher volumes for the different 'brands' they produce for us."
Other answers in line with more personalized service included "more operator training," from the senior buyer at a national bakery. A purchasing agent with a national pharmaceutical manufacturer said his company expected partners to provide "on-site technical specialists." This was also mentioned by the director of purchasing at a medical device maker who said his firm expected a "resident engineer."
This answer also came from other levels of the supply chain. "On-site support" was also the goal of the director of standards at a major food retailer, and the buyer for an equipment manufacturer sought "engineering support to improve components." Many respondents mentioned variations on the quality theme, some asking for partners with Total Quality Management programs or ISO quality certification.
Others were more specific. The purchasing manager for an instrument manufacturer said his company expects "research and development for new products and products that exhibit better efficiencies." That is similar to the purchasing manager at a national dairy. She reported her company wanted its partners "to be on the leading edge of technology and share advances."
See sidebar to this article: What do supplier partners gain?
See sidebar to this article: Partner in name only?
Companies in this article