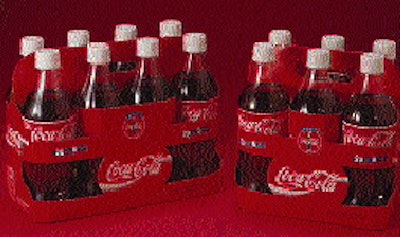 39), but also the machinery used to apply it. And IP unveiled new printed versions of the Triton, both those that are commercial and those soon to come.
Warrenton Products, a Pepsi copacker in Warrenton, MO, has become first user of the Triton carrier for polyethylene terephthalate bottles, in this case 20-oz bottles of Hy-5(TM), an isotonic drink. The paperboard beverage rings are IP's first printed version, with the Hy-5 logo printed against a red and blue background. PW has learned that the Hy-5 carrier will soon be joined by a printed version for Pepsi in Chicago.
Along with the added printing, the carriers "lend stability to the package throughout the handling and distribution system," says Hugh White, general manager of Warrenton. The plant loads six-packs into a Triton corrugated carrier tray that includes end panel cutouts for easy carrying.
Meanwhile, Mead Packaging (Atlanta, GA) proudly debuted what it calls the BasketWrap(TM) paperboard carrier that was specifically designed for Coca-Cola's 20-oz contour-shaped bottle of PET. The basket-style carrier is unique in that it features cut-out front and corner sections so the contour bottles can be plainly seen. In the center of each main panel, the nostalgia of the bottle and carrier are reinforced by the use of Coke's round "always" logo.
Coca-Cola is still bashful about specifying when the carriers will be introduced into the market. "The multipack has been consumer tested, but not market tested," Mary Butin, Coke public relations program manager, told PW. She confirms the soft drink giant isn't yet talking about when the carrier will enter the marketplace, except to confirm that it won't be before the end of '94. And it will roll out bottler by bottler, she admits. The design was selected after testing in consumer groups in several major U.S. cities. The carrier will be available in four-, six- and eight-bottle configurations. A version of the basket carrier was also shown by Riverwood Intl. (Atlanta, GA).
Companies in this article