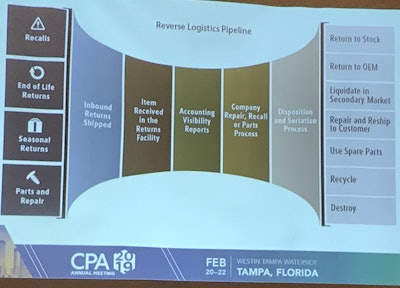 End-of-life, recalls, and seasonal returns, which all fall under the umbrella of reverse logistics, continue to plague e-commerce. Dave Mabon, president of Ongoing Value, Inc. and formerly of GENCO (now FedEx Supply Chain) knows a thing or two about reverse logistics. Today, echoing a sentiment posited by Dr. Mike Richmond, PTIS Global Management & Packaging Consultants earlier in the day, he said reverse logistics present the number one opportunity for contract packagers at the moment.
That's why he was amazed and dismayed to find, upon Googling "reverse logistics" alongside "contract packaging," not many contract packagers appeared. Done properly, Mabon says offering reverse logistics is a strong differentiator that's severely underutilized among contract packagers.
"Not a single one of your peers and competitors here appear in describing the value of contract packaging with reverse logistics as a service," he says, going on to cite examples of a few contract packagers who are doing a good job both offering the service and communicating this message. "All too often you compete for these opportunities [to contract package for a brand] and you end up being asked if you have a service, to which you can respond in the affirmative. But that's far less powerful than upfront communicating your entire suite of services. Even if they don't need all these services early on, or it's not on the initial RFP, it's important for your customers to know that it's available."
A significant portion of contract packagers use Nulogy's PackManager or similar software that have built-in recall support capability, which Mabon say perfectly exemplifies a reverse logistics capability.
"I don't think I saw any mention of such software in any value proposition I researched, so are you leaving ammunition on the table?," he asked. "You don't have to call yourself the king of reverse logistics and claim to do everything [relabeling, repacking, etc.], because nobody does everything, but you still should make it clear that it's offered.
Don't buy a thing
The contract packager's role in the reverse logistics process starts with inbound return ships, and you will never know what what's coming in. Mabon mentioned fully-gassed weed whackers as an example. Once it's received, a contract packager has to have a system that accounts for the inventory, then, the tricky part, is navigating the two channels of processes as assigned by the retailer and by the manufacturer. This leads to a plurality or rules and hoops to jump through that are entirely dependent on individual retailers and manufacturers. Consider Walmart's case coding and marking requirements as a standard peculiar to a retailer.
Some contract packagers may be tempted to buy the returns and remarket them themselves, but Madon strongly advises against this.
"You'd be surprised how quickly a flat screen TV depreciates after someone uses it once for the SuperBowl and returns it," Maddon says. "The way you make money in this business is not to touch anything, it's to funnel the returned product into to the secondary market."