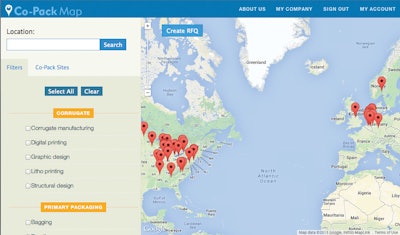 The second was harder to spot: Nulogy unveiled the Co-Pack Map (www.contractpackaging.com) at a user conference at the expo, and subsequently got word out to British and European contract packaging associations…and others.
The map uses a Google Maps-powered back end, but with a more user-friendly interface than anything I've ever seen come out of Google.
It lets co-packers identify their location(s) anywhere in the world with a clickable pushpin. From there, they're prompted create a site with blinding, brain-dead simplicity by adding marketing copy and checking-off pertinent services (packaging, logistics, etc.) and affiliations (associations, standard and regulatory bodies, etc.). This, in turn, feeds into a Request For Quote function that's in development.
Dang! Right?
"For many contract packagers, being found is a major challenge. They offer quality specialty services, but don't necessarily have a website, or great SEO ranking," Nulogy's Jessica Liu said following her unveiling of the Co-Pack Map. Liu, senior product manager of emerging products, heads-up the mapping effort.
Just as importantly, brand-owners just got one more place to go in searching for co-packers that fit your geographic and operational needs.
Check it out and let me know how it compares or contrasts with the CPA's resources, the Sealed Air-sponsored Co-Packer Connection and any other services you've heard of.