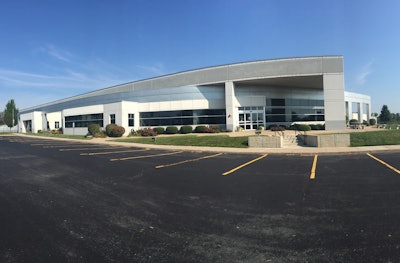 Work is about more than a paycheck. It's a source of meaning, growth and connection to others. At Peoria Production Solutions, it's all that and more. The company is on a decades-long mission to put people with disabilities to work.
Peoria Production Solutions (PPS) is a contract manufacturer (CM) located in Peoria, Ill., serving primarily the industrial, medical, consumer, and food and beverage industries. The company dips its toes into a variety of industries, from supporting local startups to producing personal protective equipment, such as 3-ply, surgical, and n95 masks, in a 10,000 square foot FDA-certified cleanroom, to pet food packaging and even shipping customer goods.
PPS even has a branded product it manufactures, a vinyl and cloth gait belt for the medical device industry sold through a brand website and created solely by individuals with disabilities.
PPS runs two facilities and plans to expand into other cities with similar employment opportunities and committed customers. Like other industries, contract manufacturing and packaging was hit hard by the COVID-19 pandemic and the ensuing Great Resignation. Ongoing inflation and wage pressure mean that many CM/CPs are struggling to fulfill orders on time. PPS claims it has a "secret sauce" for employee retention that has everything to do with the company's history.
PPS was started in 1941 by a physician, Dr. Maxim Pollock, who noticed that tuberculosis patients who had been cured of the disease were still being discriminated against by employers fearful of passing it along. Pollock opened a shop where he employed these affected people as a self-funded operation. In 1951, PPS was incorporated as a non-profit and opened up employment to anyone with a high-functioning disability. Today, the contract manufacturer still targets workers with disabilities of all sorts, ranging from autism and other mental disabilities to physical disabilities, including low vision, no vision, and hearing impaired. These individuals make up 58% of the PPS workforce.
A high percentage of people with disabilities suffer unemployment, so social networks dedicated to finding them work are a great resource for CM/CPs. This is more than humanitarian work, however. The benefits to PPS match the effort they put into training individuals with disabilities.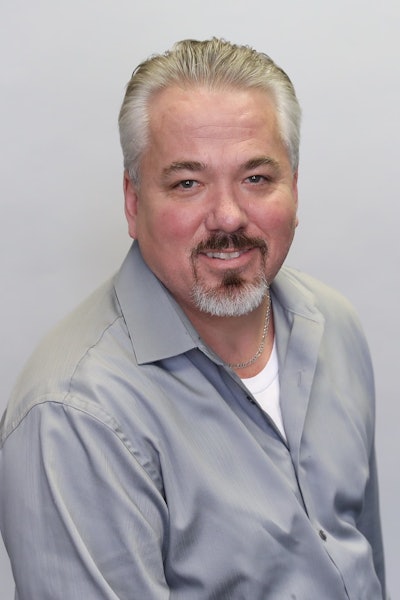 "We found that people with disabilities [such as autism] can do amazing things. And if you set them up for success, more times than not, they're going to succeed," says Dan Laturno, president and CEO of Peoria Production Solutions.
Setting your employees up for success
PPS starts all new employees on the same boxing position to assess their capability. Job coaches and supervisors then determine which more complicated positions the employees are prepared to take on. The process continues until each employee reaches a level where he or she is content. Employees are also consulted to see if they would like to advance to more complicated positions or before switching between PPS's two facilities.
Laturno said much of the work done at PPS is repetitive and similar, and that individuals on the autism spectrum thrive with such work. Many find it soothing, and are capable of performing such tasks with a very low rate of error.
Working with disabled individuals to get them in their optimal role requires patience and an understanding, Laturno says, that each individual is different. They absorb, understand, and perceive information differently, but the results are well worth the effort. Not only are they hardworking, but they are happy to have the opportunity to work and are not solely focused on the paycheck. Annual turnover is less than 10%, Laturno says.
"It's amazing to witness the high-level of skilled work and productivity that this population can attain," he says. "Our mission is to be the premier employer of individuals with disabilities. We call them 'targeted employees' because they are the target of our mission."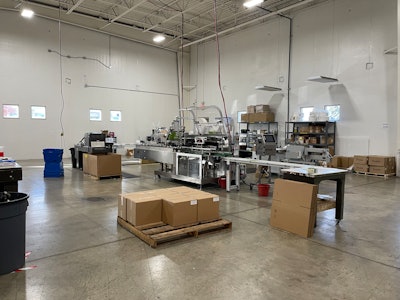 Even with that level of commitment, repetitive tasks can take a toll on the body, PPS offers its employees 15-minute stretch breaks at start up and after lunch to avoid carpal tunnel injuries. Employees are also allowed to rotate within jobs between sitting and standing. Certain workstations on the floor can be lowered to accommodate height and wheelchair-bound employees.
Creating a welcoming workspace
Employees often want more than a paycheck when they go to work. They want a workspace where they feel respected and appreciated. Some of the ways PPS invests in its employees, both in terms of time and money, include:
Competitive

insurance and retirement plans for disabled individuals

.

Monday to Friday w

ork schedule, 7

a

.

m

.

-

3:30

p

.

m

.

, with

occasional

volunteer Saturdays

.

According to Laturno, m

any employees use the city's public transportation and PPS does not want

disabled

employees to be out after dark. PPS ha

s

turned down requests to add second

and

third shifts in order to

protect

the safety of its workers.
Monthly birthday breakfasts with leadership. Laturno says employees jump at the opportunity to ask questions about the business

,

oftentimes resulting in an extension of the hour allocated for the breakfast.
Holiday celebrations in which management serves the employees.
Employee of the Month, Employee of the Year, and Perfect Attendance celebrations and meals.
The company's insurance plan is self-funded to allow the CM more options to help its employees, starting them out on the plan the day they start. It includes an on-call lawyer to handle any legal issues and covers medical costs up to 90%. The 403(b) retirement plan doesn't match but automatically puts away 8%, no matter the amount the employees put inside the account.
"This employment opportunity provides financial independence, a social network of like employees, healthcare benefits that they may not qualify for elsewhere, and retirement plan so they can plan for a future post-employment," says Laturno.
The CM also strives to create a fun environment for the employees, both those with disabilities and those without, through regular theme days and weeks, such as Halloween, tie-dye and various sport-themed days.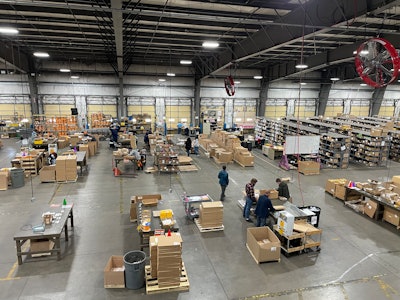 The results of the environment created through these benefits and activities makes its employees feel valued and appreciated in a safe and respectful work environment. One of the PPS facilities is located next door to a direct competitor. Despite the fact that the employees could take the same bus to work and make $3 more an hour to start, PPS hasn't lost a single employee to that competitor.
During the peak of the pandemic, 85% of the PPS workforce decided to come to work, and of the 15% who stayed home, only one employee did not come back to work due to health complications.
Laturno was emphatic that companies not reaching out to organizations aiding individuals with disabilities are doing themselves a disservice.
"There's a lot that are discriminated against, and these people just don't know where to go," Laturno says. "But with a little work center modifications perhaps, you can have some long term, high tenured, highly productive employees."
Such community-focused organizations will also onboard high school students in special ed programs to work parttime and Laturno explains that often those students will continue to work at PPS after graduation. The CM's longest tenured employee has been with the company for 44 years and came from such a program.
"I'm in my fourth year here at PPS and I'm so happy I came here, the job's super satisfying," says Laturno. "The fact that we're able to employ people who otherwise wouldn't have employment opportunities and give people some meaningful employment in a safe and respectful work environment is amazing. And my only regret is I didn't get here sooner."