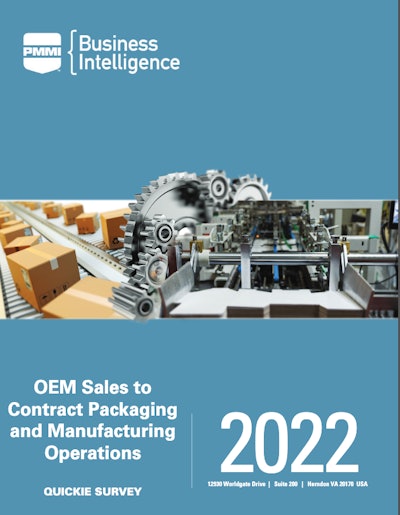 To better understand OEM supplier relationships and habits with contract manufacturers/packagers (CM&Ps), PMMI, the Association for Packaging and Processing Technologies, conducted a survey of its OEM members.
More than a third of OEM respondents (37%) said that 10% to 25% of their sales come from CM&P customers. The survey results provide insight into the state of the CM&P industry, as well as how OEMs are adapting to meet the needs of CM&Ps.
Industries served
The most popular markets that respondents sell machinery to CM&Ps for are:
53% - Nutraceuticals and supplements
41% - Baked goods
41% - Confectionery
However, the largest markets for selling machinery to CM&P are:
17% - Beverages (including alcohol)
13% - Medical devices
11% - Protein
Equipment needs
When OEMs were asked about what automation or technology needs CM&Ps are asking for, open-ended comments indicated that the most popular solutions are integrated lines and a single piece of equipment.
The most popular machinery to sell to CM&Ps includes:
34% - Conveying, feeding, and handling
32% - Bagging, pouching, and wrapping equipment
31% - Cartoning, multipacking, and case equipment
When it comes to equipment capabilities and features, OEMs noted some specific demands and needs that CM&Ps are requesting when they purchase machines:
Quick changeovers
Predictive maintenance and production monitoring
Versatility for different package formats
Lines need to be built around new labeling requirements
Easy-to-operate machinery
Turnkey systems for secondary packaging
Sophisticated vision systems and robotics
End of line automation
Process automation
Among these equipment attributes, OEMs ranked the most important machinery features among their CM&P partners as:
79% - Flexibility
65% - Speed of delivery
36% - Portability
20% - Adherence to CPG specs
14% - Lease option
Do these survey findings reflect the needs and demands of your company? For more in-depth findings and to read verbatim responses of OEMs, download the survey results here: OEM Sales to Contract Packaging and Manufacturing Operations