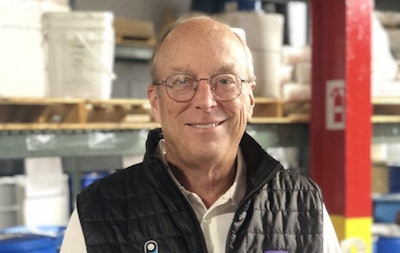 Happily, 2020 is in the rear-view mirror. While COVID-19 is still creating impacts, we can see some improvements and opportunities. Many of my conversations with fellow CPA members have been positive and optimistic. So far, 2021 brings several efforts that are beginning to take shape and bring results.
At the top of our list of value-added programs for 2021 is the first-ever CPA Virtual Experience! This series of virtual sessions is ensuring our members, along with the whole contract packaging and manufacturing industry, remain connected. While CPA members can attend for no charge, we invite all industry professionals to attend. More information can be found at on the CPA's Virtual Event page.
Each year CPA looks for and recruits members who show initiative and a desire to serve the industry they support. These folks are asked to be part of the CPA leadership team through a nomination process and elections by the CPA membership. If elected, directors serve on the CPA Board for a two-year term. Directors are the members' voice of the association and help guide and manage its operations. They will be asked to provide leadership and make decisions regarding important issues regarding CPA's activities, operation, and direction.
This year we will elect four board members. I want to thank all these folks for their willingness to serve the association. The nominees include:
· Dan Altman, Vice President, Sales & Marketing, Delkor Systems, Inc.
· Gregory Frazier, Director of Sales, Frazier & Son
· Nikki Johnson, Marketing Director, Domino Amjet Inc.
· Tom Landry, President, Allegiance Staffing
· Jaclyn Norono-Rodriguez, Director of Sales, BCI Packaging
· Jerry Thompson, President, CTI Packaging & Fulfillment
Additional value-added benefits continue to be part of the CPA membership package. We are excited to announce Packaging Prosperity, a new interactive virtual workshop specifically designed for leadership teams interested in growing and prospering in today's highly competitive landscape. This unique offering is being provided by CPA partner Effective Performance Strategies (EPS). This two-hour interactive workshop will cover these topics in detail and specifically relate them to your organization's and leadership team's strategy and execution. It provides tools to cope with preparing your organization to adapt and thrive through change. More importantly, it will teach your team to improve quality, productivity, and skills so your organization can really thrive.
When it comes to education, CPA looks for solid and useful industry content. Our current education portfolio includes packaging, machine operation, and now the basics of what is a contract packager and contract manufacturer (CP/CM). We are excited to partner with Nulogy to grant our members complimentary access to Nulogy University, an online educational training platform. Together, we are empowering CP/CMs with practical and remote shop floor best practices and technology training. Nulogy University also provides visibility into employee training with user-friendly reporting capabilities. Learn more about this new educational offering at the CPA's Nulogy University page.
Our much-anticipated 2021 State of the Industry report and Executive Summary are now available (see related article, "Contract Packaging/Manufacturing Industry Booming, but Watch Out for Headwinds"). This year's report has been expanded and now features sections on M&A and machinery trends. The new 2021 State of the Industry Report is a benchmark study that includes sections on:
· Defining the food/CPG industry by scope and revenue
· Industry CAGR 2020–2025 by sector
· Industry consolidation trends
· Customer views on the changing marketplace
· The current labor market and widening talent gap
· Demographics on size, company age, locations, and revenue
· Sustainability trends
Every CPA member receives the Executive Summary at no cost and is entitled to the full report at a discounted price. We will be featuring the data in several presentations and events over the next few months. Check out the State of the Industry website to get more information.
Lastly, we look forward to the show venues opening so we can reunite with our members and the industry in-person. This year we have three major trade shows and a few smaller shows/conferences in the plans. These events give us a chance to promote the industry and our members. Our CPA Sourcing Center is always a busy location at whatever show we attend. Look for us at:
· Natural Products Expo West, May 24-28, 2021, Anaheim Convention Center, Anaheim, Calif.
· SNAXPO 2021, August 22-24, 2021, Charlotte Convention Center, Charlotte, N.C.
· Natural Products Expo East, September 23-25, 2021, Philadelphia Convention Center, Philadelphia
· PACK EXPO Las Vegas, September 27-29, 2021, Las Vegas Convention Center, Las Vegas
Once again, it is a privilege to lead such a prestigious and dynamic association. As president and long-time member, I see the future as being very bright and abundant with opportunities. I look forward to working with all of you in 2021 and wish you all the best in this new year.
Mark O' Malley is President/CEO of Paket Corp.