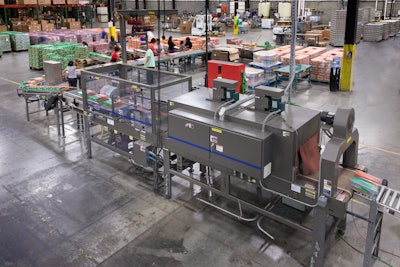 Described by SVP, Product Supply Planning of Coca-Cola Consolidated, Inc. Brett Frankenberg as "a great partner and even better people," co-packer Bonded Pac of Charlotte, N.C., recently completed a project for the U.S.'s largest Coca-Cola bottler that put the co-packer's core values—God Honoring, Service Excellence, Teamwork, and Innovation—on full display.
In July 2019, Coke-Consolidated approached Bonded Pac with a new job that required the assembly and wrapping of club-store multipacks in print-registered film. Although at the time, the co-packer lacked the equipment required to do the job, within the space of just three months, it was up and running, producing Coke-Consolidated's Variety Pack in brightly-colored, brand-enhancing shrink film.
Being nimble is a core advantage of co-packers, but it's Bonded Pac's customer service, transparency, innovation, and family values that Jon Hayward, Vice President of Bonded Pac, says also differentiates it from other contract packaging companies. Incorporating those values into its daily operations is what made the Coke-Consolidated project possible.
Core values drive differentiation
Bonded Pac is the contract packaging arm of Bonded Logistics, a family-owned company with three divisions: warehousing, transportation, and co-packing. The company was founded in 1972 by Jim and Robin Carr under the name Bonded Distribution, in a 30,000-sq-ft facility. Today the company is run by second-generation owners Barbara Carr Woodall and Scott Carr. It has grown to encompass more than 2 million square feet of public, contract, and leased space in 12 locations and employs over 300 team members.
When it speaks of being God Honoring in its core goals, Bonded Logistics aspires to follow the Golden Rule, act with integrity, be trustworthy, care for one another, and show compassion. Service Excellence means being quality-focused, exceeding expectations, focusing on clients, accepting accountability, and being committed to safety. With its core value of Teamwork, Bonded Logistics has committed to an inclusive environment and to fostering a positive attitude, encouraging development, communicating effectively, and empowering people. And lastly, Innovation requires that the company showcase agility, be forward-thinking, embrace change, seek continuous improvement, and provide visionary leadership.

While most companies claim a set of core values, not all weave them into the fabric of their company culture. Bonded Logistics has taken the time to do that, with positive results.
"Internally the family atmosphere has been maintained, despite growing over the years to several hundred employees," says Hayward. "We document these core values, we discuss them regularly, and we provide training to our employees to teach them on the values. This has allowed us to retain good, tenured employees in a very competitive labor market. Here in Charlotte, we have several Amazon facilities that call on the same people we do. So emphasizing these core values has worked well for us."
Outwardly, Bonded Logistics, and in particular Bonded Pac, is extremely focused on creating and reinforcing value for its customers. "Customer service is the backbone of our external value proposition," Hayward shares. "This starts with clear, frequent, and honest communication. We combine this with great inventory management, flexibility, and excellent product quality."
One example of how Bonded Pac creates and reinforces value for its customers is the way in which it enables transparency—"being able to see your product, your inventory, and what's going on," says Hayward. "We give everybody access to that through their iPhone or any web-based device, and we don't charge extra for that.
"I think it's very comforting for people to be able to look at their inventory, their production, and their outbound shipments in real time. And that's just one example. Having a one-stop place for communication with the company through our Key Account Manager, Kara Jesse, so the customer doesn't have to call nine different people to get something answered is another example. We really invest in people like Kara to be that liaison between Bonded Pac and the customer."
Bonded Pac's co-packing services, conducted in a 218,000-sq-ft facility, are extensive. They include "just a little bit of almost everything," Hayward shares. "A little bit of almost everything" means decorative shrink sleeving, bottle decoration using steam, variety packs, twin packs, kitting, shrink wrapping, and some water based-chemical bottle filling. The company also assembles POP displays, including full-pallet, half-pallet, and quarter-pallet sizes.
Persistence pays off
As noted, Coke-Consolidated, also based in Charlotte, is the largest independent Coca-Cola bottler in the U.S. The company makes, sells, and delivers more than 300 Coca-Cola Company and other beverage brands and flavors to 66 million consumers in territories spanning 14 states and the District of Columbia. Much like Bonded Pac, its purpose is to "honor God, serve others, pursue excellence, and grow profitably," making for a complementary working relationship with the co-packer.
---
Read related articles on contract packaging companies from Packaging World at:
Co-Packer Dramatically Expands Wine Canning Capacity
Social mission underpins contract packaging business
From concept to store floor: 'Whatever it takes'
Sterling CPI: Positioned for growth
---
Bonded Pac's Kara Jesse shares that before Bonded Pac began the Variety Pack project for Coke-Consolidated, it had done some smaller, one-time jobs for them. She attributes the fact that Coke-Consolidated brought the Variety Pack to them to the persistence of the Bonded Pac team in trying to win the bottler's business and Bonded Pac's success with Coke-Consolidated's previous jobs. "So it was great to finally get an opportunity that would be ongoing business with them," she says. "And I think, over the years, proving ourselves when they did have those little projects set us up to be that right partner for them when they had this bigger opportunity come around."
The genesis of the Variety Pack dates before July 2019. Explains Frankenberg, "We had spoken to Bonded Pac for a while about commercializing this, but they didn't have the capability or the business to justify [investing in new equipment], and we couldn't commit the volume to do so. Once we proved out a prototype of our Variety Pack in the market, the conversation changed."
When Coke-Consolidated came to them, Bonded Pac did have experience with multipack shrink wrapping, but not with print-registered film. Its existing equipment wrapped multipacks in clear film—a different process than the one needed for print-registered, or aligned, film. "The machine we have for clear film is a side-seal machine," explains Hayward. "In other words, you take two rolls of film, one on top and one on the bottom, and you bring them together and glue them with a sealing bar. So, to bring two films together and register the film for both sides is almost impossible."
What Bonded Pac needed was a machine that could wrap the film all the way around the case before sealing it. "It's just a totally different technology," says Hayward.
Equipment opens up opportunities
Once the volume was there for the Variety Pack, Bonded Pac put its core values into play, using innovation, agility, and teamwork, among other skills, to find a way to accomplish the project within the extremely tight time frame. Integrity was displayed on both sides, with no formal commitment from Coke-Consolidated, but an understanding that the job was Bonded Pac's if they purchased the equipment. "And we did that with a handshake," Hayward says.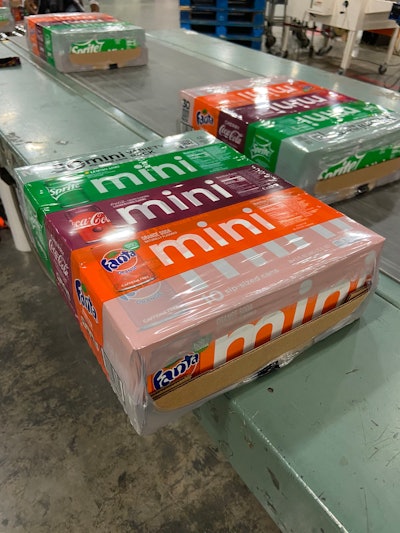 The Variety Pack project entails taking three 10-ct Fridge Packs—one each of Sprite, Orange Fanta, and Cherry Coke in 7.5-oz "mini sip-size" cans—from single-SKU pallets, manually placing them in a corrugated tray, and shrink wrapping the pack with film that's printed with graphics for the three brands, resulting in a 30-ct multipack with an impressive billboard.
Once Bonded Pac had the job, the countdown began. Hayward says the company first researched used shrink-wrapping equipment, as they didn't have the business case to justify a brand new machine. They narrowed down their search to two models, after which they visited the plants where the machines were located.
Hayward shares that in addition to being able to wrap print-registered film, the equipment also needed to have a footprint suitable for Bonded Pac's facility. "There are very large pieces of equipment that do this at very, very high speeds in bottle-filling plants. Even Coke themselves had equipment that potentially was looked at as a possibility. But the footprint was so large that it just didn't make sense for the size of our building and how often we would be utilizing the equipment," he says.
In terms of speed requirements, Hayward explains that any machine would be limited to how quickly operators would be able to manually load the trays. However, Bonded Pac was looking for something that was faster than its existing, 25-tray/min clear-film shrink wrapper.
Ultimately it chose an Arpac Brandpac™ BPTW-500 Series combination shrink-film tray wrapper and heat tunnel. The continuous-motion bottom-overlap machine operates on-demand, without a seal bar, to shrink wrap up to 60 tray packs/min, depending on the height and weight of the product. The machine can wrap both clear and print-registered film, which will allow Bonded Pac to provide both options from one system for other customers in addition to Coke-Consolidated.
In fact, its flexibility, including the capability to run different widths and lengths of product, was one of the reasons Bonded Pac chose the BPTW-500. "We knew that this wasn't just being designed for one item. And that's the challenge we always face when buying equipment. It's very rarely going to run one product for one customer, it always has to be more versatile. We feel that the ease of setup of this equipment and the programmable PLC that comes with it allows us to save multiple recipes and get up and going fairly quickly."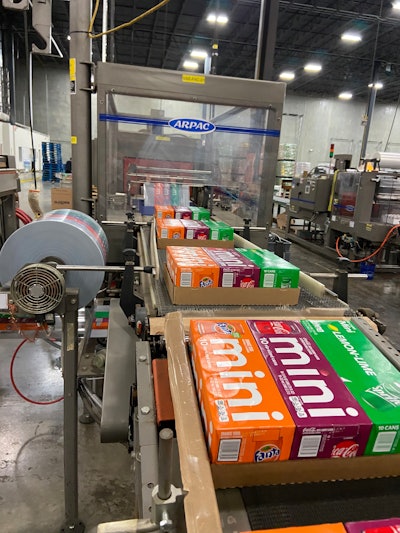 After purchasing the equipment, Bonded Pac utilized its freight group to transport it to the plant, used in-house team members to set up the equipment, and then enlisted Arpac's SupportPro service group to help them with programming. Overall, Hayward credits the hard work of a number of Bonded Logistics' team members for the successful installation and ultimate operation of the equipment—all of which was done in time for production of the first Variety Packs in early October 2019.
The initial campaign comprised 120,000 packs. Since then (at presstime), Bonded Pac has done two additional runs, each about half the size of the first one, with the machine enabling the company to produce up to 12,000 cases per eight-hour shift. Bonded Pac has also done some work for other customers using the Arpac machine, including multipacks in clear film for online sales.
Speed, agility gets the job done
Addressing a customer's needs on a short deadline, as it did for Coke-Consolidated, is something that Bonded Pac excels in, Jesse confirms. "As a company, we're very capable of turning things around quickly," she says. "We have a great team internally, and everyone knows their piece of the puzzle. So it's very easy as a group for us to work quickly and get things done."
Hayward agrees emphatically, noting that he believes Bonded Pac's agility is one of the reasons Coke-Consolidated chose the co-packer for the job, rather than doing it in-house. "I think the larger the company, the harder it is to move quickly," he says. "So I think our ability to be nimble and quick, and not have all the signoffs and all the different people who have to get involved when it's a larger company, was a huge advantage."
Having flexible space at its facility was another advantage, he says. "These projects take a lot of space for a couple of weeks, and then they go away. There's a lot of raw material that has to be run. So for us to be able to hold the product for them while we do this was a huge help. They run an efficient operation, and holding all of this promo material, in addition to their regular material, could have stressed their existing space."
Also solidifying the deal was "trust, being local, being in business as long as we have, and persistence," Hayward adds.
Summarizes Frankenberg, "Bonded Pac helped us work through the process to bring the new product to market. Together with our brand partners, we worked in collaboration with Bonded Pac to commercialize the Variety Pack and do so in a way that was economically beneficial. …In three months, Bonded Pac set up this capability and delivered on a really tight timeline. We are very satisfied."
Companies in this article