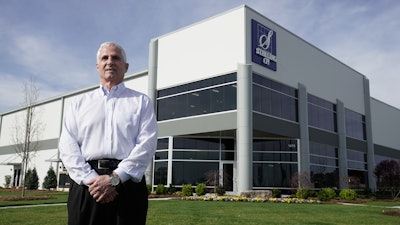 Go into virtually any major grocery, drug, club, or hardware store today, and you almost certainly will come across a package that has been handled by Sterling Contract Packaging, Inc. Sterling CPI, of Moore, SC, is one of the largest providers of contract packaging services in the Southeast, providing complete turnkey solutions—from product and package procurement through to the point of distribution—for non-regulated consumer products.
The company began in October 1996 with a single customer. Today, it packages 22 million products each year. Among them are healthcare products such as vaporizers, heating pads, and contact lens solutions, as well as items such as batteries, writing instruments, scissors, adhesives, and many others.
According to co-founder and President & CEO Michael Hastings, Sterling CPI's success can be largely attributed to its solid staff combined with its international logistics capabilities. As part of its turnkey services, Sterling CPI can source products and packaging from locations around the world, bringing them together into one finished product.
In October 2016, Sterling CPI positioned itself for even greater growth, opening a new, custom-built facility spanning 145,000 sq ft, with room to expand an additional 100,000 sq ft. The plant brings together under one roof what used to be two separate facilities, allowing the company to manage 100% of its business from one location, with 120 employees. "We could not have continued to grow without the new facility," says Hastings.
A new equipment acquisition has also helped Sterling CPI take its business up a notch. Through the addition of a new automated, servo-driven tube filling and sealing machine from ProSys Innovative Packaging Equipment, Sterling CPI has been able to "achieve improvements in almost every area of operation from speed and setup to quality," says company Package Engineering Manager Wes Melvin. The machine was installed in March 2017 and offers a range of new tube style and size options, which Sterling CPI anticipates will expand its customer base for tubed products.
From sewing notions to sparkling water
Sterling CPI's complete turnkey model was established with its very first customer. The company was initially formed to handle the procurement and packaging for a German multinational in the U.S. that sold sewing notions. Before the German company handed its manufacturing over to Sterling CPI, it bought products domestically and internationally, brought them to its facility in Spartanburg, SC, and packaged them there.
Hastings—as well as the other co-founders of Sterling CPI—was an employee of the German company. When it began to consider downsizing the amount of manufacturing it was doing in-house, Hastings and his partners formed a company to handle their products.
"They were vertical manufacturers, and they could see that going forward the investments that would be required in labor and technology were going to be too much for them to be able to continue to do what they were doing," Hastings explains. "As senior managers, we were involved with the project to look into outsourcing. What ultimately came about was a proposal from us to start a company and outsource their packaging for them."
From there, Sterling CPI began to take on other customers, offering them complete supply chain management services. "What makes us a little different from most co-packers is that we manage all of the inventory, product, and packaging for our customers. We also manage all of the logistics. And that inventory is owned by us until we package it and ship it to the customer."
From Sterling CPI's perspective, the only thing its customers need worry about are the marketing and sales of their product. Among the services provided by Sterling CPI are structural package design; product and packaging material procurement, pricing, and warehousing; and package filling and/or assembly.
"The customer provides us with a 12-month rolling forecast, and we manage all the product components with the vendors and bring them in here. Then we plan all of the printed materials [packaging] that we're going to need so we can do the final assembly here in our plant," explains Hastings. "We also work with our customers on regulatory oversight—the lot coding, the traceability—so they don't have to be concerned about that. We're audited on an annual basis by most of our customers and by many of their customers, so retailers are in our facility doing audits all the time."
As an example of a retail product that employs all of Sterling CPI's logistics skills, Hastings refers to a water purifier system. The carton, with graphics printed in the U.S., holds several components, including a filter manufactured in Mexico and a water-faucet mount manufactured in China. "For a large corporation today, such as the owners of this business, to try and manage that logistically and bring all the pieces together in one place to meet their demand schedules is extremely difficult," he says.
The carton is filled manually, but erected and sealed automatically on one of the co-packer's two Langen B1-M automatic carton forming and sealing machines. Sterling CPI's stable of equipment also includes numerous Alloyd blister-sealing machines, Shanklin shrink wrappers/tunnels from Sealed Air, Hytrol high-speed conveyors, Mettler-Toledo checkweighers, and Domino ink-jet printers, to name a few. Among the packaging services provided by the company are blister sealing, bagging, POP displays, cartoning, labeling, and bottle and tube filling.
But Sterling CPI is always willing to look into new opportunities. At the time of Contract Packaging's visit to the plant, the company had just begun working with a producer of sparkling water to re-pack its 12-oz cans into 24-ct multipack cartons with assorted flavors for a club-store customer. "What the customer wants is 20,000 cases per week," says Hastings, "so we'll be handling 480,000 12-oz cans of sparkling water each week."
New machine expands capabilities
In the area of primary package filling, Sterling CPI has a strong customer base of adhesive products companies. For six years, Sterling CPI had been using a mechanically-driven tube filling and sealing machine for these products, but with age, the machine was losing its performance and reliability. So, after completing the monumental job of opening its new facility, the company turned its attention to replacing the equipment.
"We probably looked at replacing the machine for a couple of years," says Melvin. "But we'd find another way to put a Band-Aid on it, because it was a very large capital expense—our largest, in terms of machinery."
"The last couple of years, our focus has been on the facility, and the machine was okay; it was working," adds Hastings. "It's like anything else. You don't want to deal with it unless you have to, and then it became apparent not long after we were in the new building that we needed to do something."
According to Melvin, the number of rejects and downtime had become too much for Sterling CPI to tolerate. "The machine had almost become a maintenance nightmare, and we were not receiving the proper attention to service that was needed," he says. To make matters worse, the company's main mechanic was retiring, "so a lot of knowledge was leaving as well," he adds.
To replace the aging equipment, Sterling CPI installed a ProSys RT60 fully automatic tube filling and sealing machine with eight indexing stations. The machine is equipped with servo-driven filling, metering, and tube-lift stations, along with electronic recipe storage and recall.
One of the main issues Sterling encountered with its previous equipment was its "antiquated" hot-air system. With the old equipment, when the machine's heater met the tube to heat it before sealing, any glue left inside the tube was transferred to the heater. "We had to stop the machine every hour and clean the heater," explains Melvin. "The heater was a $1,000 part, and we were constantly having to replace it."
The hot-air system on the ProSys RT60 includes a blow-off nozzle that ensures there is no residue left on the side of the tube. In addition, there is no contact between the tube and the hot-air station, which means Sterling CPI no longer has to continually stop and clean—or replace—the heater, greatly reducing downtime and consumables costs.
In the case of downtime or other machine issues, Sterling CPI now has the assurance of instant support from the supplier: ProSys offers online support and troubleshooting through an Ethernet/modem connection.
The new machine can fill plastic, metal, and laminate tubes with products that vary in consistency from water-thin liquids to highly viscous pastes. The system accommodates tubes from 0.2 to 14 oz and offers multiple sealing options. What makes such a wide range of products and packages possible is the RT60's servo-driven filler and its recipe storage and recall, which greatly speeds setup and downtime.
"There are eight stations, and each station we can adjust independently," explains Melvin. "On the old machine, the mechanical machine, if you made one adjustment to one station, you'd have to go around and fix all of the other stations. Now you just have to address one station."
Melvin estimates changeover time has been reduced from two hours to between 45 minutes to an hour, with eight to 10 changeovers per month. "Once you select the recipe from the touchscreen, half the stations are already taken care of. You just have to go in and verify them," he says.
Production speeds have doubled with the new machine as well—from 30 tubes/min to 60/min. Says Hastings, "The increased speed and changeover time will improve our ROI as well as allow us to meet our customers' needs much faster. Our lead times have been reduced, and we can react to spikes and promotions sooner than we could previously."
Currently, Sterling CPI is running plastic tubes with square corners, but with the ProSys RT60, it can now offer other styles. According to Melvin, the company has been promoting the new capabilities in a number of ways, talking to both existing and potential customers.
Sterling CPI gains customers' trust
In his 21 years in the contract packaging industry, Hastings has seen an evolution in the services provided by co-packers as well as the rigors by which brand owners evaluate them—and Sterling has evolved with them. "Quality systems are a big thing now," he says. "Other than your capabilities and your capacity, customers want to know what quality systems you have."
Sterling has a complete quality department that mirrors ISO, as well as a full-time package engineering staff. "That all goes along with supply chain management, sourcing, inventory management, and logistics," says Melvin.
The company has passed all of the audits conducted by its customers as well as those by retailers such as Costco and Walmart. "The fact that we have been twice audited by Costco and passed with flying colors is very important to a CPG," says Melvin.
Concludes Hastings, "As you can see, we offer great experience, and I think it shows with our customers, because we don't lose them, and we constantly grow with them."
Companies in this article