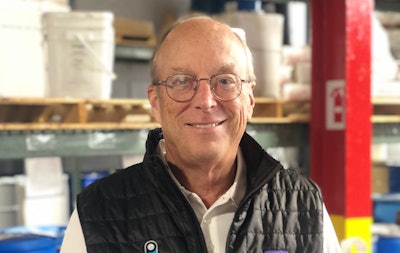 It is now six months since I took on the mantel of the CPA presidency. Tim Koers did a great job setting up the organization for growth and change. We are continuing on that upward path.
We have just come from our 2020 Annual Meeting in Tucson, which was by all accounts one of the best meetings in recent history—great attendance, a very interesting program, and fantastic networking opportunities. We also had a little fun. With 40 first-time attendees, the program and improvements to the meeting were obvious. Both members and non-members were able to collaborate and network in a positive environment. I received several positive comments, and we are already planning the next event March 9-11, 2021, in Clearwater Beach, Fla.
We have just completed our annual membership renewal process, and we saw most of our current members renew before the end of 2019. It was a good sign that the benefits of being a CPA member precipitated the membership to ensure their benefits were not interrupted. We are not the same association of just a few years ago. If you have not checked out the benefits of membership, visit our membership page and take a few minutes to see what we can do for you. From business development and education, to marketing and community, we have many offerings that will appeal to a wide segment of the contract packaging and contract manufacturing (CP/CM) universe. We have ensured a focused effort on our associate members. They are a vital part of our organization. Many of them have become trusted resources for information and technology.
We continue to be driven to increase the value for each member. Our RFQ revision project, which was launched in November 2019, has resulted in better and more easily digested requests. We are still working to improve it further and expect changes/enhancements this year. Increased industry exposure via marketing efforts has seen many folks hitting the CPA website and attending our presentations at trade shows and conferences. Visit our calendar to see where we will be next.
With over 8,000 subscribers getting our bi-monthly newsletter, we are exposing our members' services to a large segment of the market, adding in the partnership with PMMI Media Group (PMG), which has increased our reach threefold. With dedicated CPA e-newsletters and Contract Packaging magazine, PMG has constructed robust promotional products with an industry-focused audience. Our relationship with the PMG continues to provide value for our members in exposure and the ability to promote unique offerings.
At the recent PACK EXPO East trade show, we promoted the world of CP/CM while collecting the contact information of visitors to the CPA Sourcing Center who are curious about how our members can help them.
CPA Managing Director Ron Puvak has been meeting with other societies and associations that can provide mutual benefits to their members and CPA members. For example, we've started meaningful conversations with the European Contract Packaging Association (ECPA), the Flexible Packaging Association (FPA), and the International Society of Beverage Technologists (ISTB). Each of these groups represents potential opportunities for our members, and we hope to report more about these activities in the future. In a recent conversation with the ECPA, we exchanged State of the Industry executive summaries. We now have more insight into the CP/CM industry in Europe. They are very eager to collaborate with us, and we have discussed several mutually beneficial opportunities.
As we have mentioned, the relationship with PMMI has been strong and is growing. In 2020, we will participate in three regional meetings coordinated by PMMI and supported by CPA. We expect to meet with existing members while also reaching out to potential new members. In addition, PMMI will invite brands and others in the packaging industry to join us for a one-day event. These locations will be announced shortly, but it will allow CPA a regional approach to promote our members services.
This year will be a very dynamic and active one for CPA. From the recently concluded Annual Meeting in February, to the PLMA show in November, there will be several opportunities for CPA members to increase their visibility and network with other members.
As I view my early term of my presidency, I want to thank you all for the support, camaraderie, and genuine fellowship I feel as a member of CPA. With the help of the leadership team, I will continue to make this association better for our members.
Mark O'Malley is President/CEO of Paket Corp.