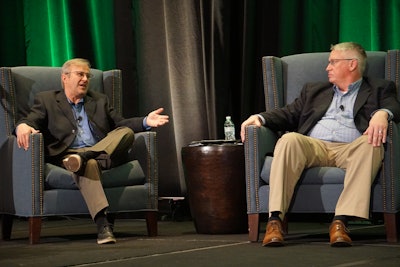 The contract packaging/contract manufacturing (CPCM) market is experiencing tremendous growth, with a CAGR of 11.9% from 2013 to 2018. That's according to the Contract Packaging Association's 2018 "State of the Industry Report," which forecast that by 2020, the CPCM market would break the $75 billion mark—a conservative number, it estimated—rising from $53.6 billion at year-end 2017.
Growing two- to four-times faster than the industries it supports, the CPCM market is taking on a range of new projects to help Consumer Packaged Goods companies address the proliferation of SKUs, the consumer desire for customized packaging, new package formats, and e-commerce, among other challenges.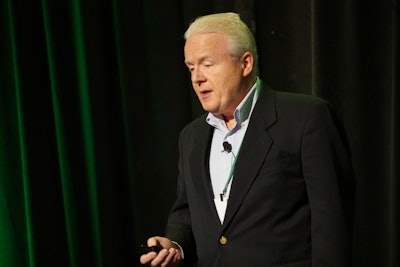 At the Contract Packaging Association's Annual Meeting, held Feb. 19-21 in Tucson, Ariz., two CPCM customers shared with attendees during a panel discussion what they look for when evaluating potential CPCM partners and how best these companies can help them meet their goals. Providing perfect "bookends," according to panel moderator Carl Melville, COO of The Melville Group, Brian Stepowany, CPP, Packaging R&D, Senior Manager for B&G Foods, Inc., and Robby Martin, Sr. Commercialization Manager for Bush Brothers & Co., respectively provided insights from a $2 billion, multi-brand business on the one end and from a smaller, family-owned company with one brand, on the other.
Despite the difference in the size of their companies, both CPGs shared that CPCMs allow them to bring to market new products they can't or don't want to produce in-house, as well as help them trial new product and package concepts before they invest in in-house capabilities.
Parsippany, N.J.-based B&G Foods offers more than 50 brands worldwide, among them Back to Nature, Cream of Wheat, Ortega, Mrs Dash, Clabber Girl, Durkee, and Green Giant. Noted Stepowany, B&G has 12 internal plants, works with 80 co-packers, and uses more than 100 different facilities. "We come out with new products every year," he said. "So we're always expanding. If the business is doing well, our plants are full. That's why products are going outside."
Not only is a lack of in-house capacity many times a reason B&G will engage a co-packer, but also, because a lot of its facilities are "old and antiquated," it may be too costly to add the equipment to produce the new package in-house, Stepowany explained. "That's generally where the co-packers come in, where we're not going to spend the money internally when we can go to someone who already has those capabilities," he said.
Bush Brothers, whose "bread and butter" is beans—including baked, "Grillin'," chili, ingredient, fancy, and refried—is heavily invested in canning infrastructure at its East Tennessee-based manufacturing facility. "Co-packers, for us, are crucial to help us do what our infrastructure cannot. And our infrastructure is cans. So a lot of the other things we try get done outside," said Martin. "We have to trust in the co-man to know what we don't and to do what we can't, or to do scales or sizes we don't want to do."
Honesty surrounding capabilities is key
Martin joined Bush in the early 2000s as part of its new internal R&D staff, created to leverage "everything the company could think of that had to do with beans," he explained. Later the department became a vehicle to propel the company into what it will be next through innovation. Finding a CPCM willing to take the journey with Bush to trial a new product—even if it may ultimately fail—is a crucial consideration for the CPG in selecting a partner.
"Partly because of our size and partly because we're trying things that are new to us, we don't bring a lot of volume to the table day one," explained Martin. "But let me just say that we are honest about that, and we're going to pay for what you're going to do for us.
"We walk in the door committing that if you take a project on with us, we are going to keep you whole. So if you are going to go and spend above 'X' amount to try to help me meet a project timeline or a test market timeline, I'm probably going to tell you to go ahead. And when I tell you to go ahead, it means that I'll write the check if we don't ever execute the test market or if it ends up selling 10 percent of what we expected. We try to deal with as much of that upfront as we can.
"It's really important to us to be wanted back when we have a project four years down the road that you're the right partner for. So, I'm really into preserving bridges at every possibility."
Also crucial is for a CPCM to be willing to tell Bush what they can't do or what is not a good fit, added Martin. "One of the things you will always hear me harp on—and anyone who has been in other industry meetings with me has probably heard me mention this—is you will get a project from me someday because as much as anything, you turned down a project you really shouldn't have been trying to take from me when we first met. And there are those folks whom I've been back to for that very reason."
On a related note, Stepowany said one of his biggest pet peeves is being "yessed to death." He noted, "We don't want to hear, 'Yes, yes, yes,' and then we show up at your plant, and you're running around in circles. Don't say you can do something if you can't. Be honest and be straightforward, and we will work with you as far as developing how we can do it. I was in manufacturing for 20 years before I went on the consumer side, and you have to know your plant and your capabilities and understand what you can do. Don't say yes unless you're sure you can."
New product trials/launches
When a CPCM works with B&G on a new product launch, Stepowany said one very important service it can bring to the project is the ability to provide samples far in advance of the launch date for use by salespeople. "It's helpful if the co-packer has connections to get digital samples," he said. "We've had digital samples that we had filled at the co-packer, shipped to our frozen warehouse, and then, using a sharpened fork, they stuck holes in the bag, since you can't put microwave holes in a digital package. We couldn't cook the product, but we wanted the concept. In today's day and age, with digital capabilities and smaller runs, it's definitely helpful."
Martin noted that one of the ways CPCMs can help Bush most during a trial of a new product is by helping them to replicate what they might do on a large scale, no matter how manual it might be.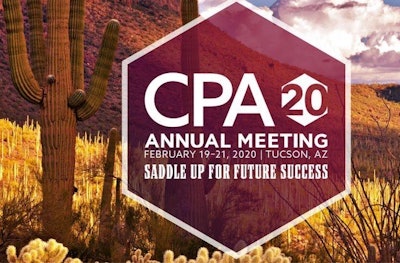 Along with that, Martin said, having flexibility early on is key. As an example, he shared an experience where he had a product that was being packaged in a semi-rigid tray with a flexible lidstock, packed in a carton with a chipboard sleeve. "I have none of that equipment, so one place was making the food and the primary container, but we needed a place to put the chipboard sleeve on it for the go-to-market. They could do that, except we were going to drop a lot of money on parts. They even looked at doing it manually, until they started counting heads and noses."
Through a contact at CPA, Martin became aware of another company that had part of a cartoner at its plant. "It wasn't the front end with all the expensive fit-to-size parts," he said. "It was the compression section. And they could date code, which meant they could load pre-glued sleeves, run them through there, close them for me and put the date codes on, and then put them right back in the cases that came over from the primary site.
"When I saw that, I thought, that's really going to let me try some stuff, because the day I go see their plant, I think my package is this size, only to figure out eight weeks later that it's really this size. And I knew that wouldn't matter yet. So that kind of flexibility is really helpful."
A source for new ideas
According to Stepowany and Martin, another way co-packers bring value is by sharing ideas that may help them reduce costs or improve processes or products.
"As far as what are the nice things to have with a co-packer in an alliance is that they'll bring us ideas," said Stepowany. "How can you do something better? How can you improve something?"
He added that in his past life at Nabisco, the company took one-eighth of an inch off the Oreo tray, which—given the billions of trays used each year by Oreo—resulted in a massive savings. "So a little bit of savings goes a long way," he said. "If you increase your output by getting robotics, if you have a formula change, or if there's something else that's new and innovative that you can bring to the table, please do that. Especially if we have a working relationship already."
Areas where Stepowany says he is looking for innovation in particular include retail-ready packaging, sustainability, e-commerce, and the use of robotics at a CPCM to replace some of the very manual processes being done by B&G in-house.
Martin noted that one complaint he has with packaging converters is that Bush doesn't get to "optimize the system" anymore; it's about speed to market. He noted that even though Bush may go to the converter with a package size in mind, if the CPCM learns that by changing the size, they could get a different layup on press, for example, and save costs, Bush wants to know.
"That's what I mean by thinking about the full system. If you figured out, or your team figured out, even after the fact, 'Gee, if that pouch had been a half-inch wider, it would be just like these other seven we already run, and we'd take change outs out of the system,' let's talk about that. I know the package gets bigger, so the case gets bigger, so the utilization of the truck may go down. I make beans in liquid. I weigh out most trucks. So I've probably got physical space. But if there are opportunities like that, especially for a company our size with a smaller staff, we're so dependent on you to help us see the entire system and optimize it.
"And I get it. We seldom get a chance to really do that work, but someday at Bush we're going to find a new platform, and it's really going to stay in the market. And when we do, we're going to have to learn as much about that as we know about putting great-tasting bean products in cans, and folks like you [CPCMs in the audience] are going to be helpful to us when you do that."