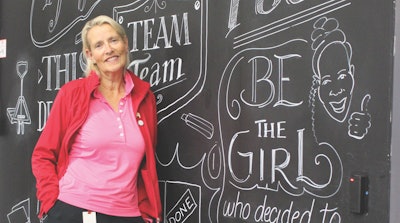 Since launching her marketing and design business, The Freelance Portfolio, Inc., in 1982, Carol Levy has approached projects with a "whatever-it-takes" philosophy, a mindset that now permeates her co-packing/3PL business as well. It's an attitude that has helped propel the business to 1,375% growth in the last 18 years and has led to customer testimonials such as this one, from John Gaulin, COO of Tender Company: "In all my years of business, I've never dealt with a company that is so invested in my success."
Repack Canada, of Toronto, ON, CAN, is a family-run, all women-led contract packaging and order fulfillment business serving Canadian and U.S. national and multinational brands in markets that include food, pharmaceutical products, precursor products, and spirits. Its services are wide in scope. They include graphic design, kit assembly, club packs, sales promotions, custom displays, pallet displays, hand assembly, shrink wrap, bundle wrapping, labeling, pick-and-pack, and more—basically, whatever it takes.
"Our whatever-it-takes service commitment is what keeps our clients coming back to us year after year," says Levy. "I can't always compete on price, but I can compete on service, and you'll never get better service than you will from me or anyone else in the company. That makes a difference when we're asked to do some ridiculous things in ridiculous time frames. If I say it will be done, it will be done."

And, due to the supportive, family-like atmosphere of the company, Levy says employees stand at the ready to meet those "ridiculous" deadlines or challenging projects. "Everybody pulls together. And if they have to stay late, they will do it. If they have to work on a Saturday, they will do it. There's real comradery," she says.

Never say no leads to new business
Like many entrepreneurs, Levy began her business in her home—in her screened-in porch, to be exact. Levy was a typesetter and illustrator who saw an opportunity to provide graphic design services to Consumer Packaged Goods companies, which, due to the recession, were cutting their in-house design departments.

Levy explains how she made the leap to contract packaging: "Because of my whatever-it-takes attitude, I have a lot of trouble saying no. When a customer asks me if I can do something, I always say yes, even when it possibly should have been a no."

So, when Kimberly-Clark asked her to assemble a Kleenex promotion for a dealer display, she said yes. Levy had designed the promotion, a fold-out dollhouse the consumer could send away for, along with an FSI (free-standing insert) and a shelf talker. Kimberly-Clark then decided that each dealer—there were 267 of them—should get one, fully assembled, with a different-size pack of Kleenex in each room. They asked Levy to do the job.

"The Kimberly-Clark transport pulled up in front of my house in downtown Toronto [to deliver the products] and said, 'What's the matter, don't you even have a loading dock?' And I said, 'I don't even have a driveway.' So we unloaded them on the sidewalk, and I hoofed them into the house. And I built 267 of them in my dining room. And that's sort of how contract packaging started for us."

Another job entailed putting a sticker on a packet of Coffee-mate Creamer, punching a hole in it, putting a six-inch piece of elastic on it, and tying it around a Nescafé container in the store—150,000 times. For that project, Levy enlisted the aid of any friend willing to help with the tedious task.

In the mid-90s, Levy's growing company began working with a nearby co-packer, Repack Canada, to handle larger projects, especially those pharmaceutical jobs needing to comply with rules and regulations. In 2000, Levy bought the company, and it has been expanding ever since.

Continuous growth
Repack's first facility, in Milton, ON, was 4,000 sq ft. After five moves, the company now resides in a 55,000-sq-ft facility, nearly double the space of its previous plant. While Levy says they acquired the building with the intention of having plenty of room to grow, it has filled up quickly in the year since they moved in. "You can't be efficient if you don't have enough room," she says. "Part of the reason for moving was to always have workspace set up, so when a job comes in, we don't have to rearrange the whole place just to do it."
Another reason was to have space to add clean rooms so they can add primary packaging to their services. "We turn down a lot of business for primary packaging," Levy says. "It's not about formulating pills or having a lab or making hot dogs, or anything like that, but simply putting on some gloves, a hairnet, and a lab coat and being in a clean environment where you could, for example, overwrap muffins in a flow wrapper or package bulk tea into smaller containers."
Levy estimates Repack will have clean rooms set up that have the proper documentation and licenses for primary packaging within a year. This will be in addition to the many licenses it already holds. These include a Health Canada Drug Establishment License that allows it to provide over-labeling and packaging services for pharmaceutical goods and a Health Canada Precursor Class A License, which allows it to handle any product containing pseudoephedrine hydrochloride. A Spirit License means Repack can handle, pack, and warehouse liquor products, and an Excise Warehouse license means it is authorized to possess non duty-paid packaged alcohol or tobacco products that are not stamped. In addition, the company has procedures in place for distribution records and product recalls and for the handling, storage, and delivery of Natural Health Products. It also follows Good Manufacturing Practices (GMPs) by keeping up-do-date and regularly-reviewed Standard Operating Procedures (SOPs).
At its plant, Repack operates an impressive array of automated packaging equipment, including bundle and shrink wrappers, automated cartoners, ink-jet printers for lot coding, and high-speed labeling machines.
In April 2018, Repack purchased an Mpac Langen B1-M semi-automatic cartoner that gives them the ability to produce kits and sets of non-food or pre-packaged food items in retail cartons. The machine forms the cartons, operators manually fill them, then the cartons are automatically closed and glued. Says Levy, Repack is seeing requests to carton a range of products, from oatmeal sachets to sanitary napkins.
Since moving, the company also acquired a SPrint SidePouch bagging system from Automated Packaging Systems. The system automatically seals, trims, and labels bags after they are manually filled and allows for closure options such as reclosable zippers, resealable flaps, and easy-open perforations. At the time of Contract Packaging's visit, Repack had not begun the job for which the bagger was purchased—40 SKUs of plumbing parts for a U.S. distributor. Once the bagger is operational though, Levy says it will run 6 million to 8 million pieces a year, minimum. Repack is also looking into a system that would automatically weigh and measure the parts and drop them into the bag, depending on future production needs.
Overall, though, Levy says she doesn't like to buy a lot of machinery, unless it's necessary, as much of Repack's work is done by hand. "There's never going to be a machine that will build an in-store display or form that corrugated and then put three different kinds of products in it on a seasonal basis," she says. "If it looks like the job will be a viable, long-term thing, then we will invest in equipment. The bagger, once it begins operating, will run pretty much non-stop. It will be an ongoing customer."
Complementary services are unique
When asked what differentiates Repack from its competitors—besides the whatever-it-takes attitude—Levy says it's the marriage of graphic design and co-packing/3PL services. "When we talk about something as simple as a food importer bringing their product into the country, and it's not correctly labeled for the Canadian marketplace, by having a design company, we can create a label that makes it bilingual. It doesn't look like an add on," she explains. "It's not just, we took a white label and we stuck it on the package because now it has to have French on it to say coffee. We can actually check the Pantone colors, make sure the label stock matches, put it in a creative place, make sure the typeface matches—all of that so it doesn't look an afterthought; it actually looks like it belongs there.
"I've said to people, 'You can use all of our services, or one of our services, whatever works for you.'" What has worked for one startup baby-food company is having Repack design their logo, labels for 53 SKUs, and even their website for e-commerce sales. "Eventually I think we will pack here, because if the business gets to the scope she [the founder] thinks it will, it's not the kind of thing she can do in her living room," Levy says.
With the new facility, Repack's services extend even further, with space for pick-and-pack e-commerce fulfillment. Jennifer Stephen, Freelance Portfolio and Repack Sales Associate and Levy's daughter, sums up the company's full range of services: "We can take something right from the very beginning of an idea, right up until fulfillment and ship it right out to the DCs, literally putting it on the trucks. It's pretty satisfying to see that all go through. I think that makes us pretty unique."
Women step up to the task
Another thing that makes Repack Canada pretty unique is that virtually all of its 22 full-time employees are women. According to Levy, it wasn't a conscious decision, nor, she says, has she ever turned away anyone due to their gender. Rather, it occurred naturally as she and friend, business partner, and company Controller, Jeannette Anderson, grew the business. "It's not that we don't hire men, it's just that the women have always stepped up to the task," she says.
Among those women holding management positions are Yvonne Rutherford, Sales Associate; Eira Braun-Labossiere, Sales & Customer Service; Teresa Anker, Senior Art Director; daughter Jennifer; and daughter Kate Stephen, Project Manager.
On the plant floor, as well, women perform those jobs typically relegated to men. Females hold the titles of Warehouse Manager (Angela Brewitt), Warehouse Supervisor (Christine Jerimiah), and Packaging Line Supervisor (Kisher John and Alexicia Grant)—the sole exception being Jordan Stoness, who runs Shipping & Receiving. And women run the machinery and pack the products too.
"I think women generally have that attention to detail required for a full eight-hour day, standing on your feet, packing a display, and continuing to make sure that lot code is correct, and the expiry date is correct," Levy says. "It just seems to me we're better at that."
When Repack has a large job to fulfill, the company uses temps—from the same agency, and usually the same women. "I try to make sure when we identify good workers that we find regular work for them," says Levy. "As I said, I sell some pretty ridiculous things with some pretty ridiculous deadlines, so I need a good 'down-with-it' crew."
Giving women opportunities in the plant environment they may not have had otherwise has resulted in a team that pulls together and a place where people are happy to come to work. "We spend a lot of time with these people, and even if they weren't my family, they become like family," Levy says. "I want it to be a fun place to work. I don't want people to ever feel like it's dreadful to come here, or that no one wants to be here. Or, that they only come because they want a paycheck.
"I'd like to think, if we treat everyone well, when we get one of those ridiculous jobs, people are down with it—they understand what we are trying to do here."
So far, Levy's get-it-done approach, with an almost-all female staff, seems to be a winning strategy. Confirming this is long-time customer Greg Cain. He says, "I have worked with Carol and her team for 26 years. The first promotion we launched in 1991 ended up becoming a national promotion for around 10 or 15 years. Never once, in 26 years, did we ever miss a deadline. We always launched on time, and we always had top-shelf, A1 programs.
"Carol is intelligent, an entrepreneur, consumer-focused, and customer-focused. It's all about making sure the customer's happy and developing a kinship. And I think she's trying to instill that in her own team. You see that with the culture in the company."
Companies in this article