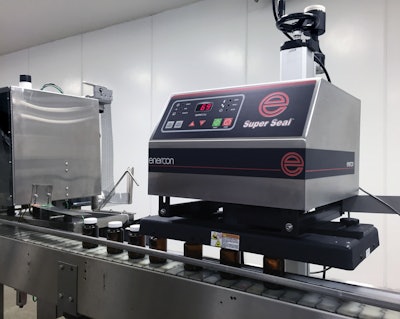 Best Formulations, City of Industry, CA, is a major contract packer responsible for packaging thousands of branded nutrition supplements, probiotics, pharmaceuticals, foods, and teas. These products are manufactured in a wide variety of formats, including liquids, powders, soft and hard shell capsules, etc.
Every day, Best Formulations has new orders coming in from its diverse customers, and many of these customers rely on their contract packer for raw materials and/or packaging components. So processing and packaging versatility is crucial. And standardized equipment with easy changeover features is key to cost-efficiently accomplishing that needed versatility. As Production Manager Dwayne Chrest notes, "The trifecta of a good supplier is knowledgeable people, reliable equipment, and support for products and applications."
One of the areas where Chrest saw a critical need to standardize equipment was induction sealing. Induction cap sealers produce an electromagnetic field that heats the foil component of the innerseal which, in turn, melts a polymer coating that bonds the innerseal to the container lip. The resulting hermetic seal protects product integrity and freshness, prevents leaks, and provides tamper evidence.
Best Formulations had been running several different products/brands on various fill/seal/cap lines throughout the plant. Among these lines there was a lack of performance consistency, and it was a challenge to keep packaging line staff trained on how to operate the various systems. In an effort to standardize the sealing operations, the Best Formulations packaging team procured quotes from a number of induction cap seal suppliers. After careful evaluation, the team chose a system from Enercon. Best Formulations was impressed with the company's induction sealing technology and with the responsiveness of the Enercon team, including the local machinery manufacturer representative Todd Kasik of Packaging Sales Equipment Corp.
Chrest attended Enercon's free educational web seminars and gathered training materials for his team. "The information Enercon provides its customers, from both an equipment and application standpoint, is fantastic. We had looked for this type of information from other suppliers, and either it wasn't available or wasn't very good. Now we know what to look for. Poor seals often are the result of poor torque or inferior materials issues. Some of our customers supply their own packaging materials, such as induction lined caps. So we added an Enercon foil seal sensor and container rejection device as part of our quality control. We tabulate which suppliers have the least amount of defective products and use that information not only to make our own purchasing decisions, but also to alert our contract packaging customers about suppliers who could be doing better."
Best Formulations is standardizing sealing operations with the installation of four Enercon units. The Enercon Super Seal™ Cap Sealers that Best Formulations purchased offer them more sealing consistency and unique sealing heads that accommodate sealing cap diameters from 28 mm to 120 mm.
Plasma surface treating
As an additional benefit of working with Enercon, Best Formulations learned about a method to improve ink code adhesion to the HDPE and PET containers. Chrest recalls, "By chance, I was talking to Enercon's local representative and happened to mention that we were having some issues with ink adhesion on some of our containers. The rep asked if we had considered atmospheric plasma surface treatment. We were not familiar with the technology, but were willing to try it."
Enercon subjects the plastic containers to a blown-ion atmospheric plasma treatment to raise the surface energy of the plastic, promoting ink adhesion. Chrest says, "We were really excited about this technology. We went on-line to Enercon's website and learned about dyne levels, surface energy, and adhesion. The science all checked out, and when we used the system in our facility, we were amazed with the results."
The blown-ion system cleans, micro-etches, and activates container surfaces to improve ink adhesion. It generates a concentrated, high-speed discharge of ions that bombards the container surface, removing contaminants that might inhibit optimum ink adhesion. The plasma treater is integrated into the production line in conjunction with the container diverter. Containers pass over the treatment head immediately before ink jet printing.
"This treater solved our problem. In addition to using it on untreated containers, we also tried it on containers that were already treated by the various container suppliers of our contract customers. We found that plasma surface treatment of the containers in-line improved the clarity of the lot codes we were printing," says Chrest. The company promptly installed additional plasma treaters for all of their bottling lines.
Companies in this article