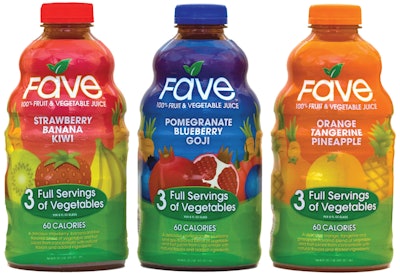 The Fave Juice Company, Middleton, NJ, faced the task of getting a new product to market, and found that the best way to get the job done was to work closely with partners in a novel way. Armed with product development formulation and marketing expertise, Fave turned not just to a contract packager, but to a tight partnership with The Scoular Company, based in Omaha, NE, a supplier that not only sourced ingredients but also could oversee the management of contract manufacturing, packaging and logistics operations.

Establishing operations with the brand's first co-packer, Stapleton-Spence Packing Company, Gridley, CA (a.k.a. Stapleton's), managed by Scoular, helped guide Fave to success in its first, West Coast, markets. The arrangement has also set the stage for a national expansion strategy.

What to own, what to outsource

Fave juices—the name derives from Fruit And VEgetable—were developed after four years of experimentation and high-level product development. The juices come in three flavors, with three different fruit juices and three full servings of vegetable juices in each 8 oz. serving. The 100-percent natural juices contain no artificial ingredients, no high fructose corn syrup, no preservatives—just natural ingredients. The 46-oz shelf-stable PET bottles appear on store shelves next to other shelf-stable fruit, vegetable and juice blends. Fave achieves a one-year shelf life through a special flash pasteurization process put in place at Stapleton's.

In determining how it would manage bottling operations, the company was faced with a dilemma. How could this small, fledgling company get its signature product to retail? "Essentially, we had three options," says David Kirkpatrick, president and chief marketing officer:

1) Buy a beverage plant, which would be an expensive investment;
2) License the technology it had invented, or,
3) Market the product themselves, using outside experts in contract packaging and distribution.

The company chose the third option.

Outsourcing co-pack management

Following product development and overall strategy, Fave sought a contract packager. The route to finding and working with Stapleton's took a somewhat unexpected, but fortuitous, turn that would include a broadly based relationship with Scoular in which operations would be managed, indirectly, by Scoular instead of directly by the marketer.

Kirkpatrick says he was acquainted with Stapleton's from prior work, but that he also discovered Scoular "as a part of our due diligence process in seeking qualified potential co-packers." To some customers, Scoular may be seen as an ingredient procurement house, but the company does much more, including "everything from growing organic grains at the farm level to supplying grains and specialty ingredients to food manufacturers, to marketing food manufacturers' products—and then there's the co-packing side of the our business," says Chris Cairo, Scoular's senior manager of co-packing services, based at the company's Minneapolis offices.

Through Cairo's division, Scoular serves as the manufacturing management arm for Fave and other food marketers, handing procurement of ingredients and packaging; managing manufacturing (including co-packing) and inbound and outbound logistics.

Scoular doesn't own its own co-pack facilities, but has "a wide network of different partners in every aspect of the business," says Cairo, who adds that his outsourcing services scale to handle small companies like Fave as well as large brand marketers.

Scoular oversees co-packing at Stapleton-Spence on a day-to-day basis, which Kirkpatrick says "is valuable to us, as it frees up our team to do what we do best—sell Fave and its significant benefits to busy retailers. It works better for Stapleton's as well, since Scoular is well-versed in the industry and provides clear guidance and direction." He adds that the arrangement is cost-effective as well, from securing favorable prices on quality ingredients and materials to ensuring the quality and efficiency of operations. Specifically regarding co-packing, Cairo adds that his group's expertise extends to a "very detailed knowledge of how to negotiate contracts, customized to each customer's requirements."

Among the services Scoular provides to Fave is full ingredient and material procurement services—from bottles to labels, caps, cases and pallets to "certain 100-percent juice concentrates," says Kirkpatrick, adding that "all of these items need to meet both our rigorous quality standards, and the high standards of our valued retailers."

Scoular provides that sourcing expertise, he continues, "and also gives us an added layer of quality assurance in our process. This is extremely valuable to us, as quality is our first priority."

Fave Juice had been in contact directly with Stapleton's prior to their engagement with Scoular. The co-packer, located near Oakland, is a 60-year-old family-owned business and has experience with turnkey contract solutions as well as with beverages. But it was Scoular's partnership that provided the impetus for the Fave Juice Co. to ultimately partner, through Scoular, with Stapleton's.

Co-packer perspective

"In the last six years, we've invested heavily in our juice bottling plant, and on the co-packing side of our business," says CEO Brad Stapleton, whose company has been producing and bottling juices and concentrates since its first plant came online in the 1960s.

While Kirkpatrick had been familiar with the company, it was really Scoular that connected the two companies, manages the companies' relationship and provides technical support. So when Kirkpatrick says that Scoular "provides us with some added benefits that traditional co-packers were less able to provide," this includes serving as an extension of the brand's technical team.

"As a new company, we do not have a written formal policy regarding co-packers," says Kirkpatrick. That said, Fave has specified certain technical requirements in its process, and shared them with Scoular, which in turn worked with Stapleton's to ensure the co-packer's processes would meet those requirements. This included the selection of specific new co-packing machinery and other process components. Future equipment purchases, as well as expansion to additional contract packaging operations, can be facilitated by Scoular.

Already, this arrangement has proven successful. For example, when Fave packaging required a shrink sleeve labeler that Stapleton's lacked, Scoular's staff handled the project and oversaw installation. "Dave didn't have to worry about the technical details," Stapleton says. "We love having him into the plant because he's really smart and knows how to market his product, but he works more closely with customers, and lets Scoular do the back-end work," Stapleton continues, noting that Fave and Scoular work as though they share "one mind. They're very united in the way they present themselves to us."

Scoular has also had a hand in upgrades over the past year that have included a new high speed monoblock filler-capper that can handle up to 300 bottles/min., and additional upgrades to capacity and automated efficiency, Stapleton says.

The outsourcing structure Fave has chosen "provides us with a scalable solution to our co-packing needs," Kirkpatrick says. "As we grow, they can grow along with us, including securing new co-packing locations and ingredients as needed. This means we do not have to aggressively seek new co-packers to support expansion. Scoular will handle this process for us."

Establishing West Coast market operations with Stapleton's, managed by Scoular, has set the stage for a national expansion strategy. The Fave line is at present primarily sold on the West Coast, however, additional customers are coming onboard including the Meijer retail chain, which recently introduced the line in its Great Lakes market area.

---
For the story of Fave's package development and initial production installation, see the article, Packaging Pumps Up Juice Sales, pwgo.to/060