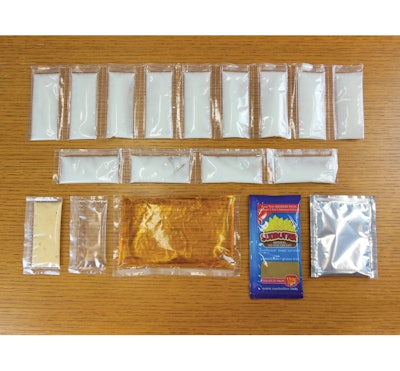 Create-A-Pack Foods, Ixonia, WI, is a certified contract packager that manufacturers and pouch-packs private label liquid condiments, sauces, gels, and icings, as well as some dry products. Many of these products are packaged in portion-control pouch sizes. The company's products are distributed to retail, foodservice, and food component manufacturing operations throughout the U.S.

Todd Loepfe, Director of Sales for Create-A-Pack Foods, notes, "As our pouch business continues to expand, we needed to look at replacing some aging equipment. We researched and targeted a new Dangan Type III pouch vertical form/fill/seal system from Taisei Lamick USA, Inc. (www.taiseilamick.com) versus other currently available machines. The Dangan Type III is available in two versions—the smaller single-lane machine (Standard type for 3-100 mL pouches) and the larger multi-lane system (for 5 -500 mL pouches). We chose the single-lane Standard type.

"We concluded that the Dangan offers easier operation, easier sanitation and maintenance procedures, less set-up time, and less film waste, while providing comparable filling speeds versus other machines. The Dangan can produce aesthetically perfect, retail-acceptable single pouches, continuous pouches, or perforated (connected) bandolier pouches with or without perforations in a standard and custom range of sizes. And the pouches can be set to run on registered eye marks or preset lengths. Another asset is that we are able to package very thin-viscosity products such as food oils without encountering pouch leakage problems. We felt that the seal integrity of the Dangan was superior to other pouching machines."

Currently, Create-A-Pack uses the Dangan Type III VF/F/S to fill pouches of SunButter™ sunflower butter products, several icing items, and several oil-based products in sizes as small as 9 g (0.31 oz) and as large as 170 g (6.0 oz). The film choice is dependent on the product and the contract customer preference—for example, foil, metallized PET, and some other specific barrier film structures. Custom-printed films are supplied to Create-A-Pack by the contract customers. Taisei-Lamick USA also can supply a variety of Dangan custom-designed, custom-printed films. And Create-A-Pack also maintains a stock of clear and white opaque films to accommodate some other more generic product applications. Product filling temperature—hot-fill or ambient-fill—also is product-dependent. Hitachi (www.hitachi.america.us/ice/inkjetprinters) ink-jet date-coding equipment, recommended by Taisei-Lamick, is mounted to the Dangan Type III system.

Loepfe says, "The Taisei-Lamick personnel were extremely helpful in our implementation of the Dangan machine. They invited us to run our product on their machine in Chicago as a test. We sent them film and product that we had experienced challenges with in the past. Then we met with them at their facility to watch the machine run. We learned that not all films are created equal. Taisei-Lamick helped us identify optimum film choices for our product applications.

"The Dangan demonstration exceeded our expectations. So we decided to go ahead with the purchase of the machine. While we were waiting for delivery of the new machine, we received orders that we could not fill without the new system. Taisei-Lamick came to the rescue, allowing us access to their equipment to fill orders until our own machine was installed. The installation actually happened ahead of schedule, and Taisei-Lamick was very helpful in assisting with the installation, training, start-up, and sanitation and maintenance procedures guidance. And their staff also worked with our engineers on required utilities. The whole process took about three weeks."

Versatile and easy to operate

Due to its willingness to do small runs, Create-A-Pack Foods incurs many changeovers. The Dangan Type III VF/F/S machine affords the contract packer the opportunity to grow its existing business and enter into new product categories.
As Loepfe explains, "In our current business, we have multi-lane single-stroke piston fillers, single-lane single-stroke piston fillers, and horizontal single-stroke piston fillers. But the new Dangan single-lane continuous-fill system delivers filling speeds that meet or exceed the other machines. At the same time, the Dangan gives us savings in set-up time, sanitation and maintenance time, and material waste cost reductions."

More specifically, Loepfe notes, "We are setting up one lane on the Dangan. So we're not having to install different filling racks, not having to align cutting knives, and not having to adjust for date code embossing on different lines. As far as sanitation and maintenance, there's only one line to clean and less parts to worry about. And when it comes to material waste, we have a much easier time of getting the film to track correctly and the tubes to align correctly. We have seen set-up waste materials go from trash cans full to less than 50 feet. With the Dangan you simply feed the film, physically set the guides, type the proper set-up into the computer, run some film to test a few empty pouches for integrity, then turn the filler on. Once a product item is set up the first time, the parameters are saved and stored. We don't have to do a new set-up every time."
Companies in this article