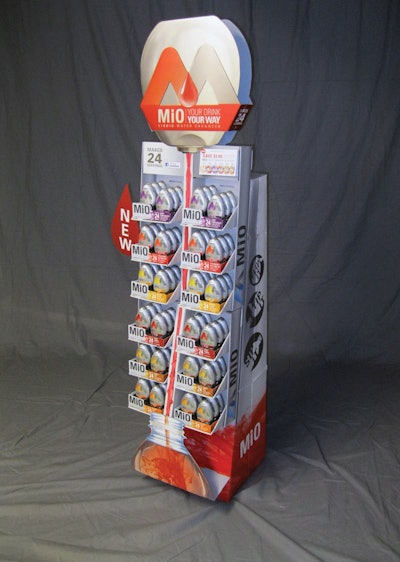 Thirsty, but don't have the pockets for cans or bottles? Don't want to deal with powder packets? Seeing the opportunity to tap demand for a more convenient thirst-quencher, Kraft Foods introduced MiO water enhancer (www.kraftbrands.com/mio) to retail stores in March 2011. The naturally flavored, zero-calorie, sugar-free liquid concentrate comes in palm-sized, 1.62 -oz. packs that make roughly 24 8-oz. drinks.

MiO, Kraft's first new-category foray in roughly 15 years, is an iPod for the palate for Millennials aged 18 to 34 who want to "personalize nearly every aspect of their lives — from iPod playlists to DVR recordings to smartphone apps," as the company's branding reps put it during the initial launch.

And just as Apple didn't invent the Mp3 player, Kraft didn't invent water-enhancing flavors; all-natural Capella flavor drops have been out for more than six years. Instead, Kraft has leveraged its vast product development, design and supply chain resources to create the right product, packaging and distribution network to grab a share of the billion-dollar flavored water market.

ARI Packaging, Inc. (www.adresinc.com), Alsip, IL, plays a major role in that network. The company operates from its 420,000 sq. ft. headquarters facility, and is expanding with a 170,000 sq. ft. facility it opened in December across the street from a Kraft plant. Expansion is ongoing as ARI serves Kraft and other customers.

"Our relationship with Kraft Foods has grown into partnership; a partnership that engenders mutual trust," says Warren E. Lawson, ARI principal owner. That trust was forged, he says, as his company met and exceeded expectations, and showed a willingness to invest "our people, plant and equipment to continue to keep pace with their vision for growth."

Evolution of a partnership
ARI's roots go back to company's found in 2000 as a minority-owned business that over time developed a successful track record with several Kraft brands by the time word came of a new product on the horizon.

"We were involved with Kraft from very beginning of the MiO concept," says Dave DeAngelis, ARI's account manager for the company's overall Kraft relationship, citing meetings that date back to the fall of 2009. ARI worked directly with Kraft's packaging R&D group from the earliest design stages for primary packaging through the creation of base product cases and secondary displays "so that from a brand perspective we were all on board with the basic design, shape, form, color and function. It was really a partnership," DeAngelis says.

The first meetings began with the high level of confidentiality typical of global brand leaders. Even before the package and labeling requirements were finalized, ARI was given what DeAngelis characterizes as "loosely defined criteria that we would use to develop and cost-out some of the initial primary and secondary packaging options — We didn't even know what the product was at that stage."

Today, ARI's responsibilities include the following:
Primary packaging: Four full-body shrink sleeve applicators mated to steam shrink tunnels each crank-out hundreds of individual packs per minute.
Secondary packaging: Six-count paperboard cartons and alternately vacuum-formed trays are assembled.
Retail displays: Seasonal or promotional displays include clip strips, sidekicks, counter units, retail-ready PDQ trays, floor displays and pallet displays.

ARI executes these core packaging services within the framework of Kraft's overarching implementation of an Integrated Merchandising Supply Chain (IMSC) strategy.

ARI handles the requirements expected in such an outsourcing relationship, receiving product from Kraft, and ordering the corresponding packaging materials based on the production plan. ARI also manages all shipments, and must record all transactions into Kraft's software system, which is SAP, the 800-pound gorilla in the business enterprise systems space. Of course, such reporting is common and required. But the way Kraft has automated the process using PackManager software from Nulogy (www.nulogy.com), Toronto, ONT, Canada, elevates the MiO program to the status of a world-class, integrated supply chain.

Software-empowered supply chain
Kraft has installed a PackManager interface to its SAP system that enables integration with outsourcing partners. ARI became one of the earliest adopters of this software in Kraft's IMSC program, having installed PackManager at the new Virginia plant, and begun implementation in Illinois. In addition to eliminating the time and errors commonly associated with manual data entry by co-packers, the software platform helps brand-owners better account for outsourcing partners, something that multiple sources report is a weakness of SAP.

Where installed, information is instantaneously visible to users on both sides of the co-packing partnership who need to work with plant, warehouse, transportation and financial data. "So if 1,000 displays are sent to a Walmart location, we know and Kraft knows how many trucks, freight cost per truck at 'X' rate, and so on, were involved," DeAngelis says.

"Without that live data in the system, all our efforts to drive costs out of the system grind to a halt.... The system has been brought improvements over the old way we did things, where we had cases of duplicate and even triplicate data entry involved in production and workflow reporting."

The Nulogy solution is hosted remotely via secure Internet connection, or in current parlance, the cloud. The use of cloud data services represents a disruptive shift in technology that "disseminates and democratizes information so every employee can be on the same page," Nulogy CEO Jason Tham says. "Working with large CPGs using external manufacturing supply chains, the savings are significant," he adds, citing typical contributions to the bottom line between 5% and 15% annually for a 100% return on investment in as little as six months of installation.

In light of ARI's ongoing implementation and integration with Kraft's complex systems, Lawson estimates a more conservative two-year payback. But along with his aforementioned investment in people and physical assets, software "plays a crucial role" in meeting customer demand, he says, adding that PackManager "has allowed us to seamlessly integrate the software with our reporting systems and, in turn, has the benefits of cost avoidance."

Savings top seven figures
The software-enabled IMSC strategy lets ARI and Kraft cut waste and multiple steps, and associated transportation resources, from the traditional supply chain.

The most obvious savings stem from ARI's labeling as well as secondary packaging in one facility, rather than shipping products to separate Kraft facilities, or co-packing partner facilities. In cases if fulfillment, yet another step is eliminated when truckloads go directly to customers. Additionally, instead of unpacking, discarding and repacking, ARI and Kraft have eliminated much of the commonly used paperboard and corrugated that ends-up being discarded.

"If we had to unpack the product from a retail pack just to put it in anther pack, it would be very wasteful. The method we use is more sustainable, and by eliminates touch points, we eliminate costs in time, transportation and materials," says DeAngelis.
Accounting for al aspects of the supply chain, from the IMSC to its internal operations, ARI reports efficiency gains and benefits that include increased throughput rates, manufacturing and materials value engineering and overall reduction in MiO packaging program costs. In the area of logistics, ARI reports efficiency gains to better coordinate inbound materials with demand, and overall excellence in outbound shipments.

Taking all these efficiency gains into account, ARI has quantified significant savings and cost-avoidance metrics in several areas. While confidentiality requirements preclude disclosure of hard dollar-figures, the benefits have topped seven figures while exceeding expectations in areas including:

Material: Eliminated the use of 12-count base cases and other intermediate steps, material and labor in shipping product between Kraft and ARI facilities, as discussed above.
Display Engineering: Revised material and structures on seven units, or display varieties. Premium materials used at product launch to maximize retail appeal are have given way to subtle cost reductions in areas of display materials such as foil, and components used to hang trays to lend a "suspended" appearance.
Freight, shrinkage and 3PL handling: Reduced multi-facility shipping and handling cuts time, labor, transportation costs as well as waste from sources of damage caused by excessive handling, such as fork lift jostling and needless unpacking and repacking.
Time: Multiple days reduced by turning directly to ARI for both primary and secondary needs. Additionally, removing steps, reduces related inventories and improves scheduling.
Process Engineering: Increased throughput and crewing reduction lowers unit cost New equipment, benchmarking and information technology contribute to business plant and process improvement.

During the initial launch month, the company packed roughly 680,000 base 6-pack cases into 100,000 displays in 15 different configurations. A year of improvements later, ARI and Kraft continue to reduce costs along the MiO supply chain. Sales of MiO are estimated to be in the area of $120 million a year, and are sure to rise because Kraft continues to back the brand with broadly based media support.

ARI, with its focus on the food industry, also must meet safety standards and regulations. "Building and maintaining trust in our food safety standards will always be a top priority at ARI," says Todd Swift, director of packaging solutions, citing the company's compliance with regulations and requirements.

This includes ARI's distinction as one of 14 companies in North America to maintain the highest, Level 3 certification to to the Safe Quality Food Initiative. This is in keeping with a mandate by Walmart and other top retailers to institute a food safety system in keeping with the overarching Global Food Safety Initiative. Compliance to standards along with ongoing investments and initiatives keep ARI on a steady path to future growth.