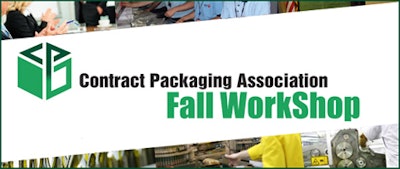 The Contract Packaging Association is holding its Fall WorkShop on November 7 and 8 at the Chicago Marriott O'Hare. The event is packed with Educational tracks and presentations focused on strategies to increase operational efficiency, and also features exhibits from CPA Associate Members who supply the contract packaging industry. Networking events will provide informal opportunities to meet peers. Additionally, there may still be availability to register for a tour of the nearby 1.2 million square-foot facility of the Frain Group, North America's largest used packaging equipment and processing machinery dealer. (Signup is free to registered WorkShop attendees.)
The full roster of speakers is impressive, featuring presentations on both buyer and seller sides of the contract services equation, delivered by and for executives and managers across operations, procurement, quality control, and the entire business enterprise.
For more information on the agenda, click here. For more information and registration details, visit the WorkShop homepage, e-mail Mary Von Qualen at mvonqualen@contractpackaging.org or call 630-544-5053.