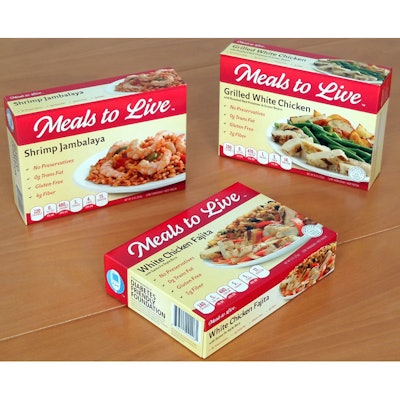 One look at the eight frozen Meals To Live entrees makes it clear that packaging graphics are instrumental in singing out to consumers interested in making healthy meal choices. Individual tabs on the outer carton are clearly printed with "nutrition keys" that list each meal's amount of calories, saturated fat, sodium, sugars, fiber, and protein. Italicized graphics indicate other healthy choices, such as no preservatives, gluten free, 0g trans fat, etc.
Printed cartons are supplied by Ultimate Paper Box Co. A contract manufacturer, considered proprietary, fills product into paper-based trays, applies a top layer of film, and packs the trays into the outer cartons. Products have a 12-month shelf life.
The single-portioned 9-oz entrees were launched in September 2010 and are sold in more than 2,000 retail locations within 22 states, and at Amazon.com, typically priced between $3.99 and $4.99. Dallas-based Meals to Live aspires to sell the products nationwide.
While there are other healthy choices in the frozen food category, Meals to Live began by focusing on the growing number of diabetic consumers. The company's mealstolive.com Web site tells the story well: "Meals to Live was founded in 2008 by Cole Egger, a businessman in Dallas. The concept for the company was prompted by a family friend who complained of difficulty finding packaged meals for people with diabetes or other special dietary needs. …While an abundance of weight-loss products [sic] were available in nearly every grocery store, he couldn't find any prepackaged food items for the diabetes community. Diabetes testing kits and sugar-free products existed, but those weren't the solution his friend was seeking. It was clear that people with diabetes and other specific dietary needs had to fend for themselves when it came to meal planning."
Says Egger, "The meals are geared toward consumers looking for a healthier option, a consistent nutritional balanced meal. More than half of our meals are gluten-free, which is a big market these days. We tried to set ourselves apart from the other guys out there by maintaining nutritional standards across all of our products. We don't know of another product commercially available that specifically targets the nutritional needs of anyone who is living with diabetes. That is a differentiator."
Meals to Live worked with consumers and various health groups to develop packaging for the frozen meal line. Consumer feedback indicated that finding amounts of calories, sugars, etc., on printed packaging was often a time-consuming process.
Egger says the packaging graphics have evolved through four separate iterations, incorporating input from consumer focus group and support groups of individuals attending trade shows, as well as dieticians and diabetes educators. "One of the things we have done on our newest packaging is make the nutrition panel one of the largest out there, especially considering that our packages are smaller than a lot of [other frozen meals]," he says. The font size is larger for the nutritional information on the back because the Texas Diabetes Institute required companies it worked with to have 12-point font size since the fastest-growing demographic group of diabetics is baby boomers, where there are vision issues."
Support-group feedback suggested putting the vital nutritional information on the front of the carton so that aging eyes didn't have to struggle to read such details. A nutritional facts box is printed on the back of the carton along with preparation instructions.
Carb choices, another important nutritional concern for diabetics and health-conscious shoppers, are also printed prominently in a large graphic on the back, making it easy for consumers who are counting carbs. Egger says, "Meals to Live is one of the first frozen food packages to contain the carb counting chart that is endorsed by the American Dietetic Association."
Of the resulting packaging, the Meals to Live Web site says, "Today, we are proud to say that with invaluable input from support groups, endocrinologists, diabetes educators, dietitians, and consumers, we have accomplished our goal. Customers told us their preferences and we listened. Over the course of the next year, you will see our brand grow nationwide. More products are being developed as we expand beyond the frozen food section of the grocery store."