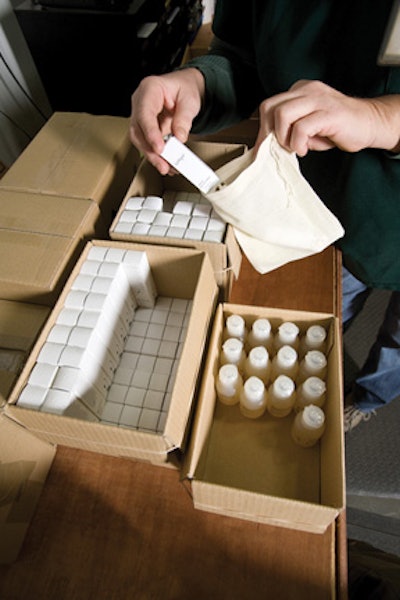 If you're in packaging services purchasing or management for a consumer packaged goods company, one way to qualify the right packager might be to ask your prospects this question: How can you help me identify at least one cost-reduction or value opportunity in the next 12 months, beyond reduced rates?
The answer might lead you to a company that provides a suite of services in much the same way it pointed two beauty products marketers to Saddle Creek Corp.
• Jurlique USA, a developer of organic skin-care products, required both personal attention and turnkey capability as the Australia-based company expanded its business fivefold in five years—without increasing internal warehousing operations.
• A multibillion-dollar global beauty company needed both packaging and inventory control services that could be flexible in responding to long-range product forecasting.

Both companies are representative of consumer product companies that make products on a large scale. They need service providers skilled at doing a lot more than putting products in packages and bounding them on pallets. They want providers that also can integrate logistics, transportation, and systems management services, and function as a consultant.
Lakeland, FL-based Saddle Creek, with $210 million in sales, is a giant among integrated service providers. Contract packaging is a fast-growing part of the company. Cliff Otto, company president, says the goal is to double the size of the company's contract packaging business over each of the next two years.
Packaging operations complement Saddle Creek's massive warehousing and transportation businesses as a third-party logistics (3PL) provider. The company's offering of supply chain solutions spans 15 million sq ft of owned and leased space at 32 locations in 12 states, and also includes operations directly in some of its customers' own distribution centers. Saddle Creek is growing even more through acquisitions, such as the November 2009 purchase of ServiceCraft Logistics.
Saddle Creek's "ideal customer" wants more from its provider than just packaging services, says Stephen Cook, vice president, marketing and business development. "Our customer wants to be a product manufacturer and marketer, and outsource the rest," he notes.
Saddle Creek answers the call with plant-to-store manufacturing, cross-docking, and inventorying near the distribution point, where packages can be reconfigured for a specific retailer.
"For a 3PL to be really valuable, they have to be able to provide all those services," Otto explains during Contract Packaging's recent visit to the company.
"Then a customer can customize the solution." When that happens, he adds, steps are removed from the equation, and the benefits fall directly to the customer's bottom line.
U.S. distribution point
Those benefits attracted Jurlique to Saddle Creek. Jurlique, a marketer of organic skin-care products designed to promote health and well-being, produces its products in Australia. In the U.S., the company markets its products through 14 Jurlique-branded retail stores, about 300 wholesale customers such as spas, and over the Internet. All products pass through Saddle Creek's Atlanta, GA, distribution center.
Jurlique ships 80,000 to 120,000 product units each month in glass bottles and aluminum tubes, samples in small plastic envelopes, and collateral materials. Getting those products to market presents multiple challenges. The diverse product line consists of nearly 400 SKUs, and fluctuating volumes demand production flexibility. Time and temperature sensitivities also enter the picture. Jurlique's products typically expire two to three years from the date of manufacture, and they have to be stored in temperatures ranging from just above freezing (32˚ F) to 85˚ F.
Moreover, Jurlique needed the right logistics provider, and the company wanted to deliver on its brand positioning of products with "purity, integrity, and care." In addition, Jurlique had begun a plan to grow its business fivefold over five years—without expanding warehouse operations.
"We're a small company without a lot of capital to spend on distribution infrastructure," says Brett Levine, director of operations for Jurlique USA. "We wanted to work with a company that wasn't so big that we would be lost in the shuffle, but was able to provide the same services and benefits of a larger 3PL." Jurlique benefits in four ways from its partnership with Saddle Creek:
• Turnkey capability. Jurlique gets services including product receiving and sorting, order receipt and processing, pick-and-pack handling, reverse logistics coordination, inventory, and control management.
Individually boxed products arrive in cases at Saddle Creek's Atlanta distribution center, where a repacking operation breaks open the cases and reconfigures the product assortments according to Jurlique's specifications. Bubble wrap and other materials are meticulously packed around the products inside the new master cases. "Our products need to show up in pristine condition because much of our product is going to boutique, high-end spas, where appearance is everything," Levine notes.
• Top-notch technology. Warehouse management system capabilities are primary criteria in Jurlique's needs for a 3PL provider and contract packager. Saddle Creek provides reports that enable Jurlique to monitor inventory levels, check an order status, or review activity on any item over a three-month span.
• Flexibility. Jurlique's production and distribution requirements change continually, and Saddle Creek provides flexibility in staffing that Jurlique needs. Process flexibility also is a plus.
• Personal attention. Levine notes that Saddle Creek took interest in Jurlique's unique issues and created custom solutions.
Long-range planning
In the case of the global beauty products company (which didn't want to be identified for competitive reasons), the company is one of the world's largest manufacturers of personal fragrances. It operates six factories around the globe, and planning is done far in advance to meet the complex product-assembly and distribution requirements. When Halloween arrives, this beauty company is planning heavily for Christmas shopping season—of the following year. As the new year dawns, the company's retail and supermarket customers prepare purchase forecasts for the company's popular product displays and gift packs for the upcoming Christmas season. Displays need to be built, and many products, in an array of shapes and sizes, have to be packaged and prepared for distribution.
"Anyone can assemble a gift set," says a company vice president. "The trick is being able to control your inventory. It's also critical to have great flexibility. Our customers provide us with long-range forecasts that, in reality, can be off. We simply have to live with that and be able to change quickly, stop on a dime, and head in another direction at a moment's notice. Companies that do these two things provide real value. Saddle Creek does them extremely well."
Any display and gift pack project requires lots of space and labor. The company estimates that a million gift sets occupy 45,000 sq ft of space. Another challenge, says Robert Pericht, senior vice president, warehouse operations, at Saddle Creek, was the beauty products company's space and labor needs came in peaks and valleys for producing 10.4 million gift sets for the 2009 holiday season.
Saddle Creek responded by setting up as many as 16 production lines in June and July in its Charlotte, NC, warehousing and distribution campus. "We received work-in-progress pieces from this company that went right to our warehouse," Pericht says. "We did all the production planning, and continuously looked for ways to refine the process."
At the height of production, the operation spanned about 210,000 sq ft and then condensed to about 20,000 sq ft in September. The production operations assembled 7.5 million pieces of product into 275 finished SKUs. Finished goods then were prepared for distribution.
For both beauty products companies, the job doesn't end there. As Saddle Creek President Cliff Otto explained, there still is the matter of identifying a cost-reduction or value opportunity for the next season's order. An important part of Saddle Creek's services, Otto says, is preparing a quality control analysis for the customer. Included are charts, photos, and specifics on how to improve the operations. Suggestions could range from tuck-folding cartons and preventing rubbing against insert cards to how to more efficiently "cube out" a trailer.
"From our customers, the most common word we hear back is 'execution,'" Otto says. "When we probed deeper, we heard, 'You are going to execute what we want done as near flawlessly as we can expect,' and that's what we strive to do every day."
Contact Jim George at george@packworld.com.
Companies in this article