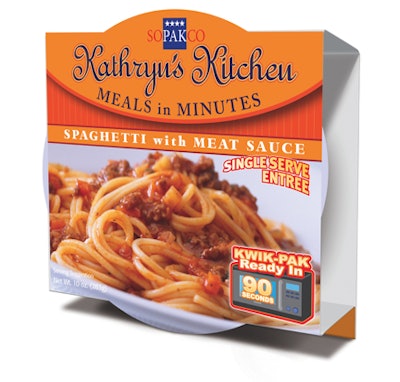 Contract packager SOPAKCO Packaging serves U.S. military and emergency disaster-relief efforts with extended-shelf-life retort pouches; a recent line expansion now offers convenient shelf-stable bowls and trays to retail.
The company was founded in 1943 out of the need for military food rations, and today, SOPAKCO remains one of the top providers of MREs (meals ready-to-eat) and government rations to the U.S. military, as well as to other countries' armed forces. For several decades, SOPAKCO has been a leading retort food processor and contract packager, with two facilities in Mullins and Bennettsville, SC. The company recently opened a third plant in Mullins. Additional warehouse space exists in Tennessee and Nevada. For 10 years, the co-packer also has sold meal kits to first-responder agencies such as fire and police departments, the American Red Cross, the Federal Emergency Management Agency (FEMA), and also to individuals who are preparing for hurricanes and other impending disasters.
Helping Haiti
At any given time, SOPAKCO has 80,000 cases of its Sure-Pak meal kits stocked in its warehouses. Each case contains 12 meal kits of 1,000 to 1,200 calories apiece, enough to feed one person for 12 days or multiple people at once. Because of this available inventory, the company was able to respond immediately to the earthquake disaster-relief effort in Haiti. In addition, SOPAKCO ramped up its production in the weekend following the Jan. 12, 2010, earthquake to supply another 50,000 cases, primarily through the American Red Cross and FEMA, but also through private relief service agencies.
Each Sure-Pak 12 Meal case contains 12 individual meal kits—two each of six menus—including vegetarian options. Each meal kit includes an entrée, side dish, dessert item, cracker or wheat bread and spread, beverage powder, and a condiment pack with a spoon, napkin, moist towelette, salt, pepper, coffee, creamer, and sugar. Sure-Pak kits are shelf stable for five years. The food does not necessarily need to be heated to be edible, but an optional flameless heater pack is available.
Shelf-stable goes retail, too
SOPAKCO's capabilities, however, go beyond MREs and disaster-relief food products. Expanding into convenience-food products was both a logical and economical move for a company already skilled in retort processing and packaging. Looking to capitalize on the growing retail demand for shelf-stable, heat-and-serve meals, SOPAKCO has opened a multi-million-dollar contract food-processing and packaging facility in Mullins. The facility enables consumer food companies, brand owners, and retailers to enter an exploding convenience-products market with high-quality, shelf-stable food items without the need to make their own capital investment.
The 200,000-sq-ft production facility is dedicated to the design, preparation, and packaging of heat-and-serve meals packaged in microwavable plastic bowls and trays, and also in flexible retort pouches. The barrier-lid trays require no refrigeration, so they can be stored in a desk or school locker until mealtime. The new facility includes a state-of-the-art research and development lab, test kitchen and pilot plant, automated batch and blending operations, volumetric filling and form/fill/seal equipment, high-speed bowl-filling lines, high-volume retort chambers, and automated packaging lines. Quality and food safety features include electronic digital inspection systems, magnetizers, in-line and end-of-line metal detectors, and on-site USDA facilities. The plant's 80 staffers include food scientists, process engineers, and packaging engineers.
Commenting on the new facility, SOPAKCO President Lonnie Thompson says, "There is a tremendous amount of synergy with this expansion. SOPAKCO has more than 30 years of experience in retort processing and 60 years in co-packing, which gives us an advantage in satisfying the growing demand for heat-and-serve meals.
"We're also a financially strong, established company, enabling us to partner with leading consumer products companies, brand owners, and retailers that want to quickly enter this growth market with confidence and without significant capital investment. We provide a turnkey solution, from recipe formulation to food processing and packaging to distribution, another advantage for quick market entry."
SOPAKCO Vice President of Sales and Marketing, Perry Jowers, reports the new production facility in Mullins already has booked business with well-known national companies and is generating significant interest from major food brands and private-label brands. "Companies are recognizing that consumers at all ends of the spectrum, from gourmet to budget, want the convenience of shelf-stable, prepared meals," Jowers notes. "SOPAKCO has the capabilities and capacity to help companies quickly get to market with delicious, nutritious meals that reflect the desired brand experience and price point. There's a lot of opportunity, but if you don't get your product on the shelf, you'll miss the boat."
Serving up nutrition
One well-known brand that has used SOPAKCO's contract processing and packaging services for the past two-and-a-half years is Nutrisystem. First providing retort pouches for Nutrisystem, the co-packer has recently expanded into lidded barrier trays with meals produced primarily at the new facility in Mullins.
Anthony Mauceri, vice president of procurement at Nutrisystem, says the company, which markets weight-loss products and programs, stipulates the nutritional guidelines. These include total calories, protein, and carbohydrate levels. Nutrisystem also identifies some prohibited ingredients. Then SOPAKCO's research and development team formulates shelf-stable meals that Nutrisystem approves.
Mauceri says he does not identify ingredient suppliers, instead allowing his co-packer to source the best and most economical ingredients. Since Nutrisystem delivers its food products entirely by UPS, its supply chain requires shelf-stable, nonrefrigerated foods that meet the company's gold standard for taste, Mauceri explains. Jowers agrees that "These meals taste very good."
Having acquired experience with retail food products, SOPAKCO recently added a line of meals marketed under its Kathryn's Kitchen brand. The line includes two package formats: semi-rigid lidded plastic bowls and flexible retort pouches. Kathryn's Kitchen Meals in Minutes single-serve entrées are available in 10-oz thermoformed microwavable bowls. Meals in Minutes are available in many SKUs. The offerings in retort pouches include Tater Toppings™ and Rice Delights. Tater Toppings are available in 6-oz stand-up, retort pouches with a "cool grip" handle for easy pouring. The nonfoil pouches are designed for microwave oven use after the top of the pouch is torn away for venting purposes.
Jowers says the Kathryn's Kitchen shelf-stable, heat-and-serve lines are lifestyle meal products offering consumers meal solutions that fit the way they live.
Meeting today's demands
"We're meeting the changing dining demands of today's consumers. For working people and on-the-go students, Kathryn's Kitchen entrées are portable, without the hassle of needing refrigeration," he says. "They have a nonrefrigerated shelf life of a year, so they can be stored in a desk or locker until mealtime. Finally, they're ready to eat in 90 seconds. What student or working adult doesn't like that?"
Kathryn's Kitchen packages are designed to maximize shelf impact. The thermoformed bowls, supplied by Rexam, are finished with a printed die-cut oversleeve and designed to stand up on the shelf, contrasting packages of competing products that lay flat. From Atlantic Corp., the sleeve graphics bring the meal inside alive via eight-color, lithograph printing. A microwave oven graphic clearly positions the product to those looking for a meal on-the-go. The three-ply, nonfoil stand-up retort pouches, supplied by Majestic Packaging Solutions, feature eight-color rotogravure printing of the toppings and "sides" contained in the package.
Though SOPAKCO's shelf-stable meals and side dishes are suitable for home or office use or even outdoor adventures, they also are an option for emergency provisions because they require no refrigeration. As with the Nutrisystem entrées, Jowers assures that the Kathryn's Kitchen line "tastes very good."
The author, Mary Ann Falkman, is a veteran packaging industry journalist. Contact her at 630/653-5950 or maf184@aol.com.