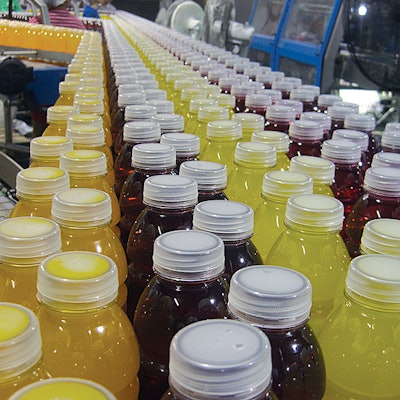 This content was written and submitted by the supplier. It has only been modified to comply with this publication's space and style.
PepsiCo Inc. is about to launch a pilot project involving contract packaging that would semiautomate some repacking operations on variety packs for its Gatorade brand. The bottling giant hopes to begin test operations in April, citing four objectives: Foremost, validate that basic variety packs, sold in sufficient volume, can be assembled using some automation in a standardized repacking-line process that can accept multiple package sizes and configurations. Additional goals are to reduce both costs and the potential for product damage during packout, and also to boost Gatorade sales by providing shoppers with more product options in compact display areas inside stores.
Michael Bilton, national customization manager at PepsiCo, tells Contract Packaging the company's cost-benefit analysis projects that semiautomated repacking could shave the company's production costs by at least 10% while also increasing production output up to 30% for Gatorade variety packs. These benefits result from a reduction in manual labor and improved production line capability and reliability.
Jacobson Packaging and Manufacturing Co. (www.jacobsonco.com), a PepsiCo repacker, will produce the test variety packs, and also variety pallets, which are built by mixing single-flavor trays. These packs will appear in club stores in the Northeastern U.S. If the project proves successful, Bilton says, the company might expand semiautomated repacking to its 10 other repackers around the country.
Success could have huge implications for semiautomated repacking in general at a time when product manufacturers frequently need to change multipack configurations. Contract packagers that perform repacking services also could benefit significantly by introducing another value-added service. Shoppers and retailers today want continually fresh merchandise in stores, and PepsiCo is representative of the growing number of product manufacturers turning to contract packagers and others in their supply chains to find new areas to automate production and introduce more flexibility in packaging formats.
"Our customers—the retailers and the club stores—are becoming much more customized," Bilton says. "We're trying to provide differentiation from our competitors."
Repacking: historically by-hand
Traditionally, contract packagers have approached repacking as a manual operation. In repacking, pallets of shrink-wrapped trays arrive at a contract-packaging facility, where assemblers "depalletize" them by breaking apart the film overwrap, removing the products from the trays, discarding the trays for recycling, and then arranging the products in new configurations in new trays.
The only step that packers might automate is shrink-wrapping the new trays. But a new variable assembly system, which PepsiCo is testing in its Gatorade pilot project, would automate operations earlier in the process. The centerpiece of the enhanced production line is a piece of equipment designed especially for contract packaging, called the Variety Pack Assembly System (V-PASS), and it's from XPAK USA (www.xpakusa.com).
"We did a cost-benefit analysis with the V-PASS, and the front of the production line looks much the same, with employees taking off the old shrink-wrap," Bilton says. "But the payback is in decreased manufacturing expense through increased speed once production begins."
XPAK's figures support that analysis. The V-PASS system can process about 45 trays/min, compared with 25 to 30 trays/min in a hand-mixing operation.
The V-PASS results from a collaborative effort across the supply chain, including contract packagers, OEMs, and component suppliers. With this new machine, Juan Ortiz, vice president business development-Americas at XPAK, believes the supply chain has overcome two hurdles that long have made semiautomated repacking impractical in contract packaging. One issue has been that the cost of conventional automated packaging machinery has exceeded the financial capabilities of contract packagers. A second obstacle has been that co-packers require flexible shop-floor layouts as they move from one job to the next. Contract packagers say that the conventional automated machinery on the market today satisfies neither of these needs for them.

Working with this knowledge, XPAK consulted with operations managers to design a product line configuration best suited for contract packaging. Ortiz says there are some variations in production depending on which of the two V-PASS models currently in operation is used, but he explains the general sequence of steps for using the unit: At the front end of the production line, operators manually depalletize single-flavor trays at multiple metering conveyors. These conveyors then release a preset number and sequence of trays to the V-PASS unit, which mixes the flavors to create variety packs.
Metering conveyors also can create a variety display pallet by sending a sequence of solid-flavor trays without requiring special programming at the palletizer end of the line.
After exiting the V-PASS unit, the newly formed variety packs move via conveyor to a shrink-wrapper and then are either conventionally or robotically palletized.
Research findings
XPAK created the V-PASS after first researching the contract packaging industry in 2006, and subsequently visiting a variety of co-packing plants over a 14-week period. The need for a variety pack assembler became clear, Ortiz says, when the company observed hand assemblers on one production line as they mixed variety packs incorrectly.
With these industry observations in hand, XPAK consulted component manufacturer Schneider Electric (www.schneider-electric.com) on the technical aspects of the line. Schneider provided engineering resources to XPAK. In addition, says Jarrett Campbell, Schneider Electric's market segment manager, Schneider Electric is offering training resources and will make parts available locally to support the co-packers' efforts. Schneider Electric's local distributor, Cuny & Guerber (www.cuny.biz), provided the link for XPAK to access Schneider Electric's international resources.
AIDCO International (www.aidcoint.com) developed the robotic palletizer that is included in the pilot line at Jacobson Packaging & Manufacturing for the Gatorade variety packs. Besides Jacobson Packaging and Manufacturing, ActionPak (www.actionpakinc.com), is another contract packager that has been vital in testing different prototypes of the V-PASS system. Both companies bought different versions of the unit, Ortiz says, because of differences in product volume and in product-mix requirements.
ActionPak purchased the first V-PASS unit, known as the M series, from XPAK in February 2008. ActionPak also enhanced its variety pack operation with the acquisition of a shrink-wrapper.
Enhancing flexibility
The M series unit mixes up to six product varieties. Six line operators remove individual package units from the trays with the help of a "detraying" station that XPAK engineered and then feed them into a tray-forming packer. Operators alternate between stations for manual tray unpacking and product mixing. The M series, Ortiz says, has no tooling costs and allows quick changeover time.
"The line incorporates an area for limited, special, or irregular mixing that requires manual labor only," Ortiz explains. "This arrangement adds flexibility to the line design."
Though ActionPak was packaging a different beverage using its V-PASS system, the co-packer was integral to creating an enhanced variety pack assembly unit suitable for PepsiCo. Ira Smith, ActionPak president and CEO, offered his Bristol, PA, facility as a test base for product development. ActionPak provided information on the challenges facing co-packing operations and directly impacted the design of a flexible production line, Ortiz says.
"A line that used to use 12 operators has been reduced to 10." Smith notes. "Club store variety packaging has always been a challenge. Imagine working in a field that requires you to add additional packaging while lowering costs. That's what the big-box and club stores require of their vendors, and we needed to respond."
The response, Smith adds, required both flexibility and line-speed improvements, with consideration given to the total supply chain to avoid increasing costs and waste downstream. "We run a wide variety of products and brands, and have very short windows of opportunity. The M series V-PASS system has allowed us to maximize flexibility and line speed. We have realized a 15% to 20% cost savings, which we have used to offset our costs.
"The key was not always speed, but flexibility," Smith continues. "We use both manual stacking and an automatic palletizing system, which we purchased from Lantech (www.lantech.com), that also feeds pallets, consolidates cases, and stretch wraps. But when you're only doing a few truckloads of a single SKU, the setup doesn't warrant using the automation."
The S series ramps up
Lessons learned by observing an animated video of the S series machine prompted the installation of a V-PASS unit at Jacobson Packaging and Manufacturing, says Kirk Fischer, Jacobson president. The co-packer purchased a prototype system in December 2008 and has the system working. As of early March, according to Fischer, setup work was being completed on front-end repacking and palletizing operations.
A pilot test for Gatorade variety packs is scheduled for this spring at Jacobson's plant in Mountain Top, PA. The supply chain is coordinating the effort with two separate Chicago-based groups at PepsiCo.
The S series creates variety packs from single-flavor trays by mixing products between trays without creating new trays. Operators remove the film from each single-flavor tray and place the trays on a conveyor; each flavor has a dedicated conveyor. The system automatically releases single-flavor trays from the conveyors, accumulating all flavors on an infeed transfer conveyor. Next, a row of trays, each containing a single flavor, enters the mixing area. Gripper heads remove one column of bottles, and a new column of bottles of a new flavor is inserted into this space. The process repeats until each tray contains an identical variety pack, according to customer specifications.
Another flexibility plus: Operators can use software to customize the configuration of product varieties up to 10 different ways.
Upon exiting the V-PASS unit, the new variety packs continue into the shrink-wrapper. Sensors detect when the outfeed conveyor is full and pause production; the variety pack assembly line also pauses when the shrink-wrapper is idle.
Fischer estimates the new line has reduced the repacking area's footprint by 25%, compared with the previous fully manual operation.
"We have been manually doing this repacking operation for PepsiCo for more than 10 years in numerous locations," Fischer says. "We're excited about the opportunity to use XPAK's system in many locations for multiple client needs. I see this system having use in anything that would require multipacking with a variety of SKUs."
Ortiz notes that tooling costs for the S series unit are lower because the versatile gripper heads can accept a variety of cap sizes without requiring tooling changes.
"This will be the ideal scenario, if the filling operation is done on the same size tray as the end-user size," Ortiz explains. "So, there is no tray discarded, and the system will have full automation and minimal tooling cost."
Modularity a plus
At PepsiCo, Bilton says the bottler was attracted not only to the system's flexibility but also to its modularity in working with other equipment, such as a robotic palletizer, rather than chance product damage by building variety pallets manually.
"The more you handle the product, the more potential there is for damage," Bilton says. "You're going to get a lot of variability. Some people will handle the shrink-wrap on the tray appropriately, carrying the tray from the bottom. Other people, when the tray comes out of the heat tunnel and the film is still warm, might handle it by the bull's-eye and stretch or otherwise damage it. There's also what I call the 'chuckers.' They throw the shrink-wrapped trays on the pallet. That's where most of your damage comes from. Automation eliminates this concern.
"It's getting harder and harder to get packers to do this repacking work by semiautomation," Bilton continues. "The V-PASS looks very promising. You want to have it pay off in two to three years. If it works here, we'll implement it elsewhere."