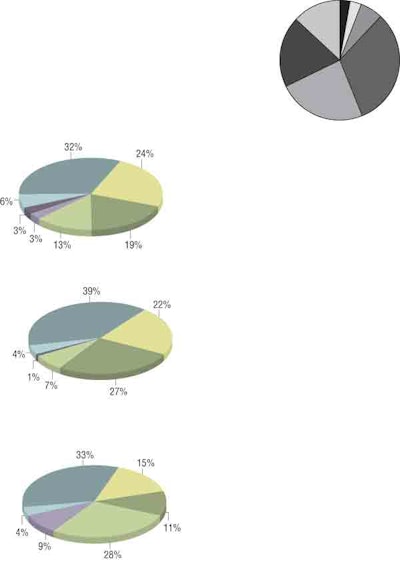 Gillette Co. is just one product manufacturer that is asking whether it should be packaging any of its own products. Contract manufacturing and packaging services account for roughly 35% of total manufacturing costs today at Gillette, compared with 10% only seven years ago.
Judging from the results of a targeted survey by Contract Packaging magazine, a lot of other consumer packaged goods (CPG) companies are asking themselves the same question. The use of contract manufacturing and packaging services is surging, and the brakes will not be applied any time soon. Many large and small CPG companies plan to increase their use of these services, in some cases significantly. They want to devote more time and resources to their own core competencies, market growth, and innovation—or outsource simply because it makes sense on the bottom line.
But the survey also uncovered potential obstacles to effectively shifting more responsibility for packaging products outside a product manufacturer's walls. Though the respondents—54% were CPG companies and 46% were contract manufacturing and packaging service providers—agreed on the surface that regular communication between them is essential, an analysis of their responses shows that in reality, it's often playing out differently. CPG companies, and the contractors they outsource package development and production to, often are failing to communicate enough to effectively manage the partnership as well as they could.
This shortcoming is especially troublesome for the smallest product manufacturing companies, which often manage the outsourcing function at intervals rather than as a continuous process. Small manufacturers say they frequently lack time and resources to collaborate regularly with their packaging contractors, and the gap is problematic far more often than for the largest product companies. This disconnect is occurring even though small firms outsource their "packaging department" to other companies 90% of the time. The analysis identifies a red flag for very small manufacturers: Infrequent discussions with their service providers could jeopardize their future growth.
Key Findings
Contract Packaging conducted the survey in May 2007, which returned about 400 valid replies. The data were sorted as buyer and service provider responses, and yielded the following major findings:
• About 60% of CPG companies increased their use of contract manufacturing and packaging services between 2004 and 2007. Nearly that many expect to increase their use of these services further by 2010.
• In sheer volume, billion-dollar CPG companies have been driving much of the growth. Many of them, like Gillette, are concentrating less on package production and shifting greater attention to product development and marketing.
• As very small CPG companies increase their product volumes, they face customer service issues such as the ability to produce large quantities of products fast enough for major retailers. They are struggling to meet retailers' time-to-shelf requirements because they either lack fully developed relationships with contracted firms or their own production lines are failing to keep pace with demand.
• CPG companies are more likely than co-packers to treat the outsourcing relationship as an ad-hoc activity rather than managing it as a continuous integrated loop.
Contract Packaging enlisted the assistance of John Farren in developing the survey questions and analyzing the results. Farren, a packaging consultant, has decades of experience in contract packaging and manufacturing, having recently retired as vice president of global operations at Gillette. Farren will weave some of the survey findings into his presentation on contract manufacturing best practices at the CP 07: Succeeding with Contract Packaging conference (www.packworld.com/cp07) Sept. 10-12 in Chicago.
Where growth is occurring
The balance (56%) of CPG company respondents expect to outsource manufacturing and packaging operations more often by 2010. As Fig. 1 shows, just 12% of the respondents said they plan to reduce their use of co-manufacturing and packaging services. Billion-dollar product manufacturers that will push deeper into the contractor route generally are planning to increase outsourcing by up to 25%. The smallest CPG companies, with revenues of less than $5 million, expect to increase their use of contractors by 25% or more.
Turning to Fig. 2, about two-thirds of CPG company respondents said that contractors produce up to 30% of their packaged product volume. Farren recommends that contract packagers take note of one telling statistic uncovered by the survey—38% of CPG companies of less than $5 million turn to contractors for at least 90% of their product-filling and packaging development.
"What this should be telling contract manufacturers is that you should have the capability of working with small runs and small volumes," Farren says.
CPG company respondents' most frequently cited (31%) reason for outsourcing manufacturing or packaging is to focus internally on their company's core competencies, usually product development or marketing activities (Fig. 3). They also want to improve innovation and increase market share.
Conversely, the companies that provide co-manufacturing and packaging services said that CPG companies most often come to them (28%) seeking innovative packaging or processes.
Large product manufacturers are indicating a preference for long-term relationships with contractors. This trend is suggested by the survey's findings that two principal drivers in the decision to outsource are innovation and process management—activities that require an extended commitment. Comments from outsourcing managers who participated on a panel at The Packaging Summit in May also support this trend.
"I'm paying for contract packagers' expertise," Todd Jones, commodity manager at Miller Brewing Co., said. "I'm looking for you to be an extension of our company. I need a long-term relationship."
To which Mark Hancock, packaging procurement manager at Brach's Confections, added: "We look outside for ability in certain pack types and the latest equipment, which we may not have. We're looking for a stable situation for the contract packager to have our business as we grow."
The decision to outsource
Both buyers and providers of co-manufacturing and packaging services agreed that the decision to outsource is made internally by the product manufacturer about 90% of the time. However, a look at Fig. 4 shows that senior management is much more likely to influence and make the outsourcing decisions at smaller CPG companies.
"Small consumer product companies are run by entrepreneurs, and the senior management staff will be more involved," Farren observes. "The level of manufacturing and quality department expertise will be less sophisticated at the small companies because they are just starting out. They can't afford higher-priced staff, and their company, with unsophisticated manufacturing techniques, is not at that point in their evolution yet."
Fig. 4 also shows that CPG companies, large and small, are integrating packaging professionals with other departments to deliver products. Senior management, manufacturing, procurement, and planning are spearheading the flow of events, assisted by R&D and engineering.
Farren believes this is further evidence that the decision to outsource often is being made in the executive office, with procurement, planning, and manufacturing serving as key influencers. After the decision has been made, Farren adds, an implementation team, led by procurement, is putting the outsourcing effort in motion. This second-level team includes quality, planning, manufacturing, and RFID departments.
But while this procedure shows, on its surface, clear evidence of departments working together, Farren says the survey also reveals that purchasing managers at many CPG companies are fighting inertia internally when trying to convince senior management that "buy" is a better decision than "make."
"If you engage CP as a pillar for how your company does business, then some of these issues go away," Farren explains. "But what the results are saying is that when companies decide to go outside, it's a new battle every day."
By continually reinventing the wheel, Farren says, CPG companies squander opportunities to maximize production consistency and efficiency.
Managing the process
The survey identified other process-management issues. Buyers clearly see productivity, cost, timing, capacity, and capability as concerns as they attempt to develop stronger relationships with co-manufacturers and packagers. Quality is another issue.
"They recognize to a lesser degree the internal organizational issues they face from organizational capability and job loss to internal politics," Farren says. "Systems issues are also a concern—how to gain visibility and compatibility. And providers see productivity, cost, timing, capacity, and capability as the top obstacles, very similar to the buyers. But quality issues were considerably down the ladder."
To assess where CPG companies are in determining how well their co-packers are performing, the survey asked respondents about their processes for reviewing key performance indicators as specified in a performance agreement. Fig. 5 summarizes the responses.
When asked about their contractor management practices, 48% of the CPG company respondents said they schedule key performance reviews at regular intervals with their co-packers. About 45% conduct reviews only "as needed."
Conversely, 56% of the service-provider respondents said they conduct regular reviews with their CPG company customers, and 37% pursue reviews "as needed."
These results suggest that contracted service providers are more diligent than their CPG company customers in conducting performance reviews and assigning quarterly objectives and priorities. Product manufacturers are as likely to perform these tasks on an "as needed" basis. As a result, the product manufacturer-contractor relationship might not always deliver optimal results for the manufacturer.
Fig. 5 also demonstrates that very small CPG companies are nearly twice as likely as billion-dollar product manufacturers to conduct key performance reviews only when deemed necessary.
Farren recommends that small product manufacturers strive for frequent performance reviews with their co-packers, even if it strains resources.
His additional recommendations for smaller CPG companies: Minimize the number of co-packers you work with rather than reduce the number of production facilities. And link with a co-packer operating multiple manufacturing sites. They feed retailers' distribution centers more efficiently.
About the survey
The survey conducted in preparing this article was distributed to readers of Contract Packaging magazine. It was divided into two parts. One section was completed by respondents at CPG companies who purchase contract-packaging services. Co-packers were instructed to fill out the second section of the survey.
Among the buyers, 34% of the respondents are co-packing service buyers or managers at billion-dollar CPG companies. At the other end of the spectrum, 24% work for product manufacturers of $5 million in revenue or less.
On the service provider side, 23% of the respondents are from contract packagers with revenues of $100 million or more, while 32% work at co-packers of less than $5 million.
The respondents represent a broad range of product categories.
The author, Jim George, is the editor-in-chief of Contract Packaging magazine.
Companies in this article
Videos from Universal Labeling Systems, Inc.