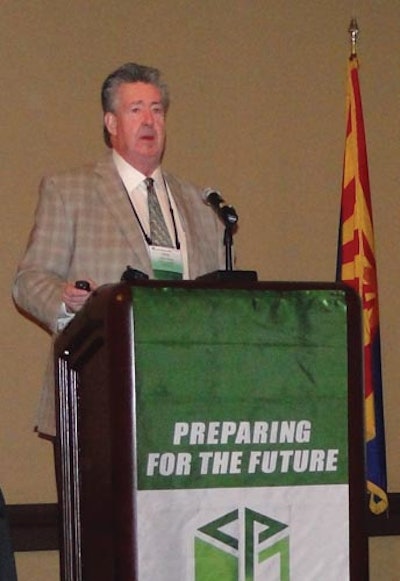 The result is that we can return to work with a new sense of purpose and a new perspective on both our industry and its changes, and also on our own businesses. This year's Contract Packaging Association annual meeting, Feb. 24-27 at the Loews Ventana Canyon Resort, Tucson, AZ, met all three needs.
The relaxing was ably begun at Friday night's "Speakeasy" dinner event and carried through Saturday afternoon on the great Canyon Course and Mountain Course golf links. But it was the speakers who carried out the heavy lifting by giving us new perspective on our industry through a program of "Power Up!" talks.
Keynote speaker Jeff Hayzlett of The Hayzlett Group and former chief marketing officer at Kodak, kicked off the weekend with his "Is Your Business Really Breathing" presentation. Hayzlett offered his experience in helping to turn around Kodak, one of the world's leading brands. He also offered step-by-step strategies for keeping a business thriving rather than merely surviving. He followed up by offering copies of his book "The Mirror Test," which chronicles Kodak's turnaround.
The Power Up! sessions over the three days of meetings focused on a variety of ways of re-energizing business. Kate Koziol, president of K Squared Communications, demonstrated how marketing and public relations can drive sales by raising company visibility in the marketplace and creating demand for your products and services. Thomas Hudgin, author of "Winning at Packaging––Keys to Success from the Human Side," explained the value of improving your company image and building long-term relationships with customers by motivating employees to be more proactive and results-oriented. Attorney Eric Greenberg addressed the serious issues of regulatory laws and the need for contract packagers to be prepared to handle recalls, negotiate with the Food and Drug Administration and state regulators, and take regulations into account when developing new products.
Insights into mergers and acquisitions
Mark Burgett, managing director of Wind Point Partners and a leader in completing mergers and acquisitions for food and contract packaging companies, provided insights into M&A activity, in which our industry is increasingly active. Burgett's experience includes completing CPA member Ryt-way Industries Inc.'s acquisition of contract packager Cloud Packaging in 2010. Wind Point Partners had acquired Ryt-way in 2008.
The acquisition of Cloud brought Ryt-way $50 million of new revenue, as well as new strategic production and distribution locations. It also enabled an expansion of Ryt-way's ability to be a single source for many customers, providing a wide variety of packaging, technology, and category expertise.
Confirming Burgett's points, in a recent interview with CPA Connection, the new monthly CPA online newsletter, Jason D. Tham, CEO of Nulogy and a CPA board member, shared his own insights into this trend in acquisitions. He pointed out that customers of contract packagers increasingly have been asking them to provide more services, including both production and logistical operations. Individual contract packagers have discovered that they need to increase their capabilities to meet these demands. Acquiring, merging, or partnering with companies that have those capabilities offers both a quick and practical way for a contract packager to expand its ability to service customers.
Driven primarily by this growing need, contract packaging has seen a dynamic rise in mergers and acquisitions in recent years. In addition to Ryt-way's acquisition of Cloud Packaging, here are some recent actions involving CPA members:
• Saddle Creek Corp., a nationwide third-party provider of integrated logistics, warehousing, transportation, and contract packaging services, acquired ProLog Logistics Inc., a warehousing and fulfillment company headquartered in San Diego, CA. This is Saddle Creek's second acquisition in just over a year. In the words of David Lyons, Saddle Creek's founder and chairman, "We're confident that ProLog's expertise will strengthen our service offerings in this growing market segment."
• Sonoco Products Co. acquired Associated Packaging Technologies (APT), North America's largest manufacturer and supplier of dual-ovenable, crystallized polyethylene terephthalate (CPET) containers to the frozen-foods industry in North America, Europe, and Australia/New Zealand. With this move, Sonoco became a leader in the frozen, chilled, and ready-to-eat food markets.
• TricorBraun acquired Penn Bottle and Supply Co., a Philadelphia-based distributor of rigid packaging, which has about $50 million in annual revenue. This is TricorBraun's 12th recent acquisition, and it fits well with the company's objective of acquiring packaging distribution businesses with strategic locations and attractive growth potential.
• Berlin Packaging acquired Continental Packaging Solutions in December 2010. The acquisition increases the number of Berlin Packaging sales and warehouse locations in North America to more than 70, putting resources into key geographic markets for enhanced customer service. This was Berlin Packaging's second acquisition in 10 months.
• Ryder Supply Chain Solutions in December 2010 acquired member Total Logistic Control, a leading provider of comprehensive supply chain solutions to food, beverage, and consumer packaged goods companies with significant supply chains in the U.S. The acquisition will add expanded capability and about $250 million in annual revenue to Ryder's business.
The benefits of these moves––each one took place within the past year––are clear: enhanced production and delivery capability, and expanded revenues that can, in turn, fund even greater expansion.
Greetings to our new members
New regular members of the Contract Packaging Association are: A-1 Creative Packaging Corp., Carolina Beer and Beverage, Delta Logistics and Distribution Inc., Do-It Corp., GenPak Solutions, LLC, Hanzo Logistics Inc., Multi-Pack Solutions, NADC Group, Neco Foods LLC, PRIDE Industries Inc., Safetec of America, and Tender Corp.
New associate members are: CardPak Inc., Delkor Systems Inc., and Videojet Technologies Inc.
Companies in this article
Videos from Videojet Technologies Inc.